WDN Members Attend Vital Voices Conference in India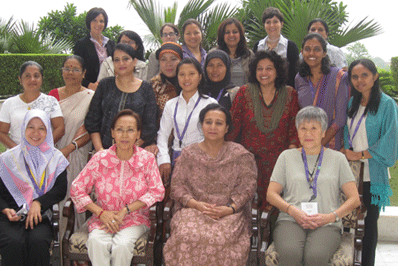 The Women's Democracy Network (WDN) and IRI sponsored a delegation of women from 11 countries across Asia to attend Vital Voices of Asia: Women's Leadership and Training Summit. The women's summit was held last month in New Delhi, India.
The conference brought together more than 250 women from 24 countries to address the critical role women can play in developing the economic and political future of Asia. During the three days of discussion, participants, international leaders and high-level experts developed strategies and action plans to work towards overcoming the challenges faced by women in the region.
…every issue that affects women's daily lives is in some way a political issue.
The summit was moderated by CNN International World News anchor Zain Verjee and was attended by notable guest speakers from the U.S. and India, including U.S. Ambassador for Global Women's Issues Melanne Verveer and Richard Boucher, U.S. deputy secretary general for the Organisation for Economic Co-Operation and Development. Participants also heard a taped greeting from U.S. Secretary of State Hillary Clinton.
In his welcoming remarks, U.S. Ambassador to India Tim Roemer stressed that "When women are given opportunities, I see them do better and then their families do better, their communities do better, and the nation does better."
Representing the Government of India, Foreign Secretary Nirupama Rao stated, "Women are the agents of social change and potential around the world despite the challenges they face."
The conference touched on issues such as tapping the extraordinary potential of women as leaders and as economic forces in the 21st century. Serving as a panelist, WDN member and Jeane J. Kirkpatrick award recipient Charm Tong from Burma gave examples of how women are taking leadership positions even within repressive societies noting, "Hope is in the hands of the women who speak up about violence inside Burma."
WDN member Yasmeen Rehman from Pakistan stressed the importance for governments to support women in the economic sector and provide them with access to marketplaces as entrepreneurs and business leaders.
As part of the summit's mission to provide a platform for women leaders to design action plans to use in their home countries, participants were separated into three issue-based tracks — women as an economic force; safeguarding women's human rights and justice; and women in political leadership: fostering good governance and transparency, which was attended by WDN members. The issues discussed in the political leadership track included increasing women's political participation, advancing policies to promote women's empowerment, creating alliances to strengthen women's political leadership, combating corruption and promoting good governance.
During the political leadership sessions, WDN members and former members of parliament Lena Mariana Mukti and Nursanita Nasution from Indonesia and IRI China Resident Country Director Johanna Kao served as moderators and panelists. Nursanita remarked that it is essential for women who are elected to office to fight for other women. She also shared her success in creating a women's caucus in Indonesia's parliament, and that it is possible to create a coalition when women are able to leave their differences behind for a higher goal. Lena gave a presentation on increasing women's political participation in Asia and commented that elected officials must continue to communicate with their voters beyond an election campaign. In addition to the panel discussions, there were interactive training sessions on message development and persuasive advocacy strategies, successful outreach tactics and working with the media.
The final day of the summit included a panel discussion on overcoming obstacles to equality, development and peace, and featured IRI partner and Cambodian Member of Parliament Mu Sochua. She spoke on the panel about the importance of women's participation in politics, "… because every issue that affects women's daily lives is in some way a political issue."
The U.S. State Department, a summit partner, has pledged its commitment to engage summit attendees through free monthly entrepreneurship seminars, media interviews and networking opportunities hosted by the U.S. embassies in Asia. Summit moderator Zain Verjee also committed to raising gender related issues at least once a month as a CNN anchor.
Following the conclusion of the summit, WDN and IRI held a regional meeting with Network members, IRI partners and summit participants from India. Discussion focused on the needs of these women and how they can work together to benefit from each other as mentors or through information exchange of best practices. Several WDN members commented on their determination to bring each other's voices home so that they could strengthen the Network and find opportunities for collaboration between their countries. Future training workshops were requested of WDN and IRI to discuss media skills, campaign tactics, strategic planning and office management.
"We could learn so much from the work of [WDN member] Selima Ahmed from Bangladesh and her successes with women entrepreneurs," said WDN member Yasmeen Rehman from Pakistan. "Through her knowledge, we would be encouraged and motivated to replicate what they have been able to accomplish in Bangladesh."
Top