Georgia Poll: Perceptions of National Institutions Decline; Local Satisfaction Rises
Washington, D.C.—A new poll by the International Republican Institute's (IRI) Center for Insights in Survey Research indicates a continued trend of dissatisfaction with national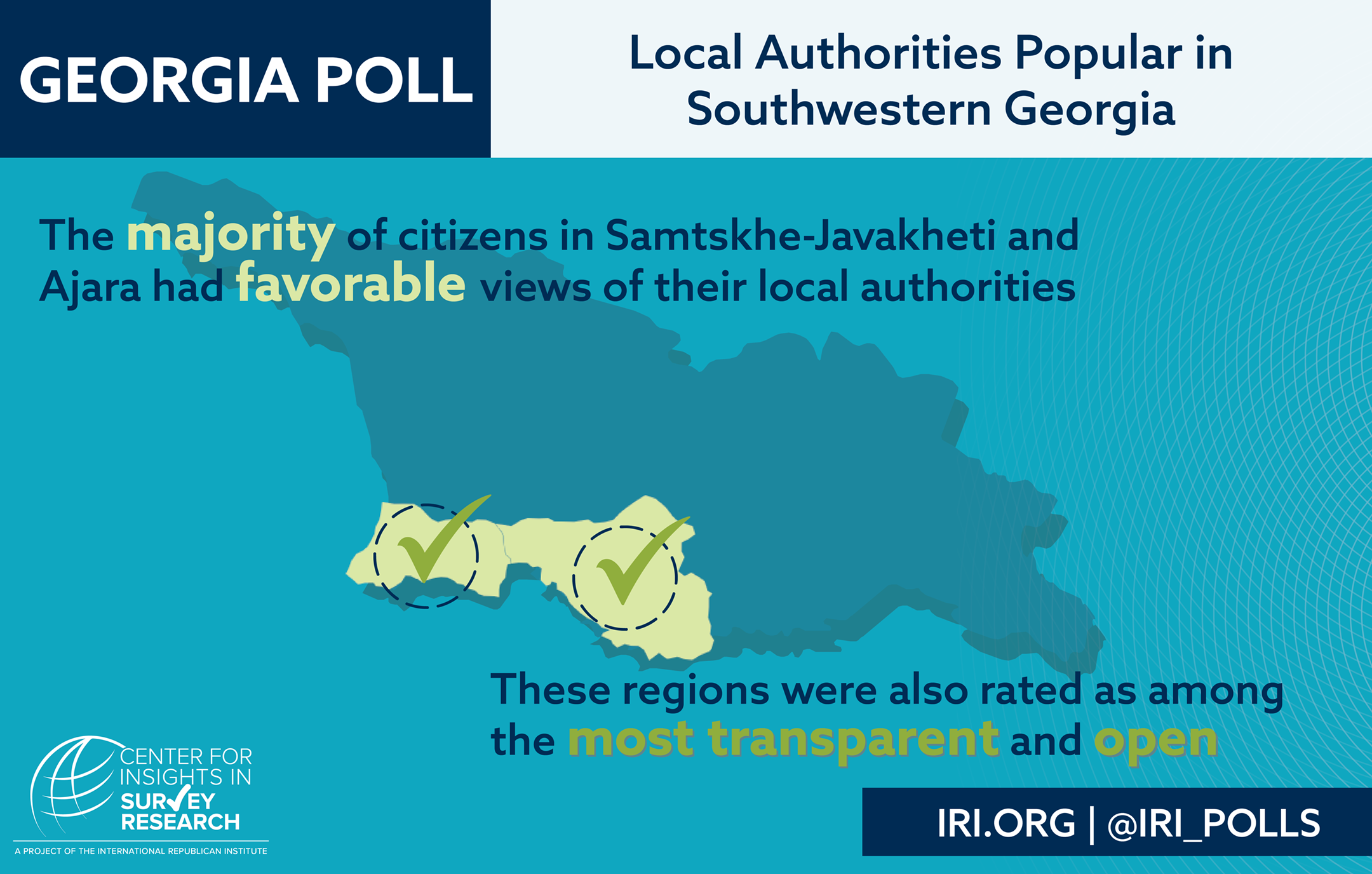 institutions in Georgia, including the police. However, the survey also indicates a more positive trend in attitudes toward local institutions.
"Not long ago, the police were considered an exemplar of Georgia's commitment to reducing corruption," said Stephen Nix, IRI Regional Director for Eurasia. "The dramatic decrease in trust reflected in this latest IRI poll is troubling, and appears to be closely related to the popular perceptions that corruption and crime have increased over the last two years."
The police force's approval rating fell from 88 percent in May 2013 to 50 percent today. Public trust has also slipped in several other key institutions over the same time frame, including the Cabinet of Ministers (down 45 points), the parliament (down 47 points), the Office of the Prosecutor (down 34 points), and the courts (down 30 points).
In contrast, approval of local authorities has risen from 27 percent in March 2016 to 43 percent. The regions with the two highest approval ratings, Samtskhe-Javakheti (60 percent) and Ajara (59 percent), were also among the regions rated as the most transparent and open.
"This improvement in favorability ratings for local authorities indicates that their efforts to engage with citizens are paying off," said Nix. "It is particularly encouraging to see that these gains are most pronounced in regions with large minority populations who have been marginalized in the past."
The poll also indicates that a clear majority of Georgians continue to support a broadly pro-Western foreign policy approach. A combined 77 percent believe that Georgian foreign policy should either be "only pro-European Union and the West" (27 percent) or "pro-Western but keep up relations with Russia" (50 percent). While support for dialogue with Russia remains high at 76 percent, it has dropped six points since March 2017 and 19 points since February 2013.
Methodology
The survey was conducted by Baltic Surveys/The Gallup Organization on behalf of the Center for Insights in Survey Research. Data was collected between April 10-22, 2018 from a sample of 1,500 permanent residents of Georgia over the age of 18 and eligible to vote. The response rate was 71 percent, and the margin of error was plus or minus 2.5 percent.
Top