Hungary Poll Reveals Pessimism Over Economy and the Country's Future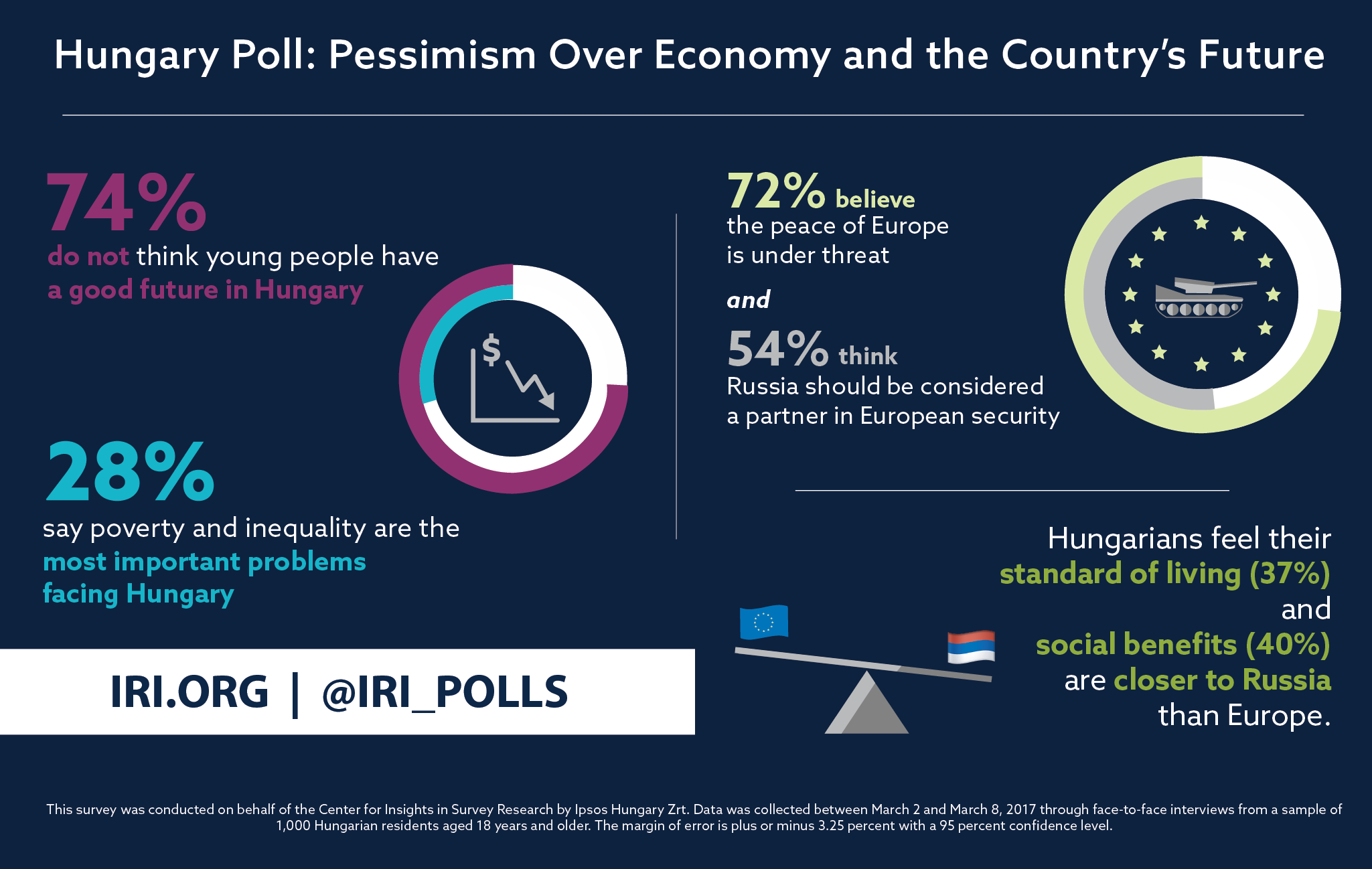 Washington, D.C.—A poll of residents of Hungary released today by the International Republican Institute's (IRI) Center for Insights in Survey Research reveals domestic unease about the state of the economy and the country's trajectory.
"This survey shows that Hungarians are deeply dissatisfied with a host of economic indicators, and fear that they are not leaving a better future behind for their children," said IRI Europe Regional Director Jan Surotchak. "On a range of issues, it is clear that many Hungarians haven't felt an economic uptick since the crisis began in 2008. Unfortunately, the Kremlin has demonstrated a sophisticated ability to exploit these types of weaknesses throughout Europe and may be in a position to do so in Hungary."
Seventy-four percent of Hungarians do not think young people have a good future in Hungary, and half of respondents feel that the country is headed in the wrong direction. Twenty-eight percent say that poverty and inequality are the most important problems facing Hungary, followed by corruption at 15 percent and jobs and unemployment at 13 percent.
A combined 37 percent believe that Hungary's standard of living is closer to that of Russia than Western Europe (25 percent "somewhat akin to Russia," 12 percent "completely akin to Russia"), and a combined 40 percent feel that their pensions and healthcare system are more like the Russian model (25 percent "somewhat akin to Russia," 15 percent "completely akin to Russia").
A clear majority (72 percent) believe that the peace of Europe is threatened on multiple fronts, including from "the influx of migrants," "terrorism," and "a resurgent Russia." Although nearly half (49 percent) are skeptical about Russia's attempts to paint itself as a defender of traditional European values, 54 percent think that Russia should be considered a partner in European security, and 52 percent say the European Project should be "rethought."
Methodology
This survey was conducted on behalf of the Center for Insights in Survey Research by Ipsos Hungary Zrt. Face-to-face interviews with a sample size of 1,000 Hungarian residents aged 18 years and older between March 2 and March 8, 2017. The margin of error is plus or minus 3.25 percent with a 95 percent confidence level. Figures in charts and tables may not add to up 100 percent due to rounding error and/or multiple choice answers.
Top