IRI-AWLI Poll Finds Greater Support for Women in Politics in Tunisia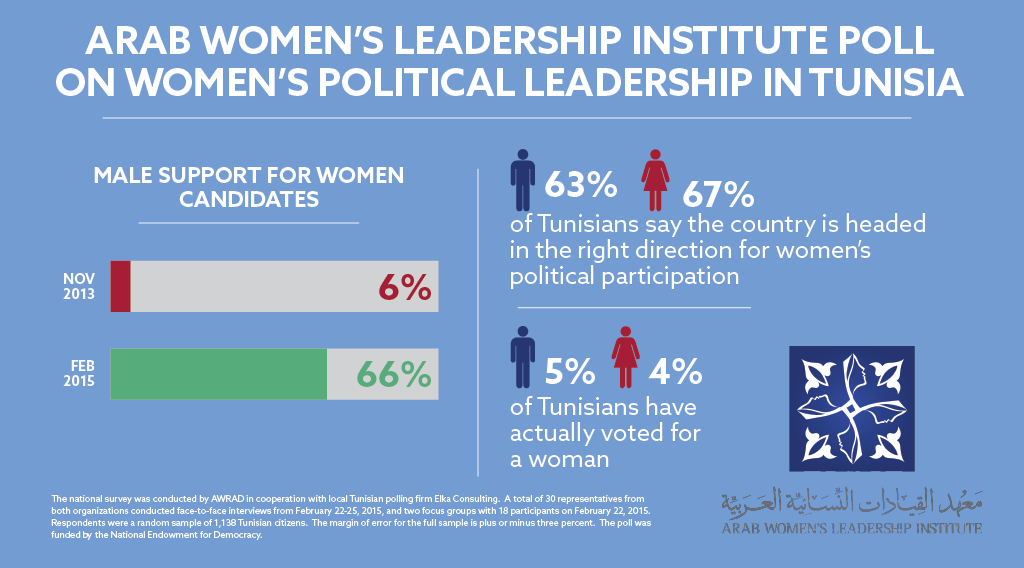 Tunis, Tunisia – A poll conducted by the Arab Women's Leadership Institute (AWLI) and the Arab World for Research and Development (AWRAD) shows increased support for women in politics in Tunisia when compared to a 2013 poll. Despite mixed sentiment about women's access to equal employment and economic opportunities, a majority of Tunisians believe things are moving in the right direction for women's political participation in the country.
"While Tunisia is a leader in the Maghreb and Middle East region when it comes to women's rights, we still have work to do. IRI and AWLI's interest and support of this research helps identify areas we, as Tunisian women leaders, need to continue to focus on as part of Tunisia's democratic transition process," said Samira Merai Friaa, minister of women's affairs in Tunisia.
Support for Women Candidates Increases, Need for Improvement Remains
Male support for women candidates increased from six percent in November 2013 to 66 percent. When asked, since the 2011 revolution, do you believe things are moving in the right direction or wrong direction for women's political participation in Tunisia, a majority of respondents both men, 63 percent, and women, 67 percent, said the country was moving in the right direction. Nevertheless, the poll also reveals that only five percent of men and four percent of women said they have actually voted for a woman for elected office.
Initiatives, such as those offered by AWLI and IRI's Women's Democracy Network, are crucial to strengthening the credibility and visibility of women as leaders and ultimately as viable candidates. Without such initiatives, support for women's political participation and actual electoral gains for qualified women candidates, will be difficult to achieve.
Employment and Access to Economic Improvement Opportunities for Women is Mediocre
While the poll shows a general increase in support for women's political participation in Tunisia, support for equal employment opportunities for women is mixed. When asked which of two equally-qualified applicants, a man and a woman, who you would hire, a majority of respondents, 67 percent of men and 53 percent of women, said the man. When asked if respondents supported women working outside the home, a majority of female respondents, 64 percent, said it was a woman's right whereas only 42 percent of men believed it was a woman's right.
Respondents were also asked if they felt that men and women enjoy the same access to employment, and a majority of respondents, 53 percent of men and 62 percent of women said yes to a large extent, and yes, to some extent. As indicated by the poll data, Tunisians believe that access to employment for both men and women is relatively equal. However, soft-prejudices against women in the hiring process clearly remain, especially when compared to an equally qualified man. Without greater awareness of these soft-prejudices, Tunisian women will remain restricted in their ability to increase their economic standing through equal-opportunity employment.
Methodology
In 2008, the IRI established AWLI, to assist Arab women achieve their leadership aspirations. A strong network of Arab women, AWLI believes that if women have greater knowledge about the impediments and opportunities they face in the political sphere they will be better equipped to increase women's political participation in their country.
Motivated by this belief, AWLI and AWRAD conducted the research to give emerging Tunisian women leaders the information needed to increase their engagement in the political process.
The national survey was conducted by AWRAD in cooperation with local Tunisian polling firm Elka Consulting. A total of 30 representatives from both organizations conducted face-to-face interviews from February 22-25, 2015, and two focus groups with 18 participants on February 22, 2015. Respondents were a random sample of 1,138 Tunisian citizens. The margin of error for the full sample is plus or minus three percent.
The poll was funded by the National Endowment for Democracy.
###
Top