IRI Moldova Poll: Next Prime Minister Must Fight Corruption and Deliver Reforms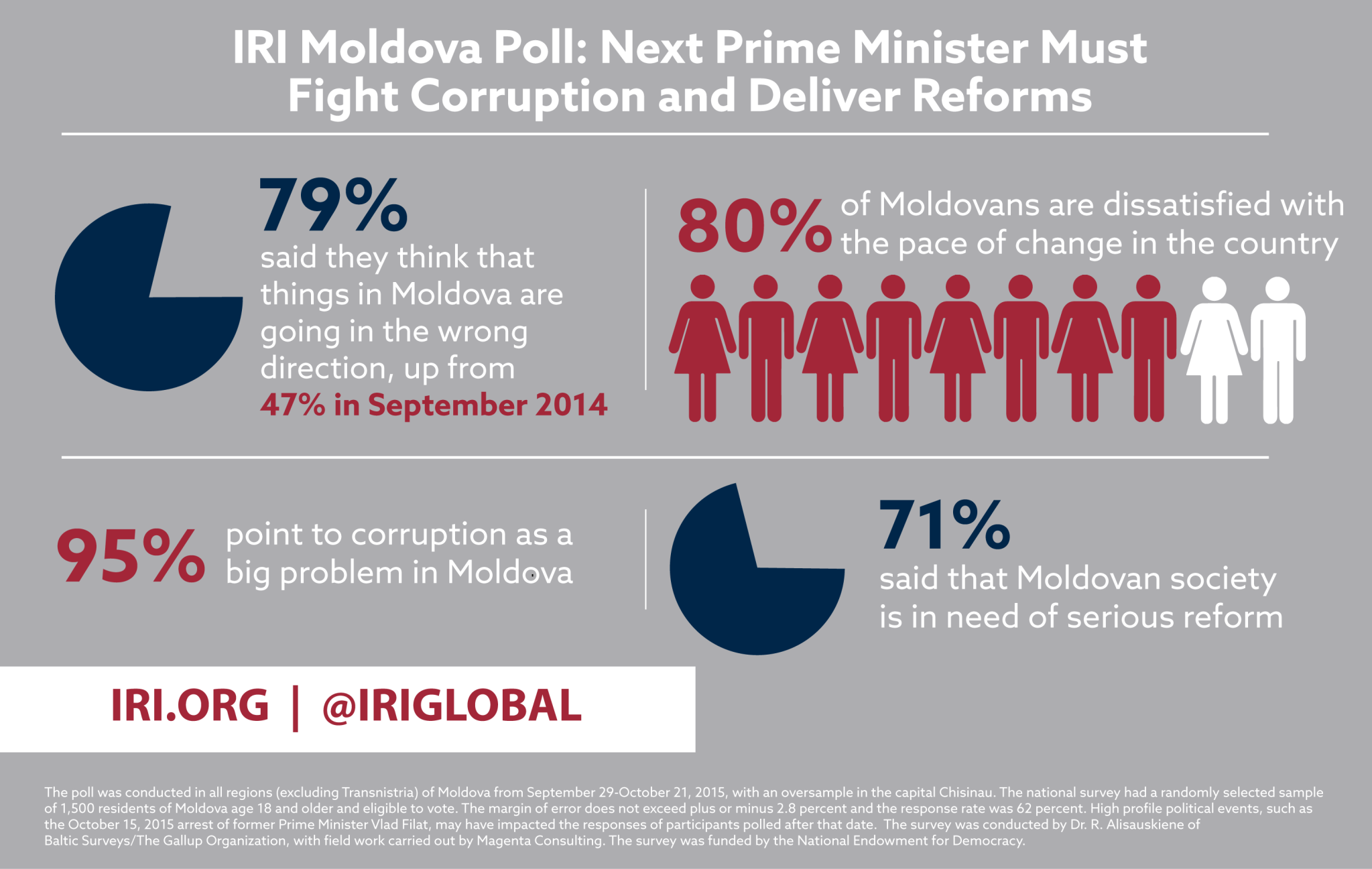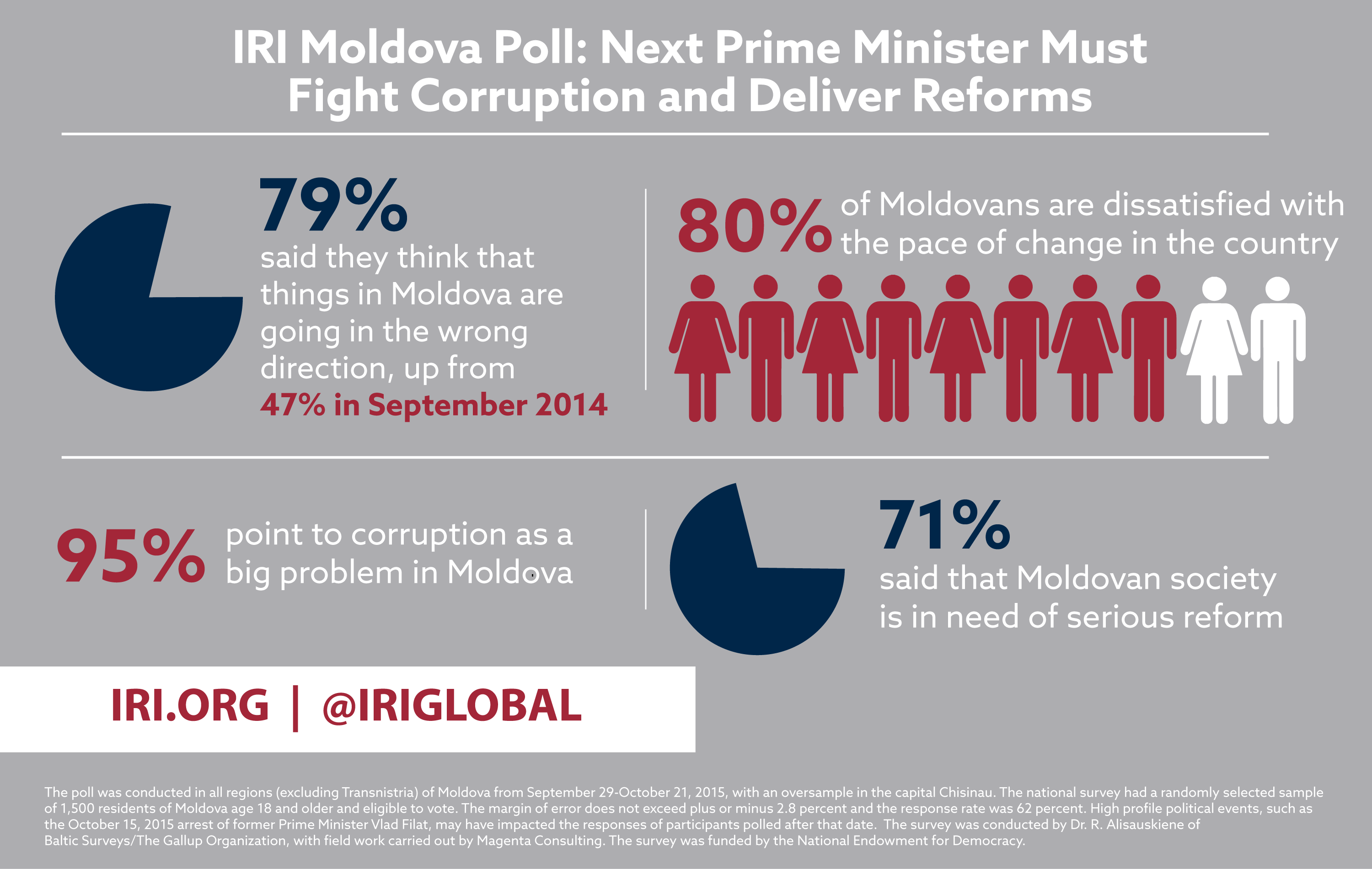 Chisinau, Moldova – A new poll released by IRI found that, in the wake of a growing corruption scandal, Moldovans overwhelmingly believe the country is headed in the wrong direction, that promised reforms are not being delivered and, as a result, Moldovans are looking for new leaders to deliver on the promises to fight corruption and reform government.
Next Prime Minister Must Fight Corruption and Deliver on Promised Reforms
Reeling from weeks of public demonstrations amid a growing government corruption scandal in which $1 billion has gone missing from three of Moldova's banks, an overwhelming majority (79 percent) of respondents in Europe's poorest country said the country was going in the wrong direction. Not surprising, corruption topped the list of concerns, and 95 percent said that corruption was a big or very big problem in the country.
The scandal, which has seen the detention of former Prime Minister Vlad Filat on October 15 and the fall of the government led by Prime Minister Valeriu Strelet on October 29 (the third prime minister the country has had since February 2015), has plunged the country into political crisis and dysfunction.
"The country's next prime minister will face an electorate that is clearly fed-up with government corruption and politics as usual," said Stephen Nix, director of Eurasia programs at IRI. "To succeed, a new government must make visible strides in combating corruption and earn back the faith of voters in the country's democratic institutions."
Government Corruption and Lack of Reform a Regional Challenge
As seen in recent IRI polls in Ukraine and Kyrgyzstan, Moldovans are frustrated with stagnating reform-efforts and corruption that plague many former Soviet republics.
When asked if they were satisfied with the pace of change in the country, 80 percent said there was no change or that the change was not happening fast enough, and 71 percent said that society needs serious reforms.
While the slow pace and scope of reform in the region has contributed to public dissatisfaction, Russian efforts to destabilize reform-minded governments continue to be a factor. Using energy, agriculture and military means, Russia has continued its efforts to thwart and delay reform throughout the region. Its ultimate goal is to prevent these countries from continued integration into Euro-Atlantic structures and draw them closer to Russia's influence.
"Recent events in Moldova, and the region, have shown that the United States and the international community must continue their support to help Moldovans build transparent, democratic institutions that are accountable to the people of Moldova," said Nix. "Without this support and strong democratic institutions, Moldova will continue to experience political instability and economic hardship."
Moldovans Looking for New Leaders
With the continuing corruption scandal and with three prime ministers since February 2015, Moldovans are looking for leaders who will fight corruption and deliver on reforms. However, IRI's poll found that if elections were held, 20 percent of likely voters would cast their ballots for populist, pro-Russian Our Party and another 15 percent would support the pro-Russia Party of Socialists.
"Moldovans are clearly angry at the pro-European government for its failure to fight corruption and reform the political system. Not surprisingly, this anger is driving them to consider parties and candidates that clearly have little interest in transparent, accountable government," said Nix. "For Moldova to become a stable, democratic country, it is critical that those committed to democracy and reform work together to hold corrupt officials accountable and address the concerns Moldovans have so clearly expressed."
Methodology
The survey was conducted in all regions (excluding Transnistria) of Moldova from September 29-October 21, 2015, with an oversample in the capital Chisinau. The national survey had a randomly selected sample of 1,500 residents of Moldova age 18 and older and eligible to vote. The margin of error does not exceed plus or minus 2.8 percent and the response rate was 62 percent. High-profile political events, such as the October 15, 2015 arrest of former Prime Minister Vlad Filat, may have impacted the responses of participants polled after that date.
The survey, funded by the National Endowment for Democracy, was conducted by Dr. R.Alisauskiene of the Baltic Surveys/The Gallup Organization, with field work carried out by Magenta Consulting.
###
Top