IRI North Macedonia Poll Shows Concerns with Pace of EU Accession, Concerns with Economy and COVID-19, Dismay with Local Leaders
Skopje, North Macedonia – A new nationwide poll in North Macedonia by the International Republican Institute's (IRI) Center for Insights in Survey Research shows concerns over the pace of accession to the European Union and rates unemployment and COVID-19/access to vaccines as the country's top two concerns. The people of North Macedonia also express dismay with mayors and local representatives ahead of elections this fall.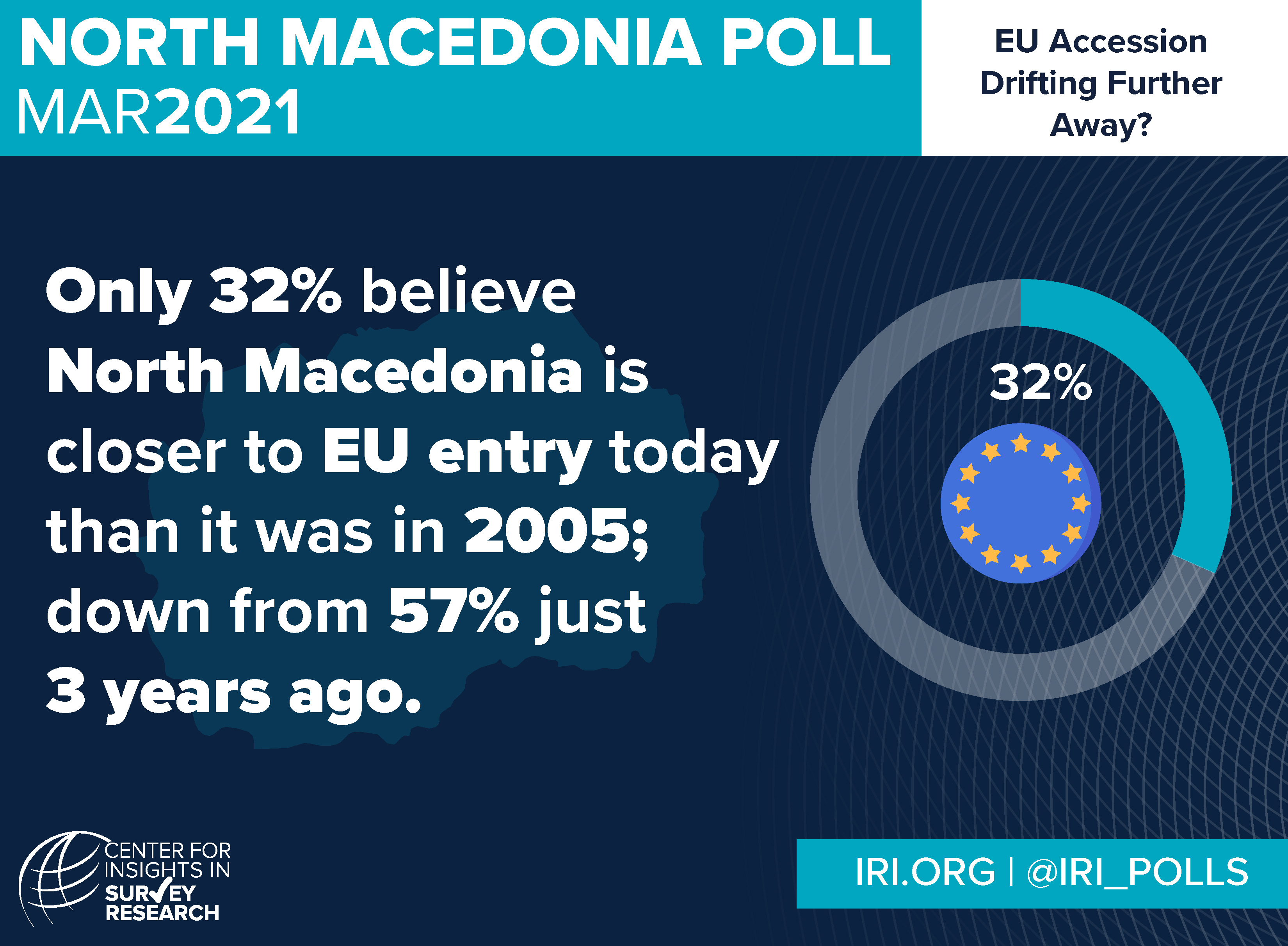 The survey finds that joining the European Union enjoys 79% of public support. However, those who think North Macedonia is closer to EU entry today than it was in 2005, when it first received candidate member status, dropped over the last three years from 57% to 32%.
"Delays and setbacks in North Macedonia's EU accession process, most recently due to Bulgaria's veto, appear to be taking their toll on citizens' belief in an accession process capable of moving forward," said Paul McCarthy, IRI's Europe Director. "Luckily, this has not dampened their enthusiasm for the potentially longer-term goal of EU accession."
When asked about the most important problem, the largest segment of citizens (23%) named unemployment, as well as the pandemic and concern over access to COVID-19 vaccines (22%).
The survey also shows that the North Macedonia's citizens have little confidence in their local representatives ahead of elections expected for October. When asked whether they would support the mayor of their municipality for re-election, half of respondents (53%) said that another candidate should be elected.
"Over a year later, the pandemic remains a primary concern for North Macedonia's citizens, who also worry about access to vaccines and the economic fallout from lockdowns and shuttered businesses. At the local level, citizens may be seeking change in upcoming elections, boosting the chances of opposition candidates." said McCarthy.
Methodology
This nationally representative survey was conducted on behalf of IRI's Center for Survey Research by Brima market research firm between March 4 and April 6, 2021. Data was collected using a stratified multistage probability sampling method through in-person, in-home interviews. The national sample consists of 1,222 respondents ages 18 and over, and was supplemented by an additional 1,285 oversample interviews in select municipalities. The data was weighted for age, gender, region and ethnicity. The margin of error for the national sample is plus or minus 2.8 percentage points at the midrange of the 95 percent confidence level. The response rate was 66%. This poll was conducted with support from the National Endowment for Democracy.
Top