IRI Poll: Macedonians Concerned About Economy, Political Stability; Support for Representative Democracy, Euro-Atlantic Integration Remains Strong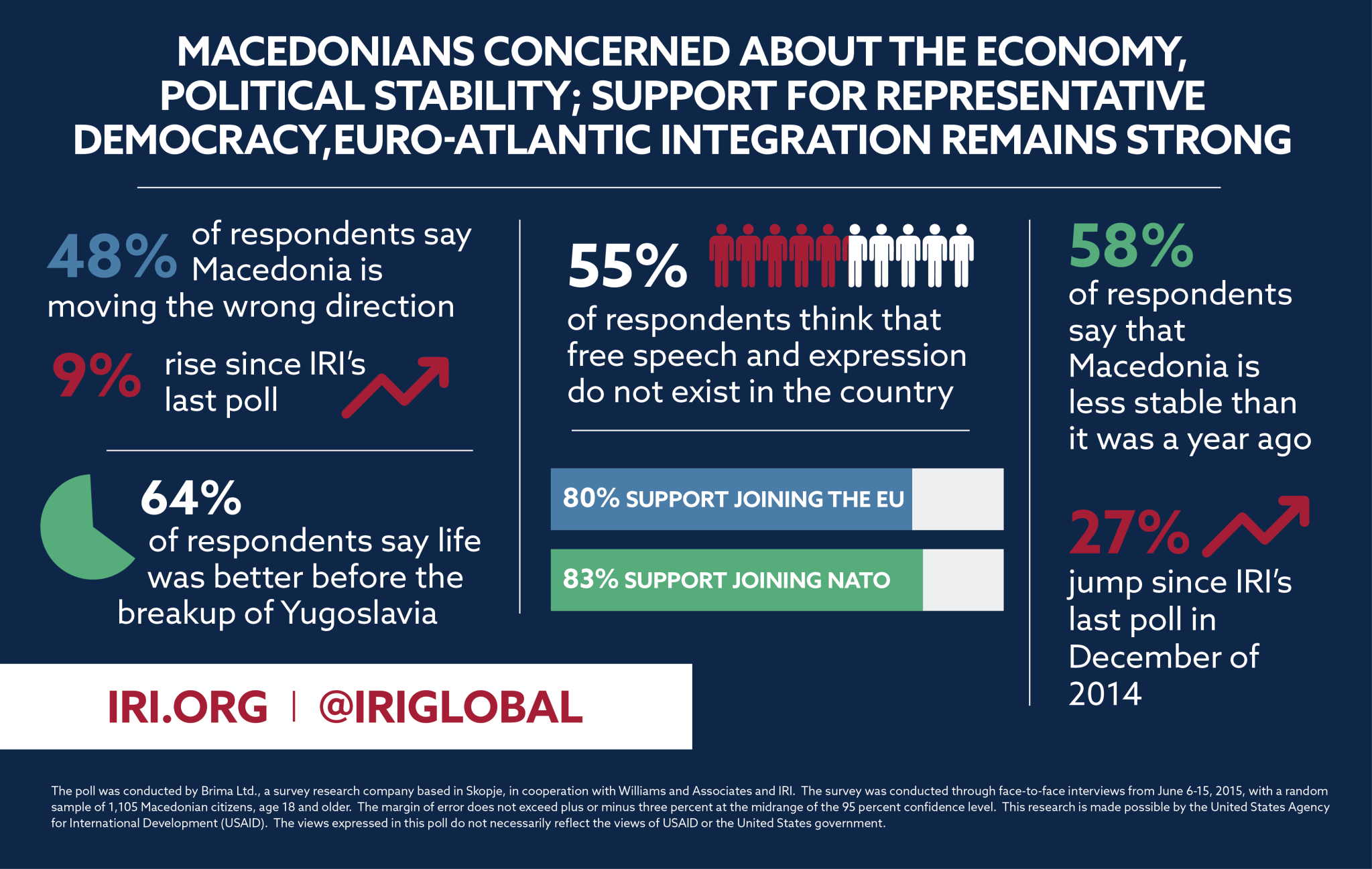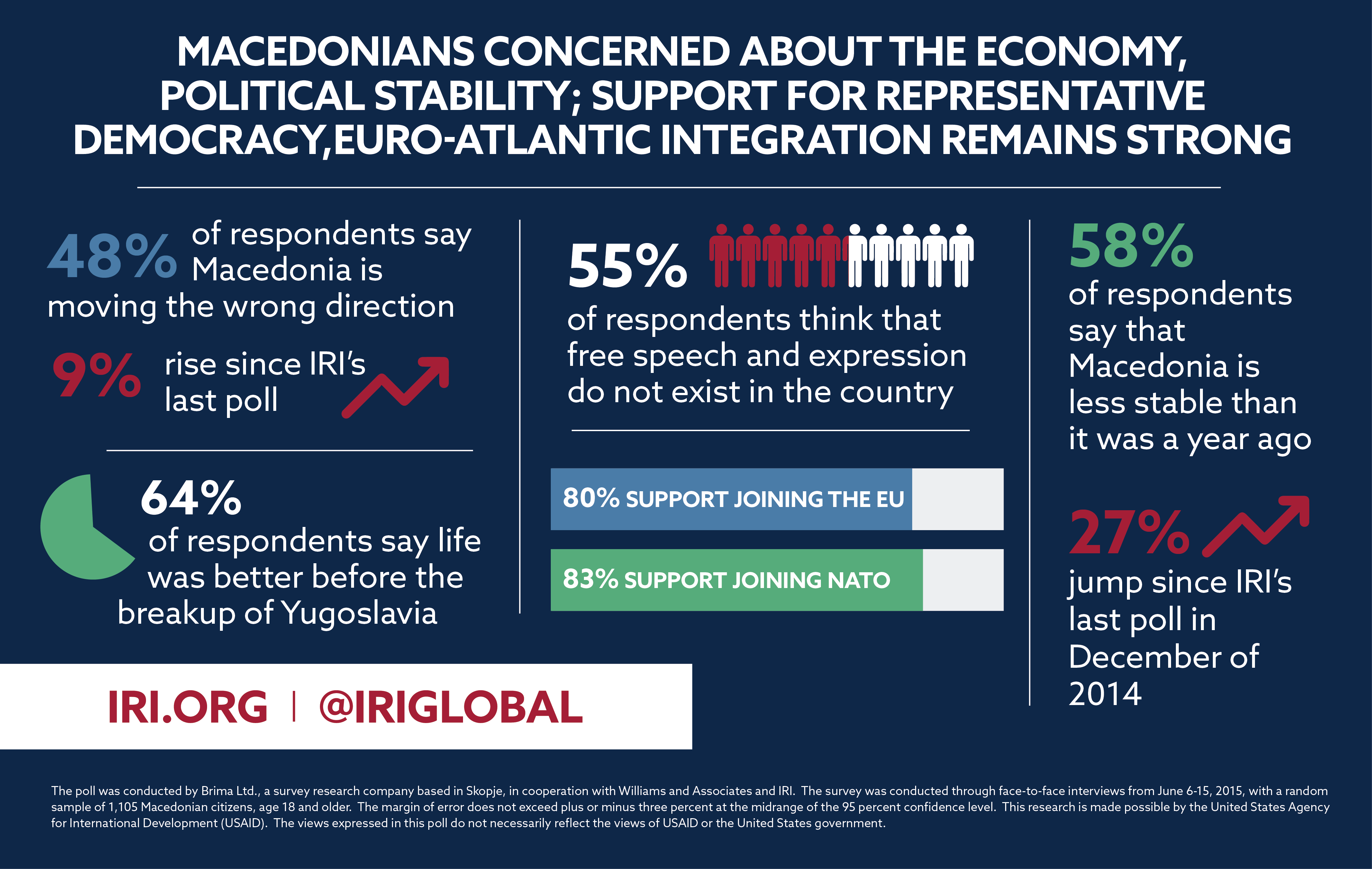 Skopje, Macedonia – Macedonians remain strongly concerned about the overall direction of their country, especially with regard to the economy and political stability, according to a new poll released by IRI. They are also strongly supportive of representative democracy and Macedonia's integration into Euro-Atlantic structures.
"Macedonians are clearly worried about the direction of their country in these times of turmoil and want to see their democracy safeguarded," said IRI President Mark Green. "IRI calls on Macedonia's leaders, both in government and in the opposition, to work together to stay the course on political and economic reform, and get the country on the right track."
Concern for Economy and Political Stability Leads to Overall Pessimism
The number of respondents who say that Macedonia was moving in the wrong direction rose to 48 percent, a nine percent rise since IRI's December 2014 poll and the highest negative level since December 2010. The state of the economy and the growing political crisis are the main drivers of this pessimism. Fifty-three percent of respondents say that unemployment is the most serious problem facing the country, while 64 percent say life was better before the breakup of Yugoslavia. Sixty-one percent of Macedonians describe the current political situation as "tense and uncertain," up from 43 percent in December, and 58 percent say that Macedonia is less stable than it was a year ago, a jump of 27 percent from the December poll.
Democracy Trumps Economic Prosperity; Freedom of Expression Still a Concern
Despite overall concern for the economy and political stability of the country, Macedonians continue to prioritize democracy over economic prosperity. When asked which was more important: a democratic system of government or a prosperous economy, a majority, 55 percent, say that democracy is definitely or somewhat more important (up from 53 percent in December), while 40 percent say that prosperity is definitely or somewhat more important. Freedom of expression remains a concern for most Macedonians. More than half of respondents (55 percent) think that free speech and expression do not exist in the country.
Support for Euro-Atlantic Integration Remains Strong
Perhaps due to fears that the country's democracy is under threat, there is strong support for Macedonia's integration into Euro-Atlantic structures. While 67 percent of Macedonians believe the current political crisis hurts Macedonia's efforts to join the European Union, support for joining the EU and NATO remain high at 80 percent and 83 percent respectively.
This is the first IRI poll conducted in Macedonia since a police action launched by the government against an armed ethnic Albanian group in the city of Kumanovo in early May, and comes amid an ongoing political crisis revolving around the opposition Social Democrats' release of wiretapped conversations of government officials, including Prime Minister Nikola Gruevski. The release of these wiretaps has led to large demonstrations in the capital Skopje calling for the government's resignation, while pro-government demonstrations have also been organized in the capital.
Methodology
The poll was conducted by Brima Ltd., a survey research company based in Skopje, in cooperation with Williams and Associates and IRI. The survey was conducted through face-to-face interviews from June 6-15, 2015, with a random sample of 1,105 Macedonian citizens, age 18 and older. The margin of error does not exceed plus or minus three percent at the midrange of the 95 percent confidence level.

This research is made possible by the generous support of the American people through the United States Agency for International Development (USAID). The views expressed in this press release do not necessarily reflect the views of USAID or the United States government.
###
Top