IRI's Center for Insights Poll: Amid Political Upheaval Ukrainians Want Reform; E.U. Membership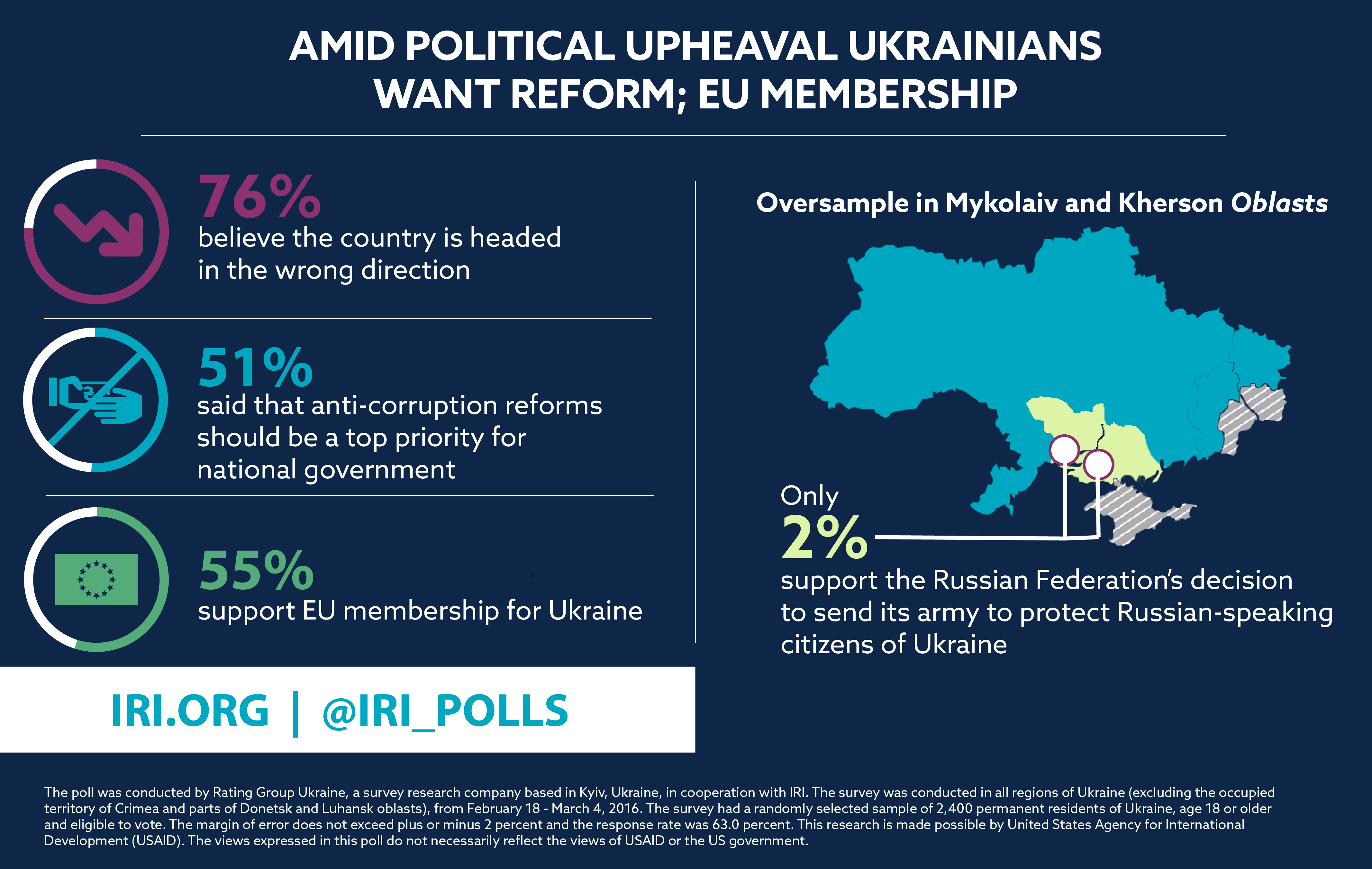 Kyiv, Ukraine— A new nationwide poll released today by the International Republican Institute's (IRI) Center for Insights in Survey Research shows Ukrainians are growing increasingly frustrated with their government and the slow pace of reforms, especially when it comes to tackling corruption.
The poll found a record 76 percent of respondents believe the country is heading in the "wrong direction." Public satisfaction with the president has declined from 25 to 17 percent since November and support for the national government and parliament has declined to single digits.
Stephen Nix, IRI's director of Eurasia, says the low public support is understandable in light of Ukraine's many challenges, including an economic crisis, ongoing conflict in eastern Ukraine and recent political upheavals like the firing of a prominent anti-corruption reformer in the Prosecutor General's Office and this week's resignation of Prime Minister, Arseniy Yatsenyuk. Still, he says, there remains reason for optimism.
"The Ukrainian people understand the crippling effect of corruption on their political and economic development. That's why their desire for change remains strong," said Nix. "It's up to the country's President and new Prime Minister to effectively lead the charge and implement concrete reforms."
More than half of poll respondents said anti-corruption reforms should be the nation's top priority and 58 percent said they support the creation of new anti-corruption entities in Ukraine. However, only 34 percent of those surveyed believe these efforts will be effective.
Despite the challenges, the poll also found continued support for European integration with 55 percent of respondents saying they want Ukraine to join the European Union.
"There are many things that need to happen for Ukraine to be successful. Proving reform can and is happening is among the most important," said Nix. "This poll should encourage reformers to continue their work and also demonstrates that the Ukrainian public remains firmly behind them."
Methodology
The poll was conducted in all regions of Ukraine (excluding the occupied territory of Crimea and parts of Donetsk and Luhansk oblasts) from February 18 to March 4, 2016. The national survey had a randomly selected sample of 2,400 permanent residents of Ukraine aged 18 and older and eligible to vote. The margin of error does not exceed plus or minus 2.0 percent, and the response rate was 63.0 percent. The poll also included an oversample of 1,125 respondents in Mykolaiv and Kherson oblasts.
The survey was conducted by Rating Group Ukraine, in cooperation with IRI's Center for Insights in Survey Research, and was funded by the United States Agency for International Development.
The Center for Insights in Survey Research builds on IRI's two decades of experience in public opinion research and leverages traditional public opinion research and analysis and new methods to help political parties become more responsive to voters, assist elected officials at all levels of government in improving services to citizens, and foster greater participation by underrepresented groups and by citizens generally in the political process.
###
Top