IRI's Center for Insights Poll: Moldovans Look to New Leaders in Ongoing Search for Reform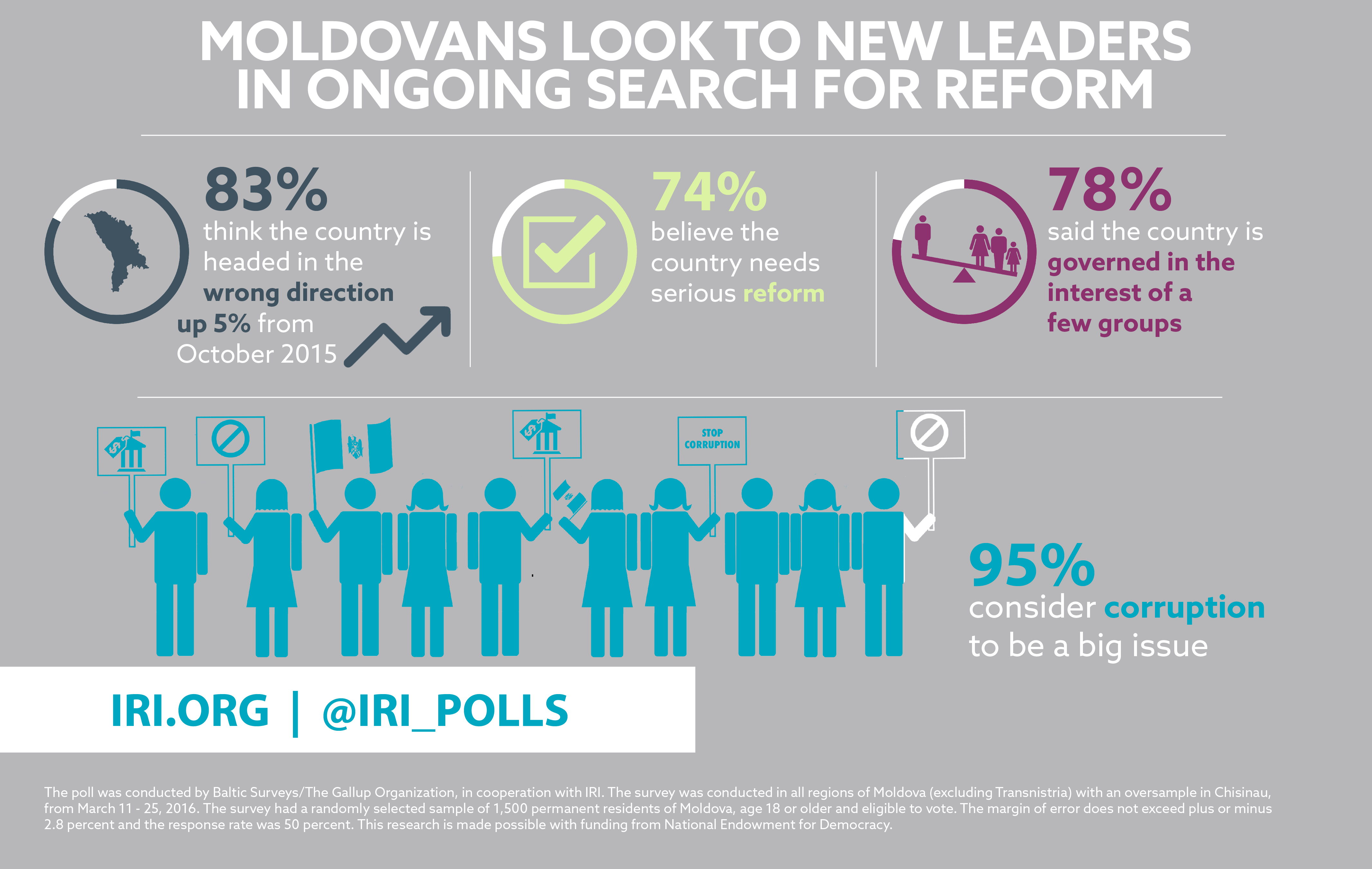 Chisinau, Moldova— According to a new poll released today by IRI's Center for Insights in Survey Research, Moldovans are overwhelmingly dissatisfied with the state of their country and are increasingly looking to new political leaders in their ongoing search for reform.
In the midst of the alleged theft of $1 billion from three of Moldova's banks, other cases of corruption and stalled reforms, the poll found 83 percent of respondents think the country is headed in the "wrong direction"—up five percent since October—and 74 percent think the country needs "serious reform." Yet, nearly half of those surveyed say, "no change is taking place" even after months of growing protests.
"The strong public demand for reform and the government's inability to meet that demand are leaving Moldovans frustrated and looking to new leaders who may be able to deliver results," said Stephen Nix, IRI's Eurasia Director. "They see hope in new faces and new parties."
The new pro-reform leaders include Andrei Nastase who recently created the Dignity and Truth Platform (DA) party and Maia Sandu, who created the Action and Solidarity (PAS) party. According to the poll, both parties already have 12 percent public support. While that support is substantially less than two of the longer-established parties, it is significant because of how recently the two new parties have been formed.
"In just six months these parties have gone from non-existence to strong public awareness and support," said Nix. "This quick turnaround demonstrates Moldovans' strong desire for change and their commitment to pushing such change through the political process."
Corruption and economic issues remain Moldovans' top concerns. Ninety-five percent of those surveyed consider corruption to be a very big or big issue in Moldova and 78 percent said the country is governed in the interest of a few groups rather than the majority.
Unemployment, low incomes, high prices, inflation and poverty dominate respondents' list of top economic concerns.
Methodology
The survey was conducted in all regions (excluding Transnistria) of Moldova from March 11-25, 2016, with an oversample in the capital Chisinau. The national survey had a randomly selected sample of 1,500 residents of Moldova age 18 and older and eligible to vote. The margin of error does not exceed plus or minus 2.8 percent and the response rate was 50 percent.
The survey, funded by the National Endowment for Democracy, was conducted by Dr. R. Alisauskiene of the Baltic Surveys/The Gallup Organization, with field work carried out by Magenta Consulting.
Top