Jordan: Economy Breeds Widespread Dissatisfaction with Government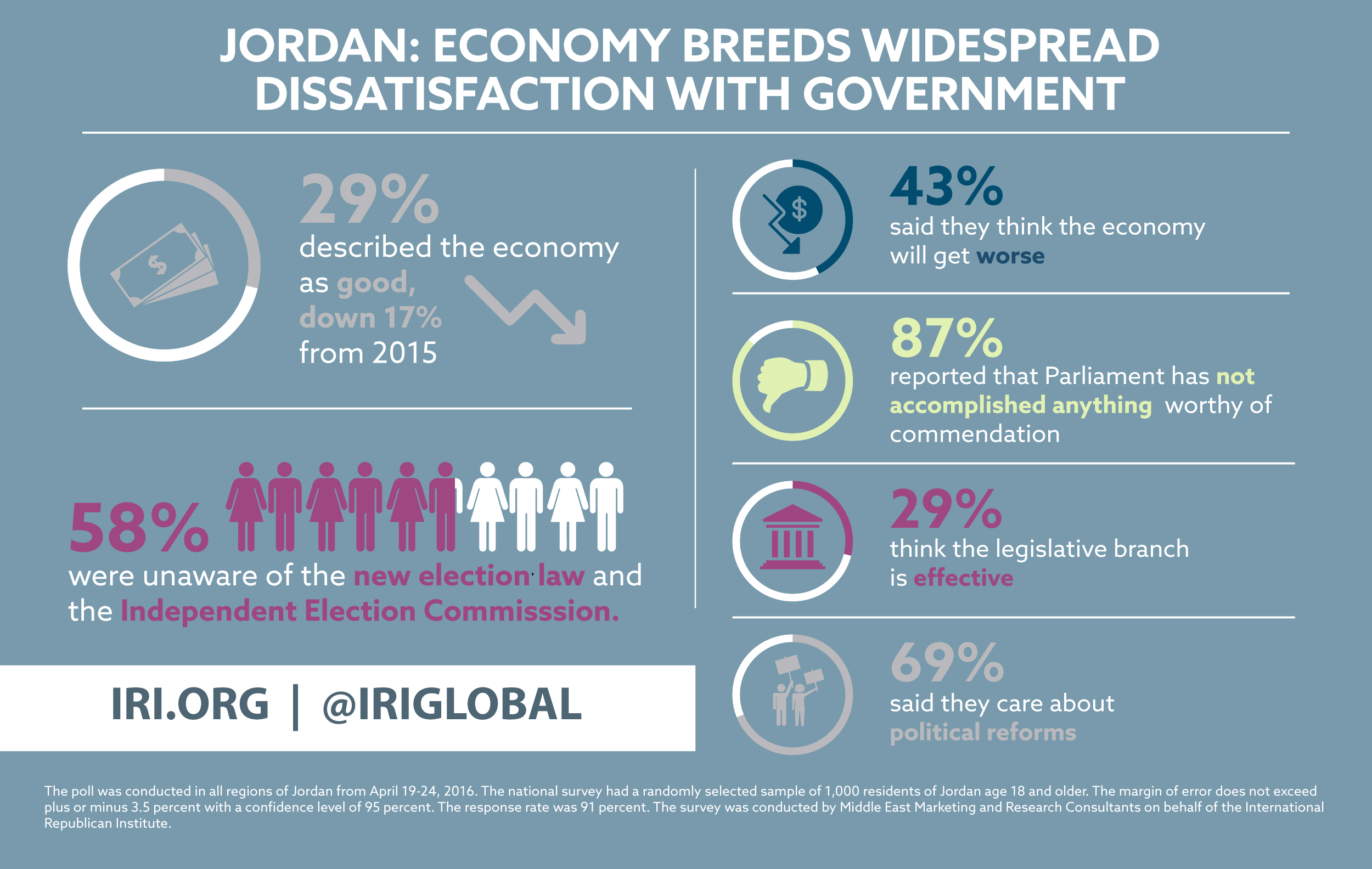 Amman, Jordan— A nationwide survey of public opinion by IRI indicates that economic conditions are trending downward, creating dissatisfaction in Jordan and a corresponding negative view of the parliament's performance. The poll also reveals strong support for Jordan's role in the intervention against ISIS.
"This poll reflects unease among Jordanians just prior to King Abdullah dissolving the Parliament last month," said Scott Mastic, IRI Regional Director, Middle East and North Africa. "The Jordanian people's lack of confidence in the parliament is something the new government must address in tandem with steps to address the country's economic difficulties."
Polling indicates a decrease in the number of people who describe the economy as good—dropping to 29 percent in the most recent poll from 46 percent in 2015—and a parallel rise in the number of respondents who describe it as bad (50 percent, up from 33 percent in 2015). These economic indicators suggest uncertainty about the future, with respondents split over whether they expect the economy to improve.
Pessimism about the economy appears linked to negative views of the Jordanian parliament. The overwhelming majority report that the parliament has not accomplished anything worthy of commendation (87 percent), and only 29 percent of respondents think the legislative branch is effective. There was also a significant drop in the number of respondents who feel that the country is "mostly headed in the right direction" (12 percent, down from 25 percent in 2015).
With parliamentary elections expected this year, 58 percent of Jordanians say they are unaware of the new election law and the Independent Election Commission, and 57 percent say they are unlikely to vote. However, despite this disengagement with the electoral process, 69 percent say they cared about political reforms to a large or moderate degree.
Attitudes towards ISIS are consistent with the results of polling conducted in Jordan by IRI in 2015. Eighty-nine percent of respondents consider ISIS to be a terrorist organization. Support for the international coalition against ISIS is growing–80 percent support the intervention to a large or moderate degree, compared with 75 percent in 2015.
Methodology
The national representative survey was carried out from April 19 to 24, 2016. A sample of 1,000 individuals 18 years of age or older were interviewed face-to-face in their homes. The response rate for the survey was 91 percent. The margin of error for the survey does not exceed plus or minus 3.5 percent with a confidence level of 95 percent. This survey was conducted by the Middle East Marketing and Research Consultants on behalf of IRI's Center for Insights in Survey Research.
The Center for Insights in Survey Research builds on IRI's two decades of experience in public opinion research and leverages traditional public opinion research and analysis and new methods to help political parties become more responsive to voters, assist elected officials at all levels of government in improving services to citizens, and foster greater participation by underrepresented groups and by citizens generally in the political process.
Top