Kyrgyzstan Poll Shows Concerns over Corruption, Unemployment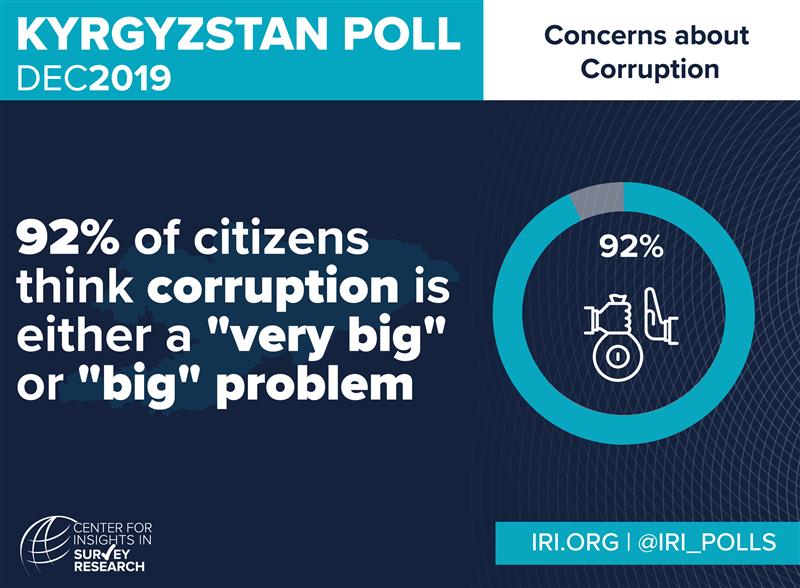 Bishkek, Kyrgyzstan— A new nationwide poll of Kyrgyzstan by the International Republican Institute's (IRI) Center for Insights in Survey Research (CISR) reveals concerns over corruption and unemployment and provides data on citizens' local priorities ahead of upcoming municipal elections.
"Kyrgyzstani citizens are clearly indicating that the high levels of corruption and unemployment are priorities for them, as are local governments' responses to challenges such as the condition of the roads," said IRI Regional Deputy Director for Eurasia Bakhtiyor Nishanov. "Political leaders should develop platforms that address these pressing constituent concerns."
Unemployment (67 percent) and corruption (54 percent) top the list of challenges that respondents say face their country today. Ninety-two percent of the public believes that corruption is either a "big" or "very big" problem in Kyrgyzstan. When asked to assess the government's performance on the issue, 72 percent of respondents say that the government is not making enough of an effort to address this problem.
Overall, 52 percent of respondents think that the country is headed in the right direction, while 36 percent believe the country is headed in the wrong direction—an increase of nine percentage points since IRI's last survey in November 2018. Respondents list their top local concerns as poor roads, a lack of clean drinking and irrigation water and unemployment.
The poll also reveals the ways in which Kyrgyzstan's media space and society are changing. Fifty-eight percent of respondents reported using the internet every day, an eight-point increase since November 2018. One–third of respondents think that there should be more women represented in politics, a 10-point uptick compared to the previous poll. Following the introduction of a 30 percent quota for women's representation on local councils in 2019, the poll reflects general consistency in support for increased women's representation across age groups, but higher levels of support from women (43 percent) than men (23 percent).
The survey was conducted on behalf of IRI's Center for Insights in Survey Research (CISR) by Dr. Rasa Alisauskiene of Baltic Surveys/The Gallup Organization and by SIAR Research and Consulting with support of the United States Agency for International Development (USAID) between November 21 and December 3, 2019. Data was collected using a multistage probability sampling method through in-person, in-home interviews. The sample consists of 1,483 respondents aged 18 and older and eligible to vote. The sample was weighted for age, gender and urbanity. The margin of error does not exceed plus or minus 2.5 percent with a confidence level of 95 percent. The response rate was 74 percent.
This survey is made possible by the generous support of the American people through the United States Agency for International Development (USAID). The opinions expressed herein are those of the author(s) and do not necessarily reflect the views of USAID or the United States Government.
Top