Kyrgyzstan Poll: Sustained Optimism Tempered by Concerns Over Corruption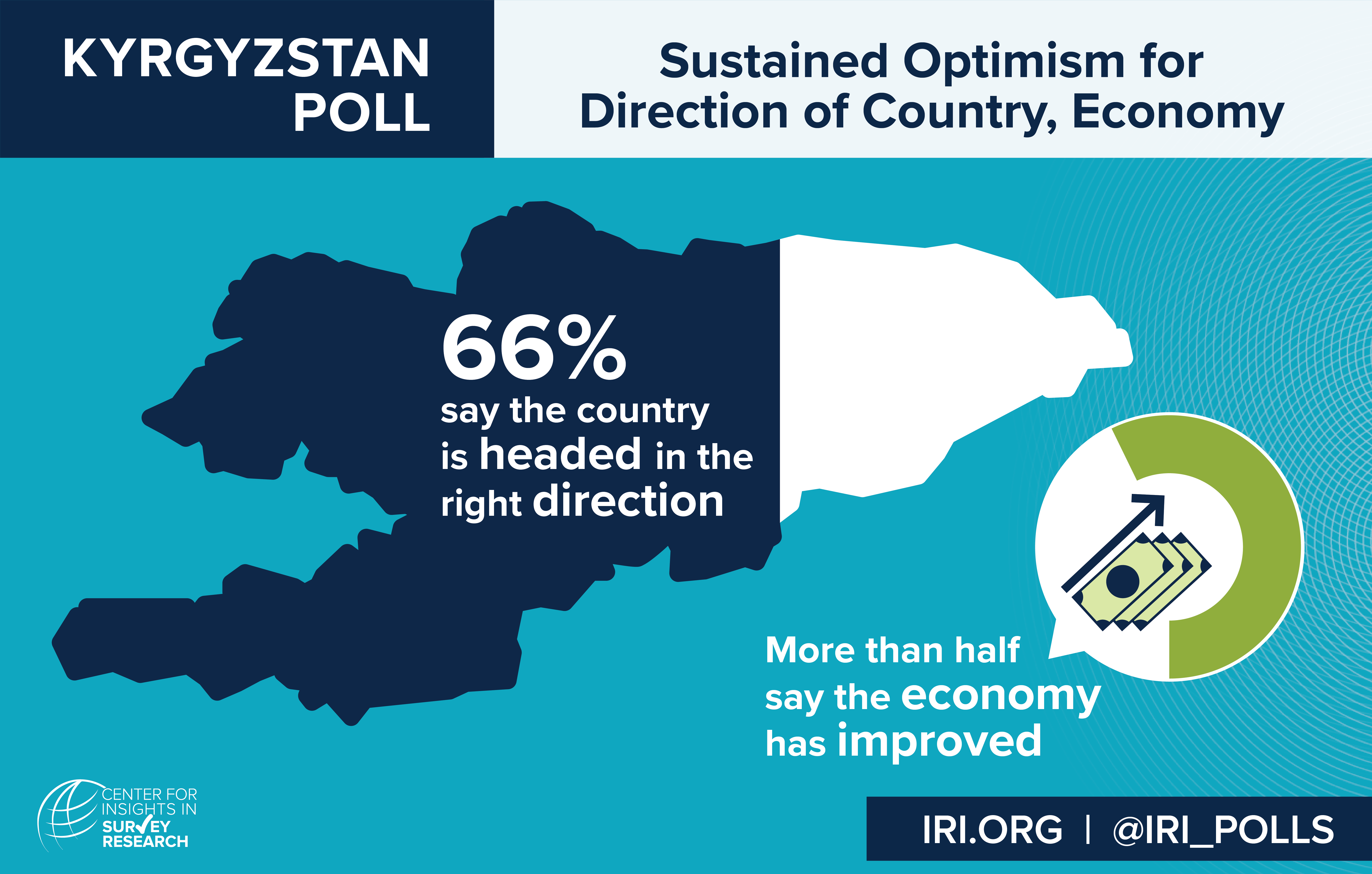 Bishkek, Kyrgyzstan—A nationwide poll of Kyrgyzstan by the International Republican Institute's (IRI) Center for Insights in Survey Research reveals sustained optimism over the country's trajectory and economic performance, tempered by an overwhelmingly high number who think corruption is a problem.
"This positive trend in public opinion indicates that the Kyrgyz people are responding to economic improvements," said IRI Regional Director for Eurasia Stephen Nix. "The government must take advantage of this opportunity to show that they are listening to the views of Kyrgyz citizens, and are prepared to address issues requiring action and reform such as corruption."
Sixty-six percent of respondents believe that the country is headed in the right direction, reflecting a continued trend in polling that has been evident since February 2015. Optimism over the economic situation is also on the rise: a combined 46 percent report that the financial situation of their household has either "improved a lot" or "improved somewhat" over the past 12 months—a six-point improvement since March 2017.
The poll also reflects continued concerns over corruption. A combined 95 percent of respondents think that corruption is either a "very big" (74 percent) or "big" (21 percent) problem. Most respondents believe that reforms are necessary to address Kyrgyzstan's problems: 36 percent favor "structural and systemic" reforms, and 32 percent want "gradual reforms which preserve the existing system."
Additionally, the survey reflected a sharp uptick in the number of respondents who think that Kyrgyzstan enjoys good relations with Uzbekistan. Nearly 80 percent believe that relations between the two countries are "good," a 30-point jump from the poll conducted in March 2017. In a similar vein, 45 percent describe Uzbekistan as one of Kyrgyzstan's "most important economic partners," a 22-point increase from March 2017. This continues the trend observed in the previous poll, and may be tied to optimism that disputes over the Kyrgyz-Uzbek border are nearing resolution.
Methodology
The survey was conducted by Dr. Rasa Alisauskiene of the public and market research company Baltic Surveys/The Gallup Organization on behalf of the Center for Insights in Survey Research. The field work was carried out by SIAR Research and Consulting. Data was collected throughout Kyrgyzstan from November 19 to December 2, 2017 through face-to-face interviews at respondents' homes. The sample consisted of 1,500 permanent residents of Kyrgyzstan aged 18 and older and eligible to vote and is representative of the general population by age, gender, education, region and settlement size. Demographic profile differences from published census data are linked to migration patterns. The response rate was 67 percent. The margin of error does not exceed plus or minus 2.5 percent for the full sample. Charts and graphs may not add up to 100 percent due to rounding.
This survey has been produced with the assistance of the European Union. The contents of this publication are the sole responsibility of the Center for Insights in Survey Research at the International Republican Institute and can under no circumstances be regarded as reflecting the position of the European Union.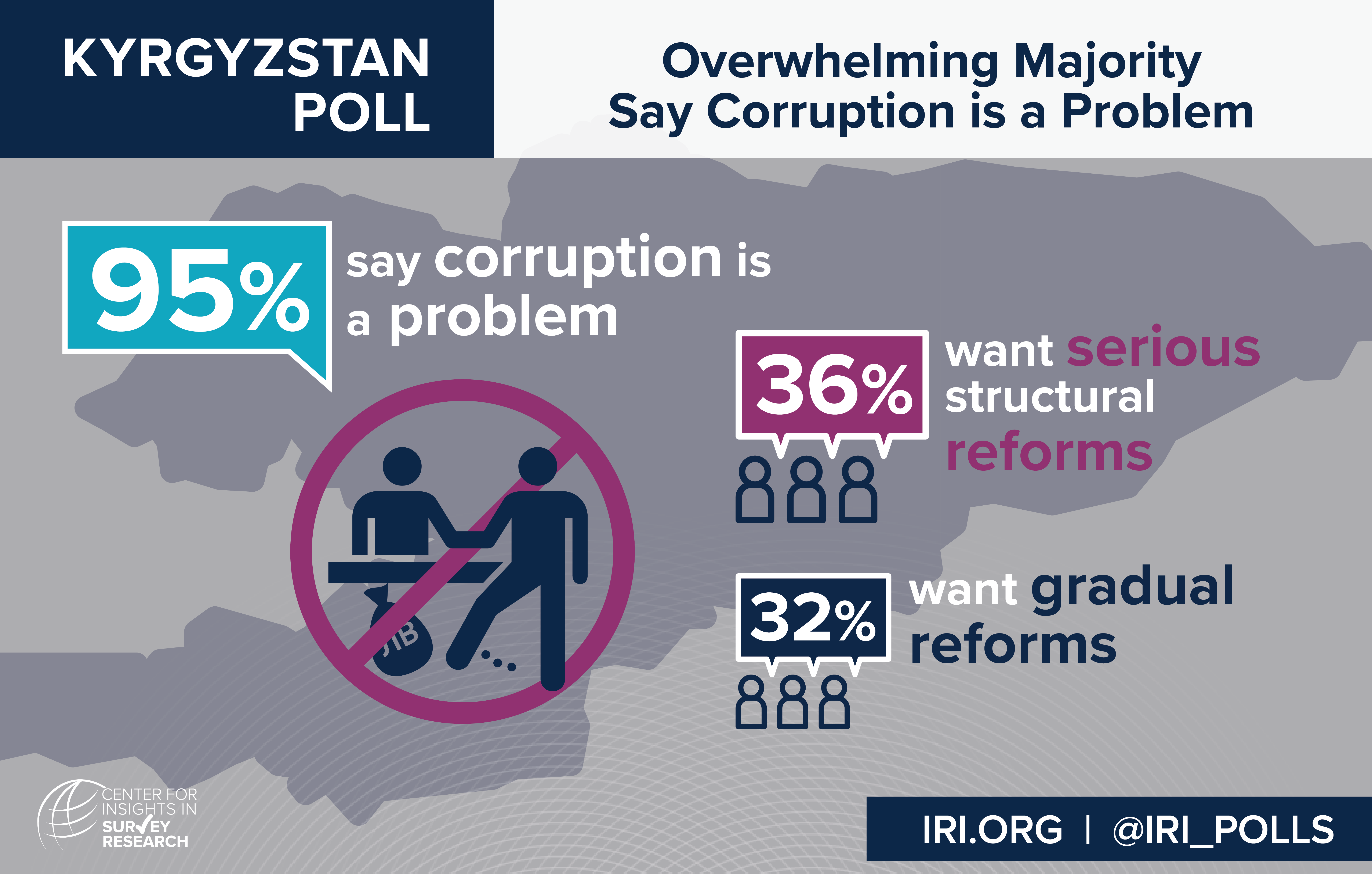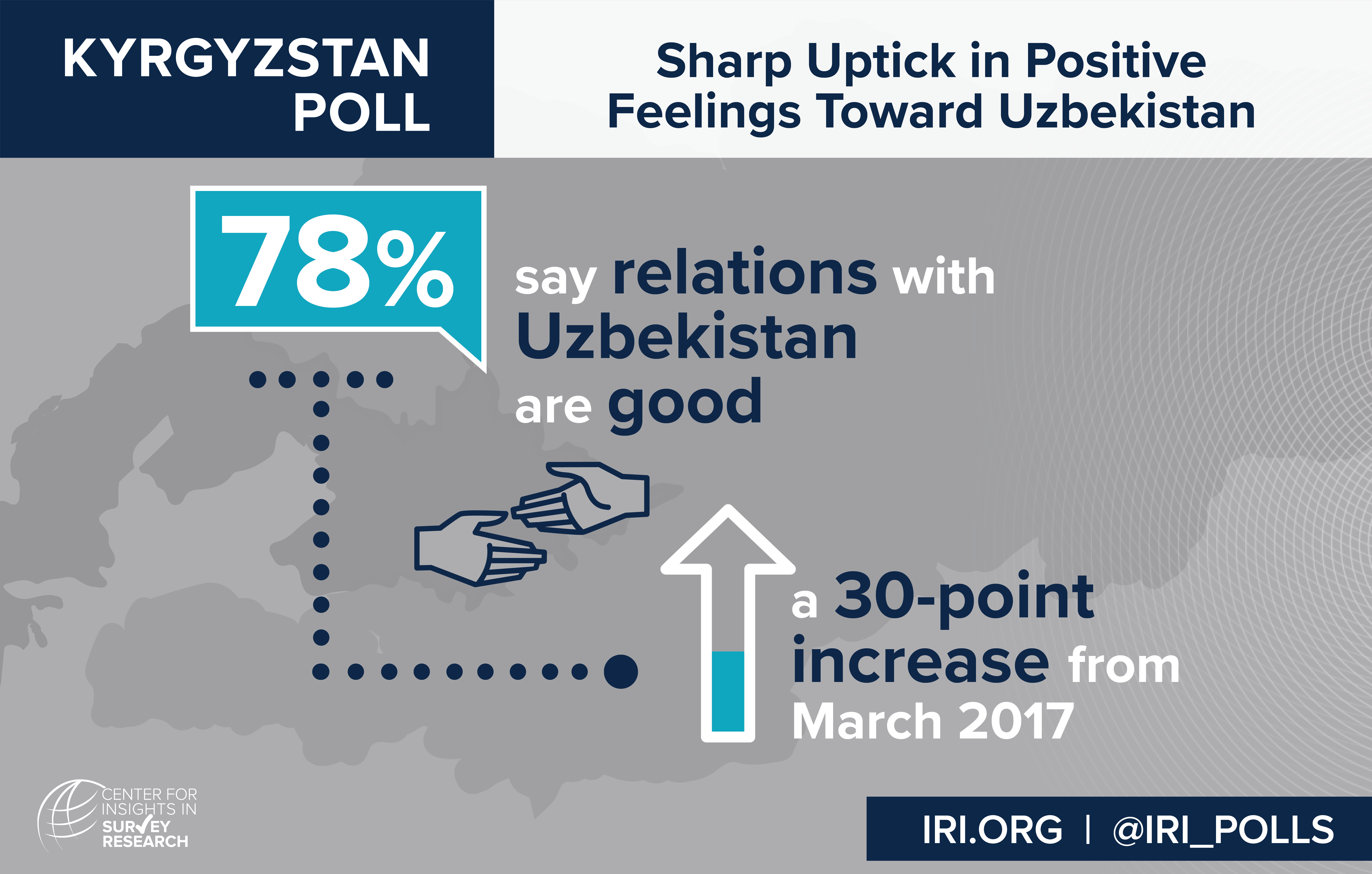 Top