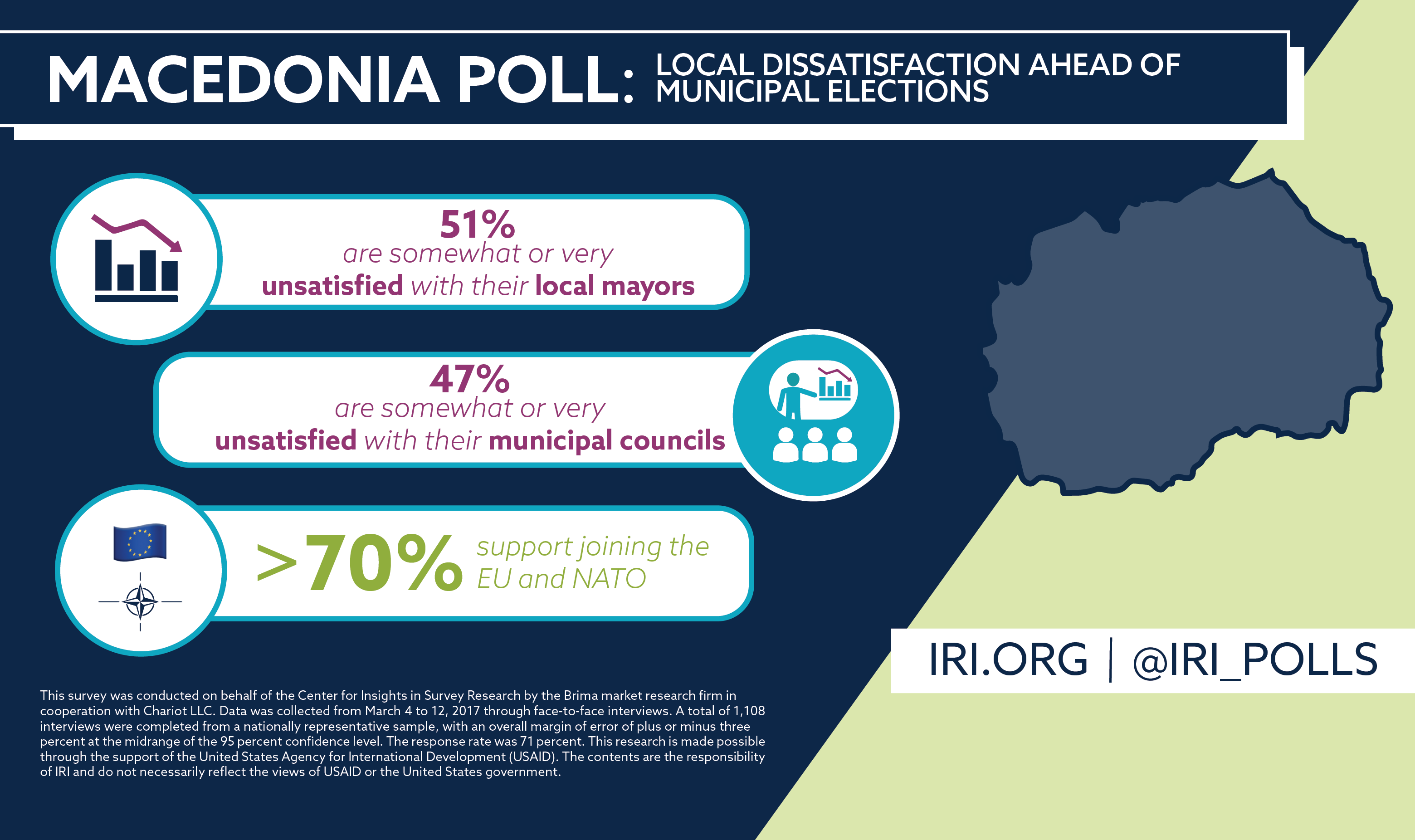 Skopje, Macedonia—A nationwide poll released today by the International Republican Institute's (IRI) Center for Insights in Survey Research reveals that a majority of citizens are dissatisfied with their local governments.
"While a great deal of attention has been paid to Macedonia's national challenges, concerns over the performance of local governments are clearly reflected in this most recent poll," said Jan Surotchak, IRI Regional Director for Europe. "Ahead of the municipal elections expected to be held later this year, political parties must find a way to address the issues that matter most to local voters."
Fifty-one percent of respondents are somewhat or very unsatisfied with the past performance of their local mayors, while 47 percent expressed the same attitudes towards their municipal councils. Forty-six percent reported they were also unsatisfied with their local administrations. A plurality (37 percent) believe their municipality is moving in the wrong direction, 35 percent are neutral, and just 23 percent feel that their municipality is moving in the right direction.
On the question of European integration, a significant majority support EU (72 percent) and NATO membership (71 percent). However, 59 percent believe Macedonia is further away from full EU membership today than when it first became a candidate in 2005. While support for EU and NATO accession remains strong overall, support for EU membership fell slightly since IRI's previous nationwide poll in November 2016 (from 76 percent to 72 percent), while respondents who favor joining NATO fell from 77 to 71 percent.
Methodology
This survey was conducted on behalf of the Center for Insights in Survey Research by the Brima market research firm in cooperation with Chariot LLC. Data was collected from March 4 to 12, 2017 through face-to-face interviews. A total of 1,108 interviews were completed from a nationally representative sample, with an overall margin of error of plus or minus three percent at the midrange of the 95 percent confidence level. The response rate was 71 percent. Figures in charts and tables may not add up to 100 percent due to rounding.
This research is made possible through the support of the United States Agency for International Development (USAID). The contents are the responsibility of IRI and do not necessarily reflect the views of USAID or the United States government.
Top