Macedonia Poll: Spike in Optimism on Political Situation and EU Membership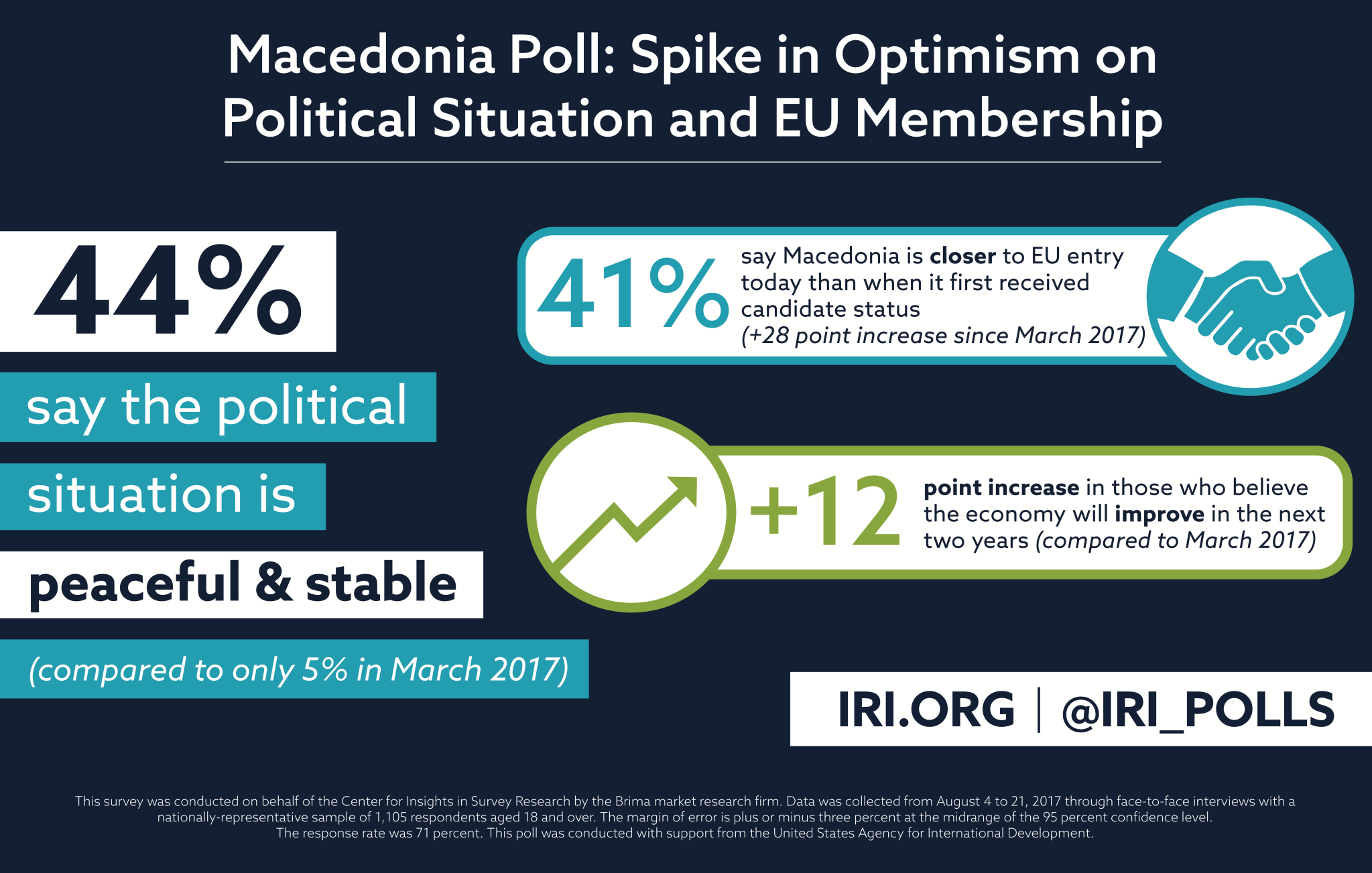 Skopje, Macedonia—A poll of residents of Macedonia released today by the International Republican Institute's (IRI) Center for Insights in Survey Research reveals a dramatic uptick in optimism over the country's political situation and prospects for EU membership.
"Whereas previous IRI polls reflected deep unease and pessimism over Macedonia's stability and trajectory, the results of this survey are highly encouraging," said IRI Regional Director for Europe Jan Surotchak. "The new government should recognize this as an opportunity to regain the trust of the people of Macedonia and take meaningful actions to address the issues of greatest concern to citizens."
The number of Macedonians who describe the internal political situation as "peaceful and stable" jumped from just 5 percent in March 2017 to 44 percent in August 2017. This development is likely linked to the recent formation of a new government after two years of bitter political conflict and uncertainty. The proportion who describe the current environment as "intense and uncertain" dropped by 18 points (62 percent in March 2017; 44 percent in August 2017), and the number who call the situation "critical and unstable" saw a 22-point reduction (32 percent in March 2017; 10 percent in August 2017).
Macedonians also appear to be more optimistic about the prospects of accession to the European Union. The number who think the country is closer to joining the EU than when it first received candidate status jumped from just 13 percent in March 2017 to 41 percent. Support for EU membership continues to be strong at 77 percent—a five-point improvement from March 2017.
The renewed sense of stability reflected in the survey may also have contributed to a more optimistic outlook on the economy. Thirty-three percent now believe the economy will improve over the next two years—a 12-point increase from March 2017. Pessimism over the quality of life in Macedonia also seems to have declined: the number of respondents who feel that their quality of life is getting worse declined from 38 percent in March 2017 to 24 percent.
Methodology
This survey was conducted on behalf of the Center for Insights in Survey Research by Brima market research firm. Data was collected from August 4 to 21, 2017 through face-to-face interviews from a nationally-representative sample of 1,105 respondents aged 18 and over. The margin of error is plus or minus three percent at the midrange of the 95 percent confidence level. The response rate was 71 percent. Figures in charts and tables may not add up to 100 percent due to rounding. This poll was conducted with support from the United States Agency for International Development.
Top