New Georgia Poll: Support for COVID-19 Management, Concerns Over Economy
Tbilisi, Georgia – A new nationwide poll of Georgia by the International Republican Institute's (IRI) Center for Insights in Survey Research reveals strong support for the government's management of COVID-19, as well as significant concerns about the pandemic's economic impact. These findings come two months ahead of Georgia's parliamentary elections, scheduled to take place on October 31, 2020.
"The survey reflects strong public trust in the government's performance on COVID-19," said IRI Regional Director for Eurasia Stephen Nix. "It is crucial that Georgia's political parties take this opportunity to build platforms and programs that respond to pandemic-related economic concerns ahead of the upcoming elections."
According to the poll, 79 percent of Georgians are either "very satisfied" (41 percent) or "somewhat satisfied" (38 percent) with the government's response to COVID-19. Likewise, 58 percent are either "very" (21 percent) or "somewhat" (37 percent) satisfied with the government's social programs designed to mitigate the pandemic. An overwhelming majority of citizens agree that the National Center for Disease Control (94 percent), the Ministry of Health (91 percent) and the Office of the Prime Minister (81 percent) have effectively addressed COVID-19.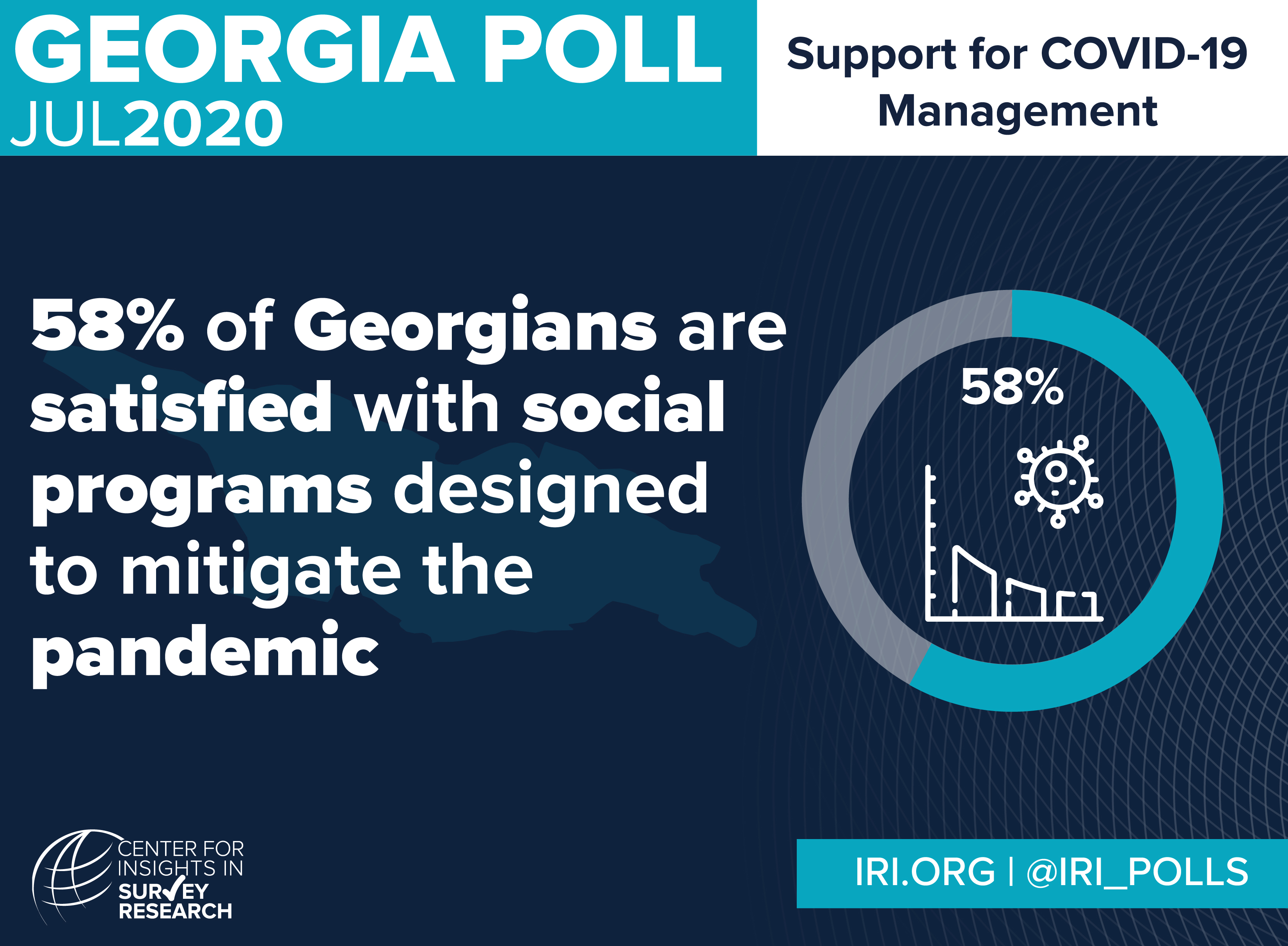 Notably, there has also been an uptick in positive views of the country's trajectory since IRI's last poll: In October 2019, 22 percent of citizens thought Georgia was headed in the right direction, while 36 percent think so today.
Despite the government's successful management of COVID-19, 82 percent of Georgians agree that the economic situation has worsened since the outbreak of the pandemic. Sixty-five percent of citizens think the economic situation in their homes is either "very" (22 percent) or "somewhat" (43 percent) bad, and 67 percent think the economic situation in their homes has worsened with COVID-19.
Ahead of the October parliamentary elections, 54 percent of citizens reported that they have heard of the March 8 agreement to revise the country's electoral system. Of the respondents who are familiar with the change, a combined 77 percent either "strongly" (41 percent) or "somewhat" (36 percent) support the reform.
Methodology
The survey was conducted on behalf of IRI's Center for Survey Research by Dr. Rasa Alisauskiene of Baltic Surveys/The Gallup Organization between June 4 and July 2, 2020. The fieldwork was conducted by the Institute of Polling and Marketing. Data was collected using a stratified multistage probability sampling method through in-person, in-home interviews. The sample consists of 1,500 respondents aged 18 and over and eligible to vote. The data was weighted for age, gender, region and settlement size. The margin of error is plus or minus 2.5 percent and the response rate was 66 percent. This survey was made possible by the generous support of the American people through the U.S. Agency for International Development.
Top