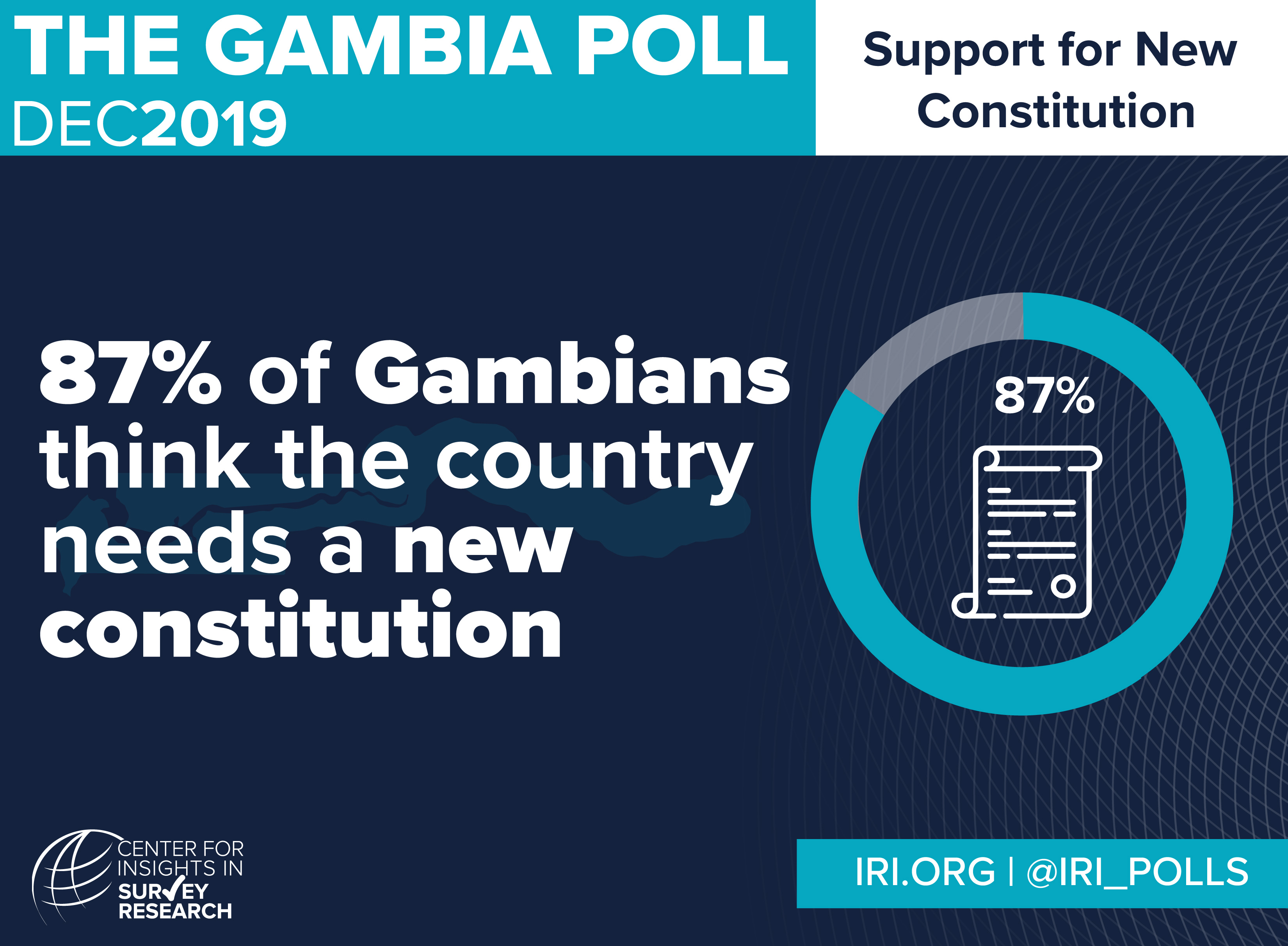 Banjul, The Gambia— A new nationwide survey of The Gambia by the International Republican Institute's (IRI) Center for Insights in Survey Research reveals support for a new constitution and satisfaction with the Constitutional Review Commission's (CRC) performance. The poll also indicates that most citizens would vote in a constitutional referendum, but the lack of voter ID cards could hamper turnout.  
"Gambians are looking forward to a new constitution that strengthens fundamental rights and freedoms," said Greg Kearns, IRI Regional Director for Africa. "In order to meet the high threshold for voter turnout, it is critical that the government addresses barriers to voter participation before holding a referendum." 
According to the poll, 87 percent of Gambians agree that the country needs a new constitution, and 60 percent rated the performance of the CRC as either "very good" (42 percent) or "somewhat good" (18 percent). Furthermore, 88 percent of citizens support the inclusion of presidential term limits in the new constitution. Fifty-seven percent cited this as a main reason for turning out to vote in a potential referendum, along with 49 percent of Gambians who cited fundamental rights and freedoms. While the vast majority (74 percent) of Gambians intend to vote in the referendum, among the 13 percent who said they are unlikely to vote, a plurality (39 percent) cited a lack of a voter's card as their primary reason for abstaining.  
The poll reflected general optimism regarding the country's democratic trajectory. Fifty-eight percent of citizens agree The Gambia is headed in the right direction, and 66 percent of citizens think democracy is the best possible form of governance. However, citizens under 36 years of age were more likely than older adults to say that other forms of government could be equally good or better for the country. When asked about the most pressing issues facing the country, 37 percent listed the cost of living, high prices and unemployment as their highest priorities.  
*This survey was conducted in November and December 2019, after the release of the November 2019 draft constitution.  
The survey was conducted on behalf of IRI's Center for Insights in Survey Research by the Center for Research and Policy Development between November 26 and December 7, 2019. Data was collected using a multistage probability sampling method through face-to-face interviews with n=1,178  Gambians aged 18 and above. The data was weighted for age, gender, urbanicity, and local government area based on results of the 2018 Labor Force Survey of The Gambia. The margin of error is plus or minus 3 percent at the midrange of the 95 percent confidence level. The response rate was 98 percent. The survey was made possible by the generous support of the American people through the United States Agency for International Development (USAID). 
Top