New Ukraine Municipal Poll Reveals Concerns over Medical Institutions Prior to COVID-19 Outbreak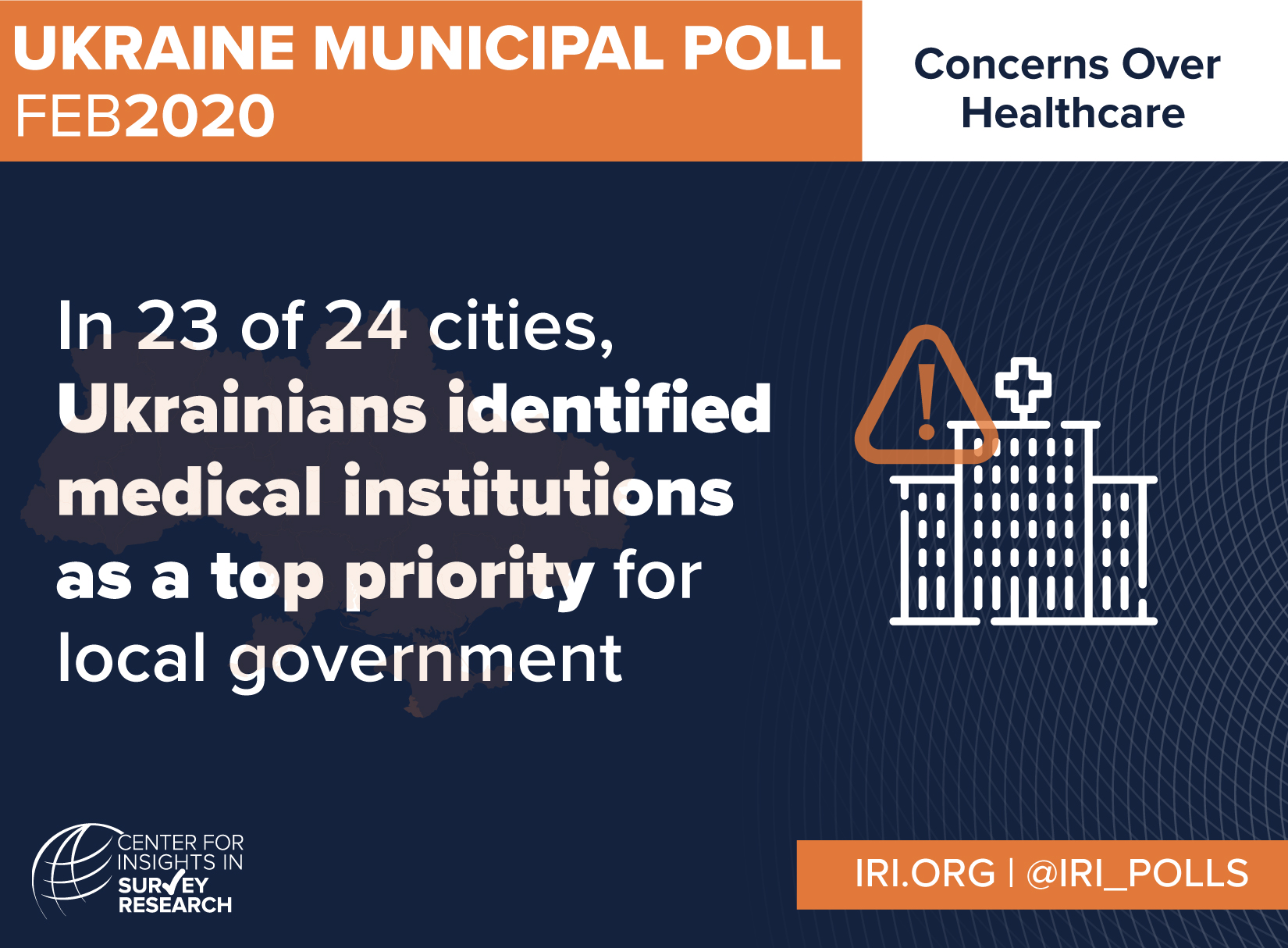 Kyiv, Ukraine—The latest nationwide municipal survey of Ukrainian cities by the International Republican Institute's (IRI) Center for Insights in Survey Research reveals concerns over the country's medical institutions ahead of the COVID-19 outbreak, but also satisfaction with local government performance.
"Even before the COVID-19 pandemic, improving healthcare facilities was a top priority for Ukrainians," said Stephen Nix, IRI Regional Director for Eurasia. "Now more than ever, Ukrainians need responsive and dynamic local governments to address this global health crisis."
In 23 of the 24 cities surveyed, citizens identified the enhancement of medical institutions as among their top three priorities for incoming government officials, a clear signal to candidates contesting Ukraine's upcoming 2020 local elections. In all but three of the cities polled, a majority or plurality rated their medical institutions as either "terrible" or "bad." The city of Vinnytsia had the highest-ranked healthcare facilities, with only 30 percent of citizens considering them to be "good" or "excellent." In Mykolaiv, where medical institutions received the lowest rating, 59 percent of citizens believe they are "bad" or "terrible."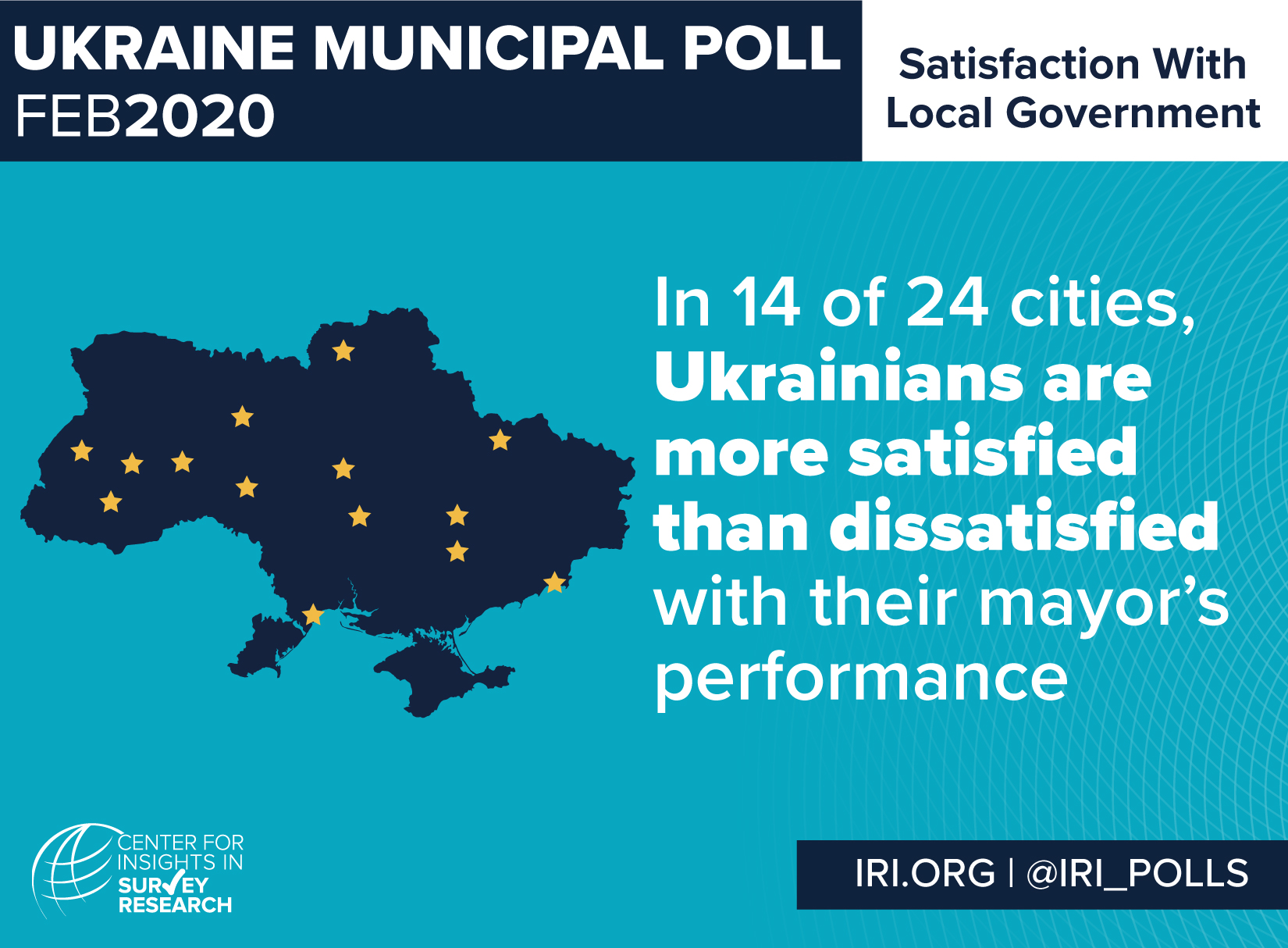 More Ukrainians think their cities are "going in the right direction" at the municipal level than the national level. Optimism for the country's future at the national level has declined since the September 2019 municipal poll, while 14 of the 24 cities surveyed are more satisfied than dissatisfied with their mayor's performance. In Khmelnytskyi and Ivano-Frankivsk, 80 percent of citizens are satisfied with the mayor's performance, while 79 percent are satisfied in Chernihiv. The cities where public services are highly rated (such as Vinnytsia, Ivano-Frankivsk, Chernihiv and Khmelnytskyi) are also the cities with the highest-ranked mayors and city councils.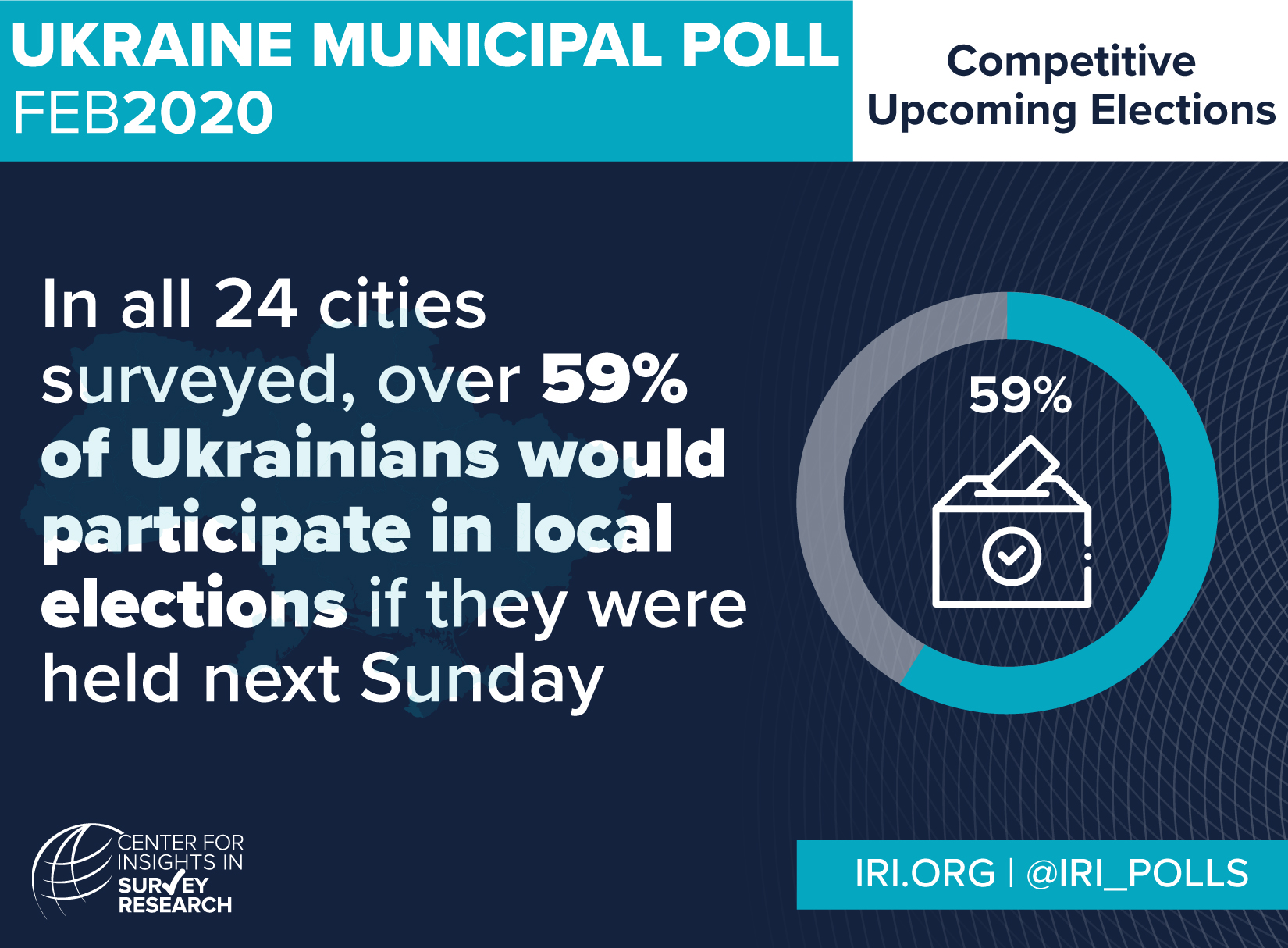 Additionally, the poll reveals enthusiasm across all cities for democratic participation, with a strong majority of citizens reporting that they would vote if local elections were held next Sunday. For example, 82 percent of respondents in Khmelnytskyi said that they would participate in local elections. The poll also shows that a plurality of Ukrainians in 16 of the 24 cities are uncommitted to any party – a sign that Ukraine's October local elections have the potential to be highly competitive.
Methodology
The survey was conducted on behalf of IRI's Center for Insights in Survey Research by Sociological Group "Rating" (Rating Group Ukraine) between January 25 and February 17, 2020. Data was collected in 24 cities in Ukraine (Kyiv and all oblast centers; in Donetsk Oblast – Mariupol, in Luhansk Oblast – Sievierodonetsk) through face-to-face interviews with Ukrainians aged 18 and above. The data was weighted to reflect the general population of these cities by age and gender. The margin of error does not exceed plus or minus 3.5 percent and the response rate averaged 63.9 percent. The survey was made possible by the generous support of the American people through the United States Agency for International Development (USAID).
Top