Poll: Bosnians United in Opposing IS; Divided on U.S., EU and Russia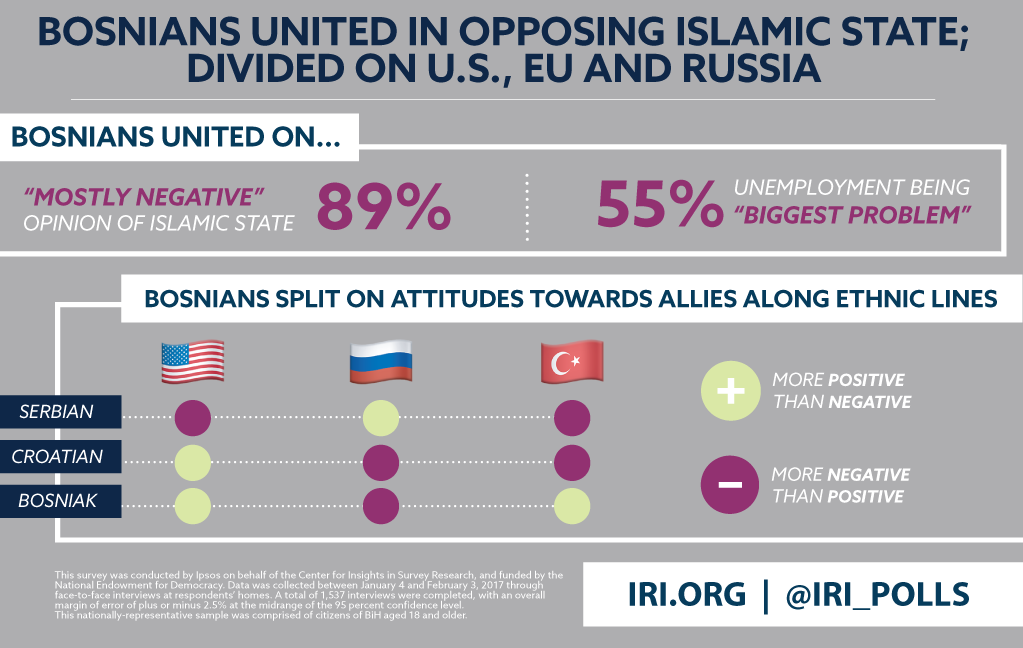 Sarajevo, Bosnia and Herzegovina—A new nationwide poll from Bosnia and Herzegovina (BiH) released today by the International Republican Institute's (IRI) Center for Insights in Survey Research indicates that Bosnians are united in their opposition to the Islamic State (IS) and on concerns over unemployment, but divided along ethnic lines on preferred international partners.
"After a long history of ethno-religious divisions, it's encouraging to see people of all backgrounds in BiH united against religious extremism," said Jan Surotchak. "Governmental institutions must do all in their power to address these shared concerns, and seek to understand and address the divisions that persist."
An overwhelming majority of Bosnians have a "mostly negative" opinion of IS (Bosniak: 85 percent; Croat: 96 percent; Serb: 92 percent). Similarly, Bosnians are united in preference for a secular state (Bosniak: 58 percent; Croat: 56 percent; Serb: 49 percent). More than half of Bosnians (55 percent) rate unemployment as the "biggest problem facing the country," a figure that remains roughly consistent when broken down across ethnic, age and socioeconomic lines.
Bosnians differ substantially in their affinities for the United States, Russia and Turkey, where preferences are clearly linked to ethnic background. While a majority of Bosniaks (64 percent) and Croats (56 percent) have a mostly or somewhat positive view the role of the United States, just 26 percent of Serbs hold this view. Attitudes towards accession to the European Union correlate with these preferences: while a majority of Bosniaks (65 percent) and Croats (59 percent) strongly support accession, a mere 18 percent of Serbs strongly favor joining the EU. On the other hand, the vast majority of Serbs have a positive opinion of Russia's role in the country (89 percent), compared to 43 percent among Croats and 29 percent among Bosniaks.
Methodology
This survey was conducted by Ipsos on behalf of the Center for Insights in Survey Research with funding from the National Endowment for Democracy. Data was collected between January 4 and February 3, 2017, through face-to-face interviews at respondents' homes. A total of 1,537 interviews were completed, with an overall margin of error of plus or minus 2.5 percent at the midrange of the 95 percent confidence level. This nationally-representative sample was comprised of citizens of BiH aged 18 and older. Figures in charts and tables may not add up to 100 percent due to rounding.
Top