Poll: Georgians Support EU Membership; Distrust Russia but Favor Dialogue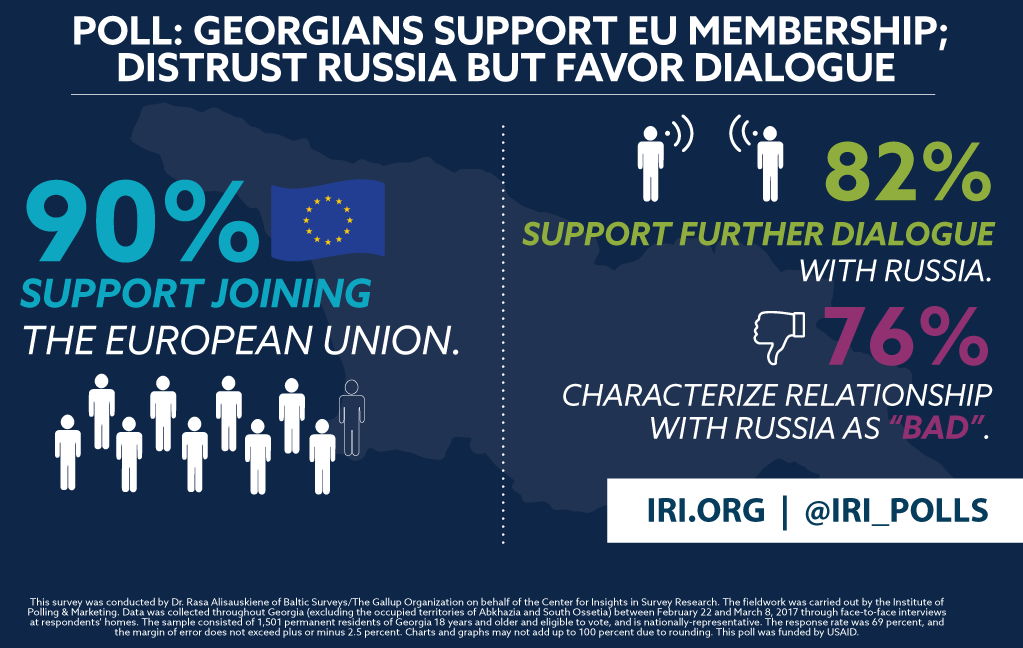 Tbilisi, Georgia—A nationwide poll released today by the International Republican Institute's (IRI) Center for Insights in Survey Research shows Georgian support for accession to the European Union (EU) at a four-year high. Despite continued suspicion of the Russian government, the survey reveals a strong desire for engagement with the country, and indicates persistent concerns over unemployment and the state of the Georgian economy.
A combined 90 percent of Georgians "fully support" (64 percent) or "somewhat support" (26 percent) joining the EU. Similarly, a majority of Georgians "fully support" (56 percent) or "somewhat support" (26 percent) joining NATO.
The survey reflects significant distrust of Russian motives alongside a desire to maintain relations. Seventy-three percent of respondents view Russia as a political threat, and 57 percent see it as an economic threat. A vast majority (76 percent) view the current state of Georgia's relationship with Russia as "bad," yet a combined 82 percent "fully support" (53 percent) or "somewhat support" (29 percent) continued dialogue—a figure consistent with previous IRI polls.
Nearly half of Georgians (47 percent) continue to cite unemployment as the main problem facing the country, which is consistent with IRI's March 2016 poll (45 percent). Unemployment was also named as the primary problem facing respondents' towns or villages (35 percent) and households (42 percent). A combined 70 percent think that the economic situation has "worsened somewhat" (34 percent) or "worsened a lot" (36 percent) in the past two months. Taking the longer view, 69 percent feel that the direction of the economy has "regressed" over the past four years.
Methodology
This survey was conducted by Baltic Surveys/The Gallup Organization on behalf of IRI's Center for Insights in Survey Research. The fieldwork was carried out by the Institute of Polling & Marketing. Data was collected throughout Georgia (excluding the occupied territories of Abkhazia and South Ossetia) between February 22 and March 8, 2017, through face-to-face interviews at respondents' homes.
The sample consisted of 1,501 permanent residents of Georgia, 18 years and older and eligible to vote, and is nationally-representative. The response rate was 69 percent, and the margin of error does not exceed plus or minus 2.5 percent. Charts and graphs may not add up to 100 percent due to rounding. This poll was funded by the U.S. Agency for International Development.
Top