Tunisia Poll: Underperforming Economy and Corruption Continue to Drive Intense Dissatisfaction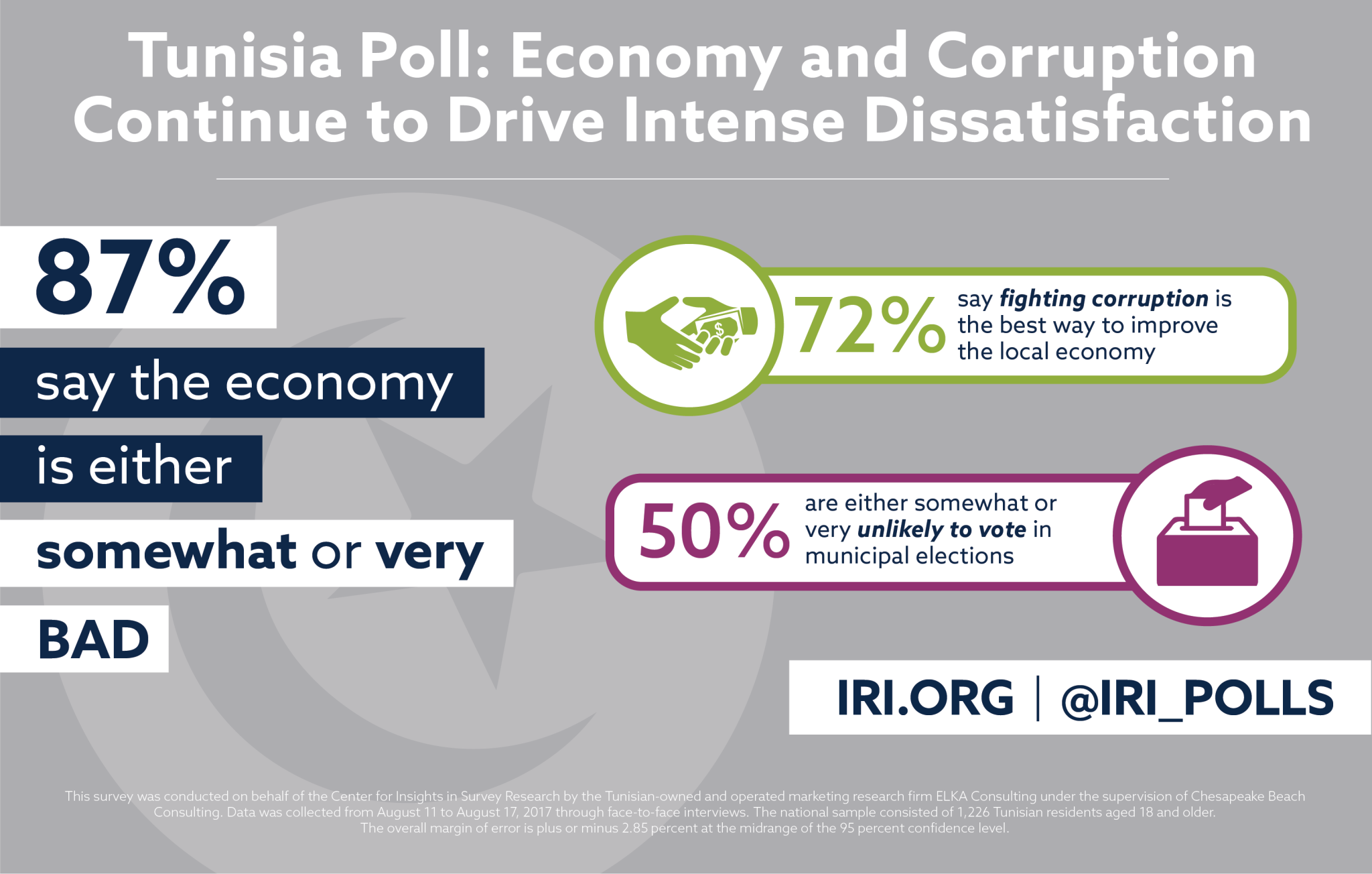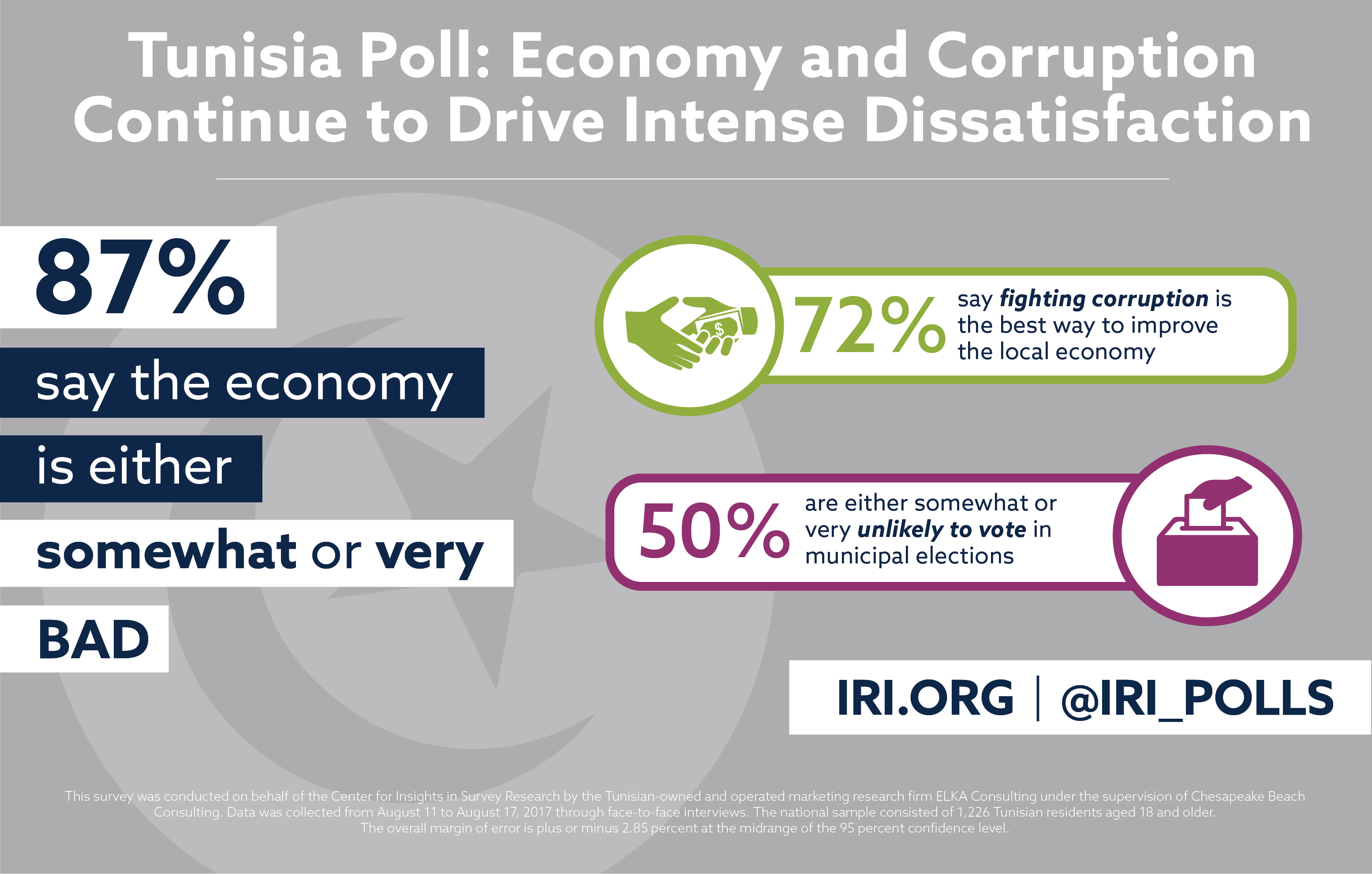 Tunis, Tunisia—A new poll by the International Republican Institute's (IRI) Center for Insights in Survey Research reveals that poor economic conditions and corruption are continuing to drive intense public dissatisfaction in Tunisia.
"This poll reinforces the vital need to address the issues of greatest concern to Tunisians: corruption and the economy," said Scott Mastic, IRI Regional Director for the Middle East and North Africa. "Our findings reinforce the need to confront corruption on both the national and local levels, and it is our hope that the government integrates this approach into its newly-launched 'War on Corruption.'"
A combined 87 percent of Tunisians describe the economic situation as either "somewhat bad" (26 percent) or "very bad" (61 percent). A plurality (44 percent) say that unemployment is the single biggest problem facing the country, followed by the economic and financial crisis at 24 percent. A clear majority of respondents (72 percent) think that fighting corruption and bribery is the best way to improve the economy of their local communities, followed by 59 percent who say that local government should "make it easier for entrepreneurs to start businesses."
Corruption continues to be a major concern, with a startling 89 percent of Tunisians maintaining that corruption is higher today than before the 2011 democratic revolution. Sixty-four percent think that personal connections (wasta) are "very likely" to lead to personal wealth in Tunisia. Notably, for the second time in IRI's history of polling in Tunisia, respondents cited hospitals as the top institution in which they had personally experienced corruption (17 percent).
The survey also indicates declining interest in participating in the electoral process. Fifty percent of respondents say they are either "somewhat" (9 percent) or "very" (41 percent) unlikely to vote in the planned municipal elections—a 7-point increase from April 2017. Additionally, 83 percent either don't know or refused to say which party they would vote for if elections were held tomorrow.
Methodology
This survey was conducted on behalf of the Center for Insights in Survey Research by the Tunisian-owned and operated marketing research firm ELKA Consulting under the supervision of Chesapeake Beach Consulting. Survey questions focused primarily on the economy in the interest of equipping stakeholders with data indicating public priorities on this issue. Data was collected from August 11 to August 17, 2017 through face-to-face interviews. The national sample consisted of 1,226 Tunisian residents aged 18 and older. An oversample was conducted in three economically-distressed regions of the country. The overall margin of error is plus or minus 2.85 percent at the midrange of the 95 percent confidence level. Figures in charts and tables may not add up to 100 percent due to rounding.
Watch IRI's top three takeaways from this poll
Top