Tunisia: Post-Election Poll Shows Bump in Optimism but Continued Distrust of Government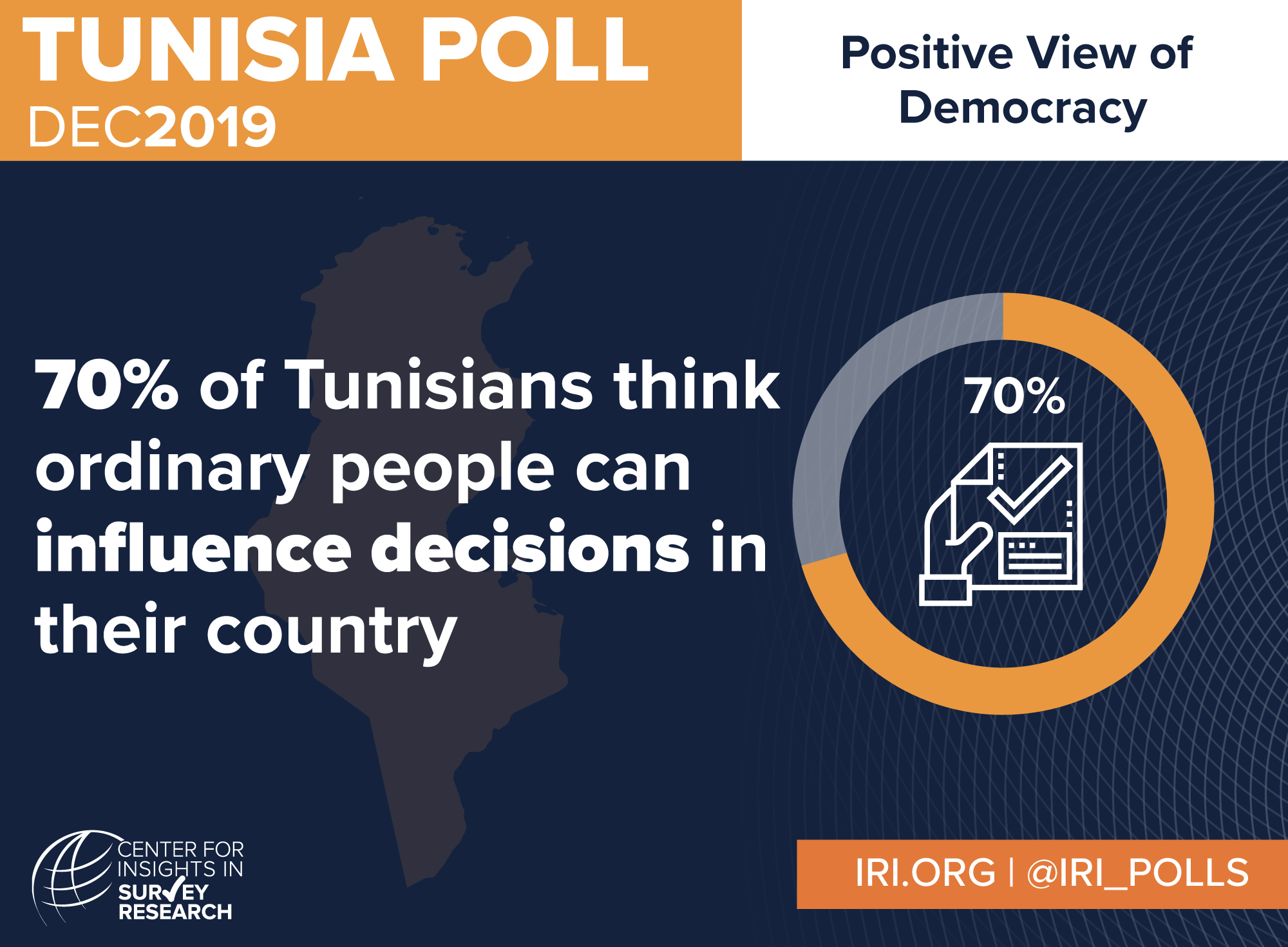 Tunis, Tunisia— The International Republican Institute's (IRI) Center for Insights in Survey Research (CISR) nationwide poll of Tunisia reveals a relative increase in optimism for the country's future and improved faith in the democratic process. However, the survey also reveals persistent distrust of the government's management of the economy and response to corruption. This is the first CISR poll to be fielded since the elections of September and October 2019.
"Although Tunisians are more optimistic about the direction of the country, this positivity is tempered by frustration over successive failures to reform the economy and address corruption," said IRI Regional Director for the Middle East and North Africa Patricia Karam.
Prior to the 2019 election, just eight percent of Tunisians believed the country was headed in the right direction, compared to 23 percent today. Confidence in democracy also increased by 25 points since last year, with 54 percent of Tunisians affirming that voting gives them "some say about how the government runs things." Similarly, 70 percent of citizens are "very" or "somewhat" likely to believe that ordinary people can influence government decisions, compared to 56 percent before the election.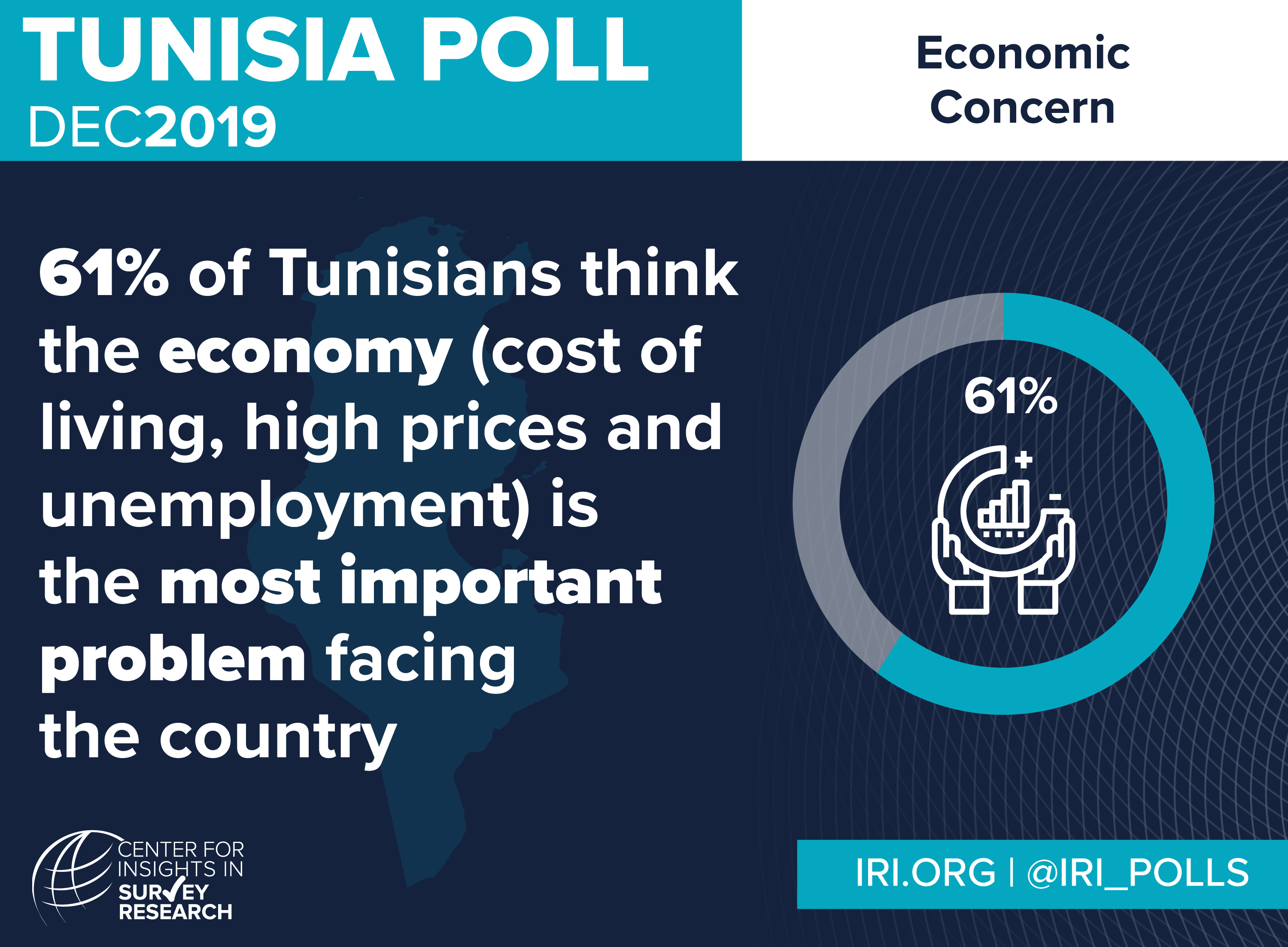 Tunisians remain concerned about the same issues that generated public frustration prior to the 2019 elections – the economy and corruption. Thirty-three percent of citizens think "the economy (cost of living/ high prices)" is the most important problem facing Tunisia today, while 28 percent cite "the economy (unemployment)" as the biggest challenge. Seventy-six percent of Tunisians think corruption has had a negative impact on their lives, and while reducing corruption is often cited as the best way to increase jobs in Tunisia, 40 percent of Tunisians believe the country is doing a "very bad job" at fighting corruption.
While President Kais Saied garnered strong approval ratings (84 percent have either a "highly" or "somewhat" favorable opinion of Saied), most Tunisians think the parliament (75 percent), political parties (69 percent) and ministries (62 percent) are "doing nothing" to address the needs of the people.
"During the elections, President Saied was largely viewed as a political outsider, and the fact that he ran without affiliation to a political party aided his popularity," said Karam. "If the president is to maintain his credibility, he will need to work with the parliament and ministries to deliver meaningful action on Tunisians' top priorities."
The survey was conducted on behalf of IRI's Center for Insights in Survey Research (CISR) by ELKA Consulting between December 3 and 15, 2019. Data was collected through in-person, in-home interviews by trained interviewers in Arabic. The national sample consisted of n=1,013 respondents and is representative of the population of Tunisia aged 18 and older. The sample was weighted for age and gender. The margin of error is plus or minus 3.0 at the mid-range with a confidence level of 95 percent. The response rate was 62 percent.
Top