Ukraine: First Nationwide Municipal Poll Since Election Shows Optimism, Continued Commitment to Democracy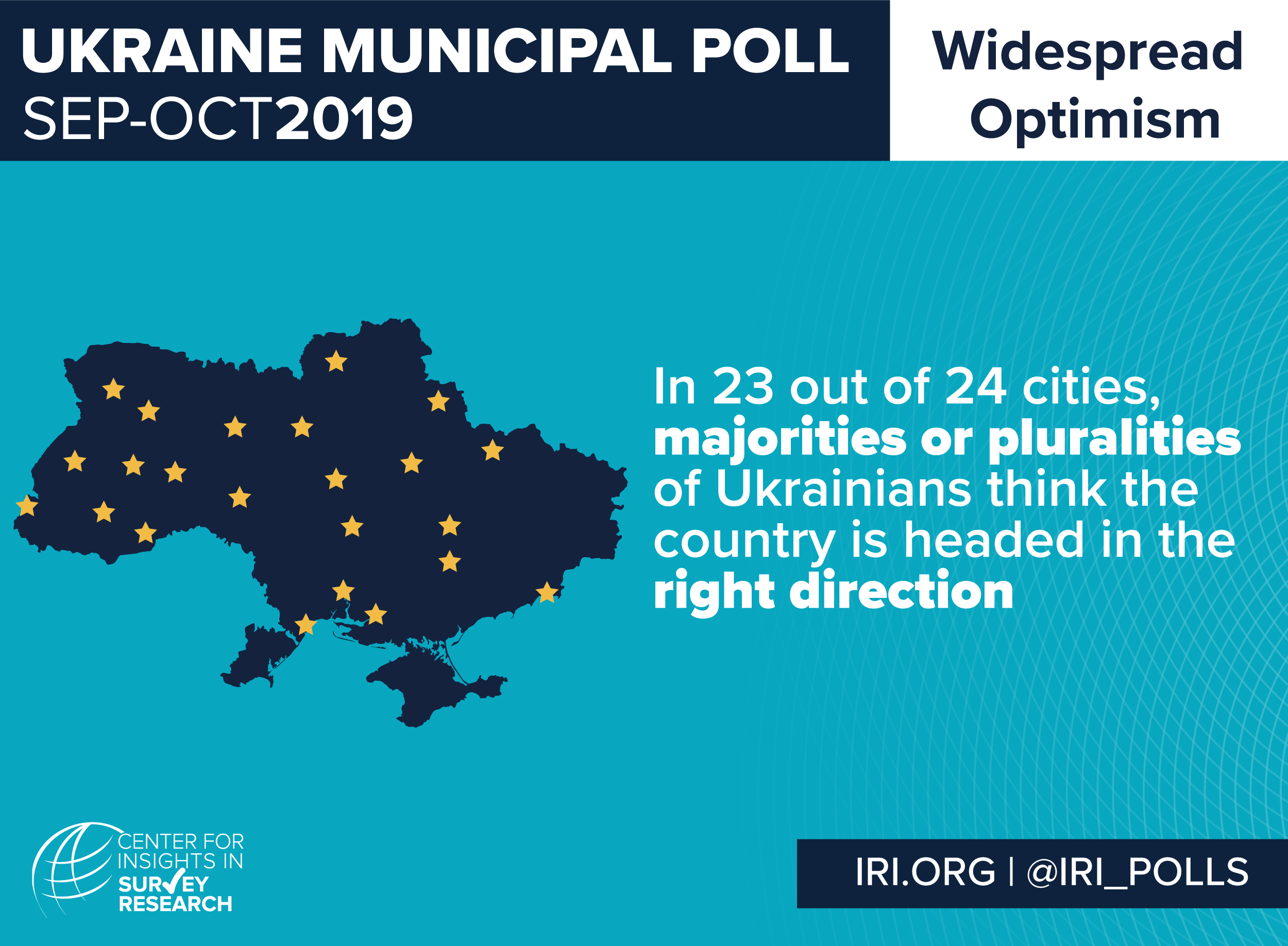 Kyiv, Ukraine— The first International Republican Institute (IRI) nationwide municipal survey in Ukraine since the 2019 parliamentary elections reveals continued enthusiasm for democratic participation and optimistic views of the country's trajectory.
"Ukrainians are feeling positive about their country's future and remain hopeful for continued progress on European integration," said IRI Regional Director for Eurasia Stephen Nix. "Partnering with local governments is a key focus of IRI's work to strengthen Ukraine's robust participatory democracy. This municipal-level polling continues to show remarkable improvements in democratic participation and enthusiasm at the local level. It is vital that politicians at all levels continue to pursue measures that respond to citizen concerns and further strengthen democratic institutions."
According to IRI's survey of Ukraine's 24 largest cities, the proportion of respondents who think Ukraine is going in the right direction has increased significantly since IRI's last nationwide municipal survey, conducted in 2018.
In 22 out of the 24 cities surveyed, there was an increase in the proportion of respondents who think their own municipalities are going in the right direction. Respondents also reported high levels of optimism about Ukraine's economic outlook.
The poll also reveals significant enthusiasm for democratic participation in Ukraine, with a majority in all cities polled reporting that they would vote if local elections were held the following Sunday. In cities where respondents are less satisfied with municipal leadership, voter enthusiasm was especially high.
Cities continue to show strong support for the country's path towards European integration. In all but three cities, a majority or plurality of respondents support Ukraine's accession to the European Union. In 18 of the cities surveyed, a higher share of citizens reported that they would vote in favor of NATO membership than in IRI's 2018 poll. This survey also reveals an increase in travel to European countries in 21 of 24 cities polled.
The data is available in Ukrainian here.
Methodology
The survey was conducted by Sociological Group "Rating" (Rating Group Ukraine) on behalf of the International Republican Institute. The data was collected in 24 cities in Ukraine (Kyiv and all oblast centers; in Donetsk Oblast – Mariupol, in Luhansk Oblast – Sievierodonetsk) between September 6 and October 10, 2019 through face-to-face interviews at the respondents' homes. The sample consisted of 19,200 permanent residents of Ukraine (800 per city) aged 18 and older and was weighted to be representative of the general population of these cities by age and gender. The margin of error for each city does not exceed ±3.5 percent. Average response rate is 67.7 percent.
The survey was funded by the U.S. Agency for International Development (USAID). The previous four surveys were funded by the Government of Canada, and the National Endowment for Democracy.
Top