Ukraine Poll: Continued Dissatisfaction with Government and Economic Situation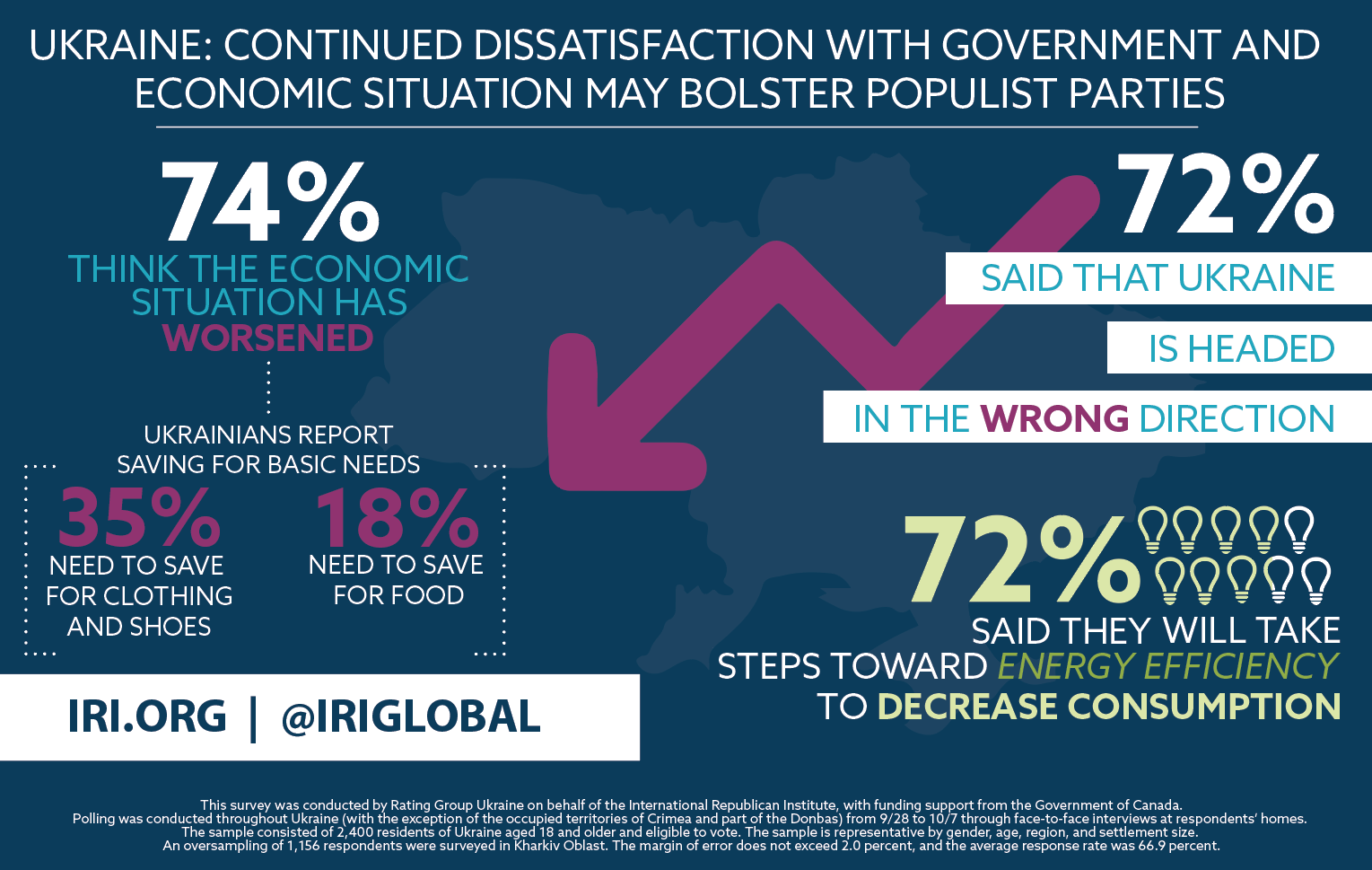 Kyiv, Ukraine—A new nationwide poll from Ukraine by the International Republican Institute's (IRI) Center for Insights in Survey Research shows consistent public frustration with government performance on key issues such as corruption and the economy.
"This poll reinforces the trend of frustration among Ukrainian citizens that we've seen in previous polls, and indicates that the window of opportunity for the government to build public support is rapidly closing," said Stephen Nix, IRI Regional Director, Eurasia. "While certain anti-corruption measures, such as the creation of the National Anti-Corruption Bureau, are an important step in the right direction, the government must double down on these efforts to deliver a better future for the Ukrainian people."
The number of respondents who feel the country is going in the wrong direction remained steady at 72 percent, while a majority of Ukrainians (51 percent) strongly disapprove of the Cabinet of Ministers under the leadership of Prime Minister Volodymyr Hroisman. Pessimism about the economy is also high, with a combined total of 74 percent saying the economic situation in Ukraine has either "worsened somewhat" or "worsened a lot." This is further illustrated by the fact that 18 percent of Ukrainians report that they need to save money to buy food, and an additional 35 percent report need to save to buy clothing and shoes.
Corruption remains a significant issue of concern to Ukrainians, in keeping with previous IRI polls. Respondents rank corruption within state bodies as the second most important issue facing the country (38 percent), and 42 percent say that anti-corruption efforts should be the top priority for the national authorities.
Ukrainians are bracing for a steep rise in utility prices due to the reduction in subsidized prices required by the International Monetary Fund. To mitigate this anticipated financial burden on households, 72 percent of survey respondents say they will take steps for "efficient energy savings" (30 percent said they "definitely" would, and 42 percent said they "somewhat" would). "There is a risk that the increase in prices may further fuel public discontent and a potential shift towards populist positions," said Stephen Nix.
Methodology
This survey was conducted by Rating Group Ukraine on behalf of the IRI's Center for Insights in Survey Research, with funding support from the Government of Canada.
Polling was conducted throughout Ukraine (with the exception of the occupied territories of Crimea and part of the Donbas) from September 28 to October 7, 2016, through face-to-face interviews at respondents' homes. The sample consisted of 2,400 residents of Ukraine aged 18 and older and eligible to vote. The sample is representative of gender, age, region, and settlement size. An oversampling of 1,156 respondents were surveyed in Kharkiv oblast. The margin of error does not exceed 2 percent, and the average response rate was 66.9 percent.
Top