Visegrad Four Poll Reveals Vulnerabilities to Russian Influence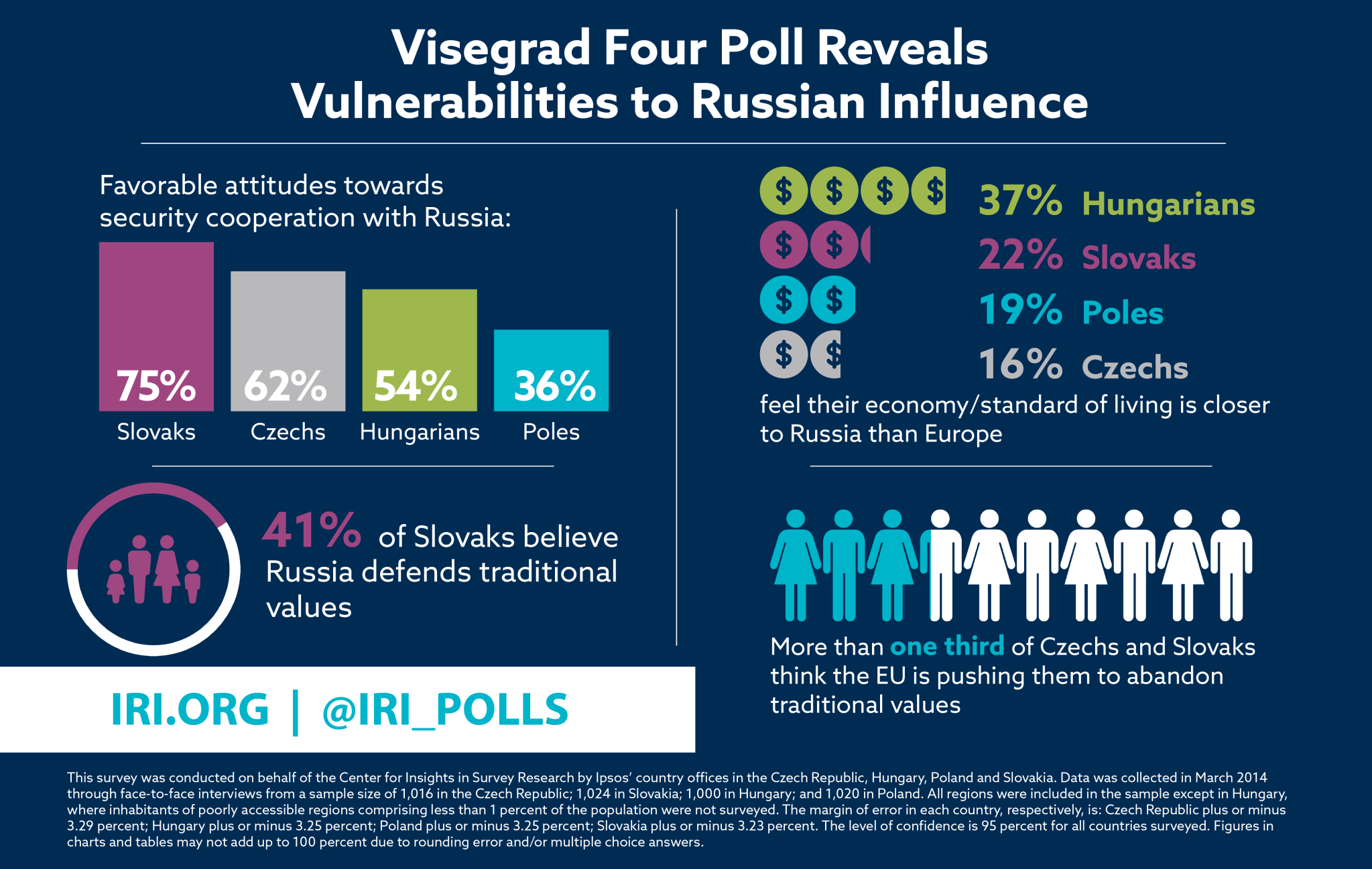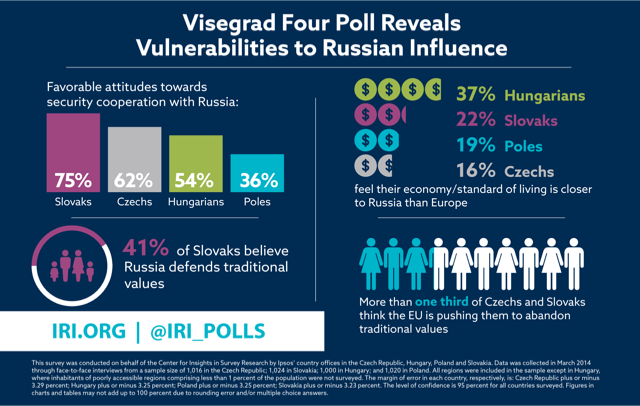 Washington, D.C.—A poll of residents in the Czech Republic, Hungary, Poland and Slovakia released today by the International Republican Institute's (IRI) Center for Insights in Survey Research indicates waning commitment to Euro-Atlantic institutions and vulnerabilities to Russian influence. The four countries surveyed were chosen because of their status as the "Visegrad Four (V4)," an alliance of young European Union members committed to increasing cooperation on shared interests.
"This poll reveals a number of disturbing trends in the heart of Europe, including waning support for core transatlantic institutions like NATO, tensions over the nature of European identity, and discontent with socioeconomic challenges," said Jan Surotchak, IRI Regional Director for Europe. "After investing twenty years and hundreds of millions of dollars in building a 'Europe Whole and Free,' it is vital that the U.S. recognize the threat of increased Russian influence in Europe, which has the potential to undermine a key pillar of transatlantic peace and security."
While NATO and the U.S. presence in Europe have historically been cited as a key pillar of European peace and security, in Slovakia an alarming 60 percent of respondents feel that the U.S. presence increases tensions and insecurity. A majority of respondents in all four countries either strongly or somewhat support neutrality towards both NATO and Russia (Slovakia: 73 percent; Czech Republic: 61 percent; Hungary: 58 percent; Poland: 53 percent). Seventy-five percent of Slovaks believe that Russia should be a security partner, followed by 59 percent of Czechs, 54 percent of Hungarians, and 35 percent of Poles.
The survey also reveals ambivalence about the nature of European identity. More than one-third of respondents in the Czech Republic (40 percent) and Slovakia (36 percent) feel that the European Union is pushing them to abandon traditional values, while 41 percent of Slovaks believe that "Russia has taken the side of traditional values" (Czech Republic: 27 percent; Hungary: 18 percent; Poland: 14 percent).
Reflecting dissatisfaction with the state of the economy and public services, a significant portion of respondents feel that their socioeconomic status is closer to that of Russia than Europe. Thirty-nine percent of Hungarians think that their social benefits have more in common with Russia than Europe, followed by 26 percent in Slovakia, 24 percent in Poland and 15 percent in the Czech Republic. Similarly, 37 percent of Hungarians say that their economy and standard of living is more akin to Russia's than Europe (Slovakia: 22 percent; Poland: 19 percent; Czech Republic: 16 percent).
In addition to the widening number of respondents who identify with Russia on key issues such as identity, the poll also indicates vulnerability to Russian disinformation among respondents who get their news from nontraditional media outlets. In Slovakia, a combined 76 percent either do not believe that Russia is engaged in efforts to mislead people (38 percent), or do not care if Russia funds these outlets (38 percent).
This multinational poll was commissioned as part of IRI's Beacon Project, an initiative that equips European stakeholders with the tools to counter Russian disinformation and meddling more effectively. "These results correspond closely with data from the Beacon Project's >versus< media monitoring tool, which has revealed a correlation between socio-economic disparities within the V4 countries and vulnerabilities to Russian influence," said IRI Regional Program Director Miriam Lexmann. "With its data-driven approach, the Beacon Project helps European political and civil society leaders to address vulnerabilities that the Kremlin seeks to exploit."
Methodology
This survey was conducted on behalf of the Center for Insights in Survey Research by Ipsos' country offices in the Czech Republic, Hungary, Poland and Slovakia, respectively. Data was collected in early march through face-to-face interviews from a sample size of 1,016 in the Czech Republic; 1,024 in Slovakia; 1,000 in Hungary; and 1,020 in Poland. All regions were included in the sample except in Hungary, where inhabitants of poorly accessible regions comprising less than 1 percent of the population were not surveyed. The margin of error in each country, respectively, is: Czech Republic plus or minus 3.29 percent; Hungary plus or minus 3.25 percent; Poland plus or minus 3.25 percent; Slovakia plus or minus 3.23 percent. The level of confidence is 95 percent for all countries surveyed. Figures in charts and tables may not add up to 100 percent due to rounding error and/or multiple choice answers.
Top