With Early Elections Undecided, New IRI Poll Shows Moldovans Are More Optimistic About Future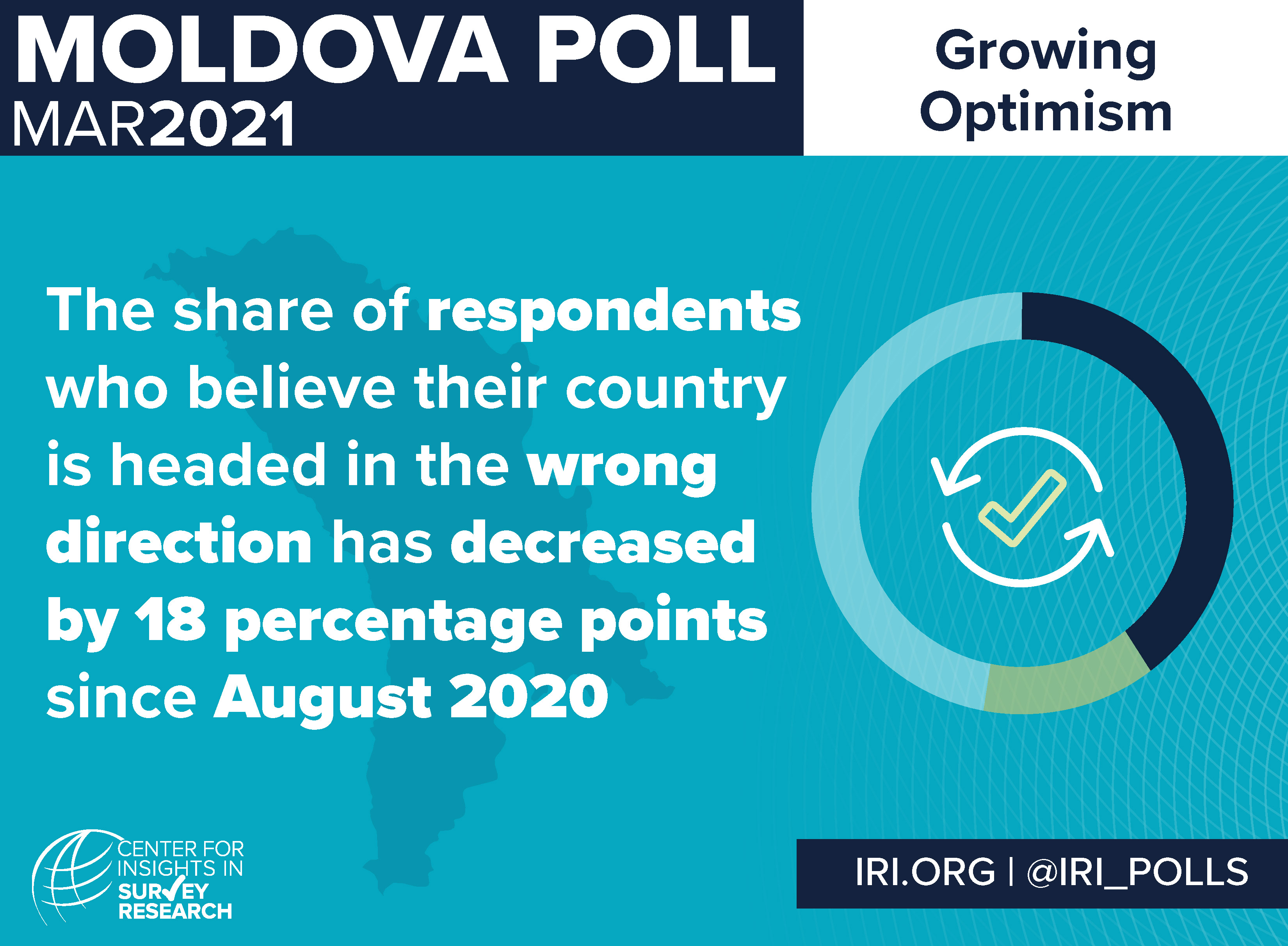 Chisinau, Moldova – A new nationwide poll of Moldova by the International Republican Institute's (IRI) Center for Insights in Survey Research reveals increased optimism in the country's future, but persistent concerns over the economy and corruption. These findings come at a crossroads, with members of Parliament resisting President Maia Sandu's call for early parliamentary elections.
"Moldovans' trust in both the presidency and the country's future is increasing," said IRI Regional Director for Eurasia Stephen Nix. "This indicates that citizens support President Sandu's recent anti-corruption efforts and demonstrated commitment to transparent, accountable governance."
According to the survey, 28 percent of citizens think their country is headed in the right direction – a marked 13-point increase since IRI's pre-election poll in August 2020. This survey also shows a notable decrease in the share of Moldovans who think their country is going in the wrong direction.
Before the election that brought Sandu to power, 72 percent of citizens believed Moldova was moving in the wrong direction, whereas only 54 percent hold that perception today. Compared to other politicians, Sandu appears to be gaining the people's confidence, with 41 percent of respondents citing her as the political and/or public person they trust most.
Despite Moldovans' growing optimism, economic issues remain their top concern. Thirty-four percent of citizens listed unemployment as a major problem for Moldova, while another 24 percent believe low incomes are a major issue at the national level.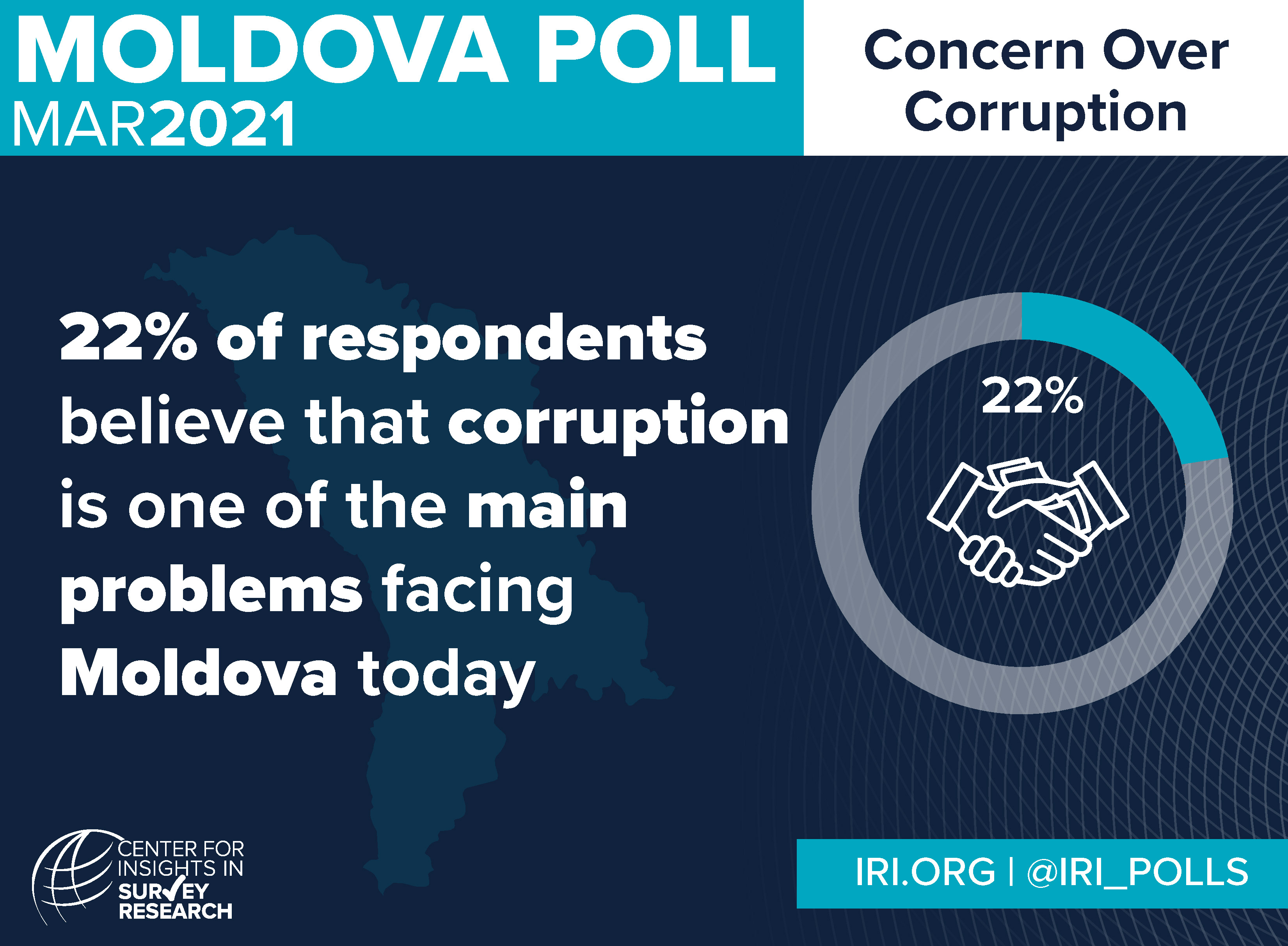 Citizens also frequently cited corruption (22 percent) as a top problem in Moldova. Together, unemployment (32 percent), low income (22 percent) and corruption (19 percent) stand as the main priorities Moldovans have for their government.
Lastly, the survey finds that 65 percent of citizens are in favor of early parliamentary elections in Moldova. "The public's concern over corruption, coupled with their support for early elections, suggest President Sandu's anti-corruption agenda is motivating Moldovans to demand increased government transparency, through political change if necessary," added Nix.
Read the Romanian version of the poll at this link.
Methodology
The survey was conducted by Ipsos on behalf of the International Republican Institute, with fieldwork conducted by Magenta Consulting. The data was collected throughout Moldova (with the exception of Transnistria) between February 9 and March 16, 2021 through computer-assisted phone interviews. The sample, including an oversample of Chisinau, consisted of n=2,001 permanent residents of Moldova aged 18 and older and eligible to vote. It was weighted to be representative of the general population of Moldova by age, gender, region and settlement size. The margin of error does not exceed plus or minus 2.4 percent at the 95 percent confidence level, and the response rate was 9 percent. The survey was made possible by the generous support of the American people through the U.S. Agency for International Development (USAID).
Top