Joint IRI/NDI International Election Observation Mission Releases Recommendations in Advance of Sri Lanka's Nov. 16 Presidential Election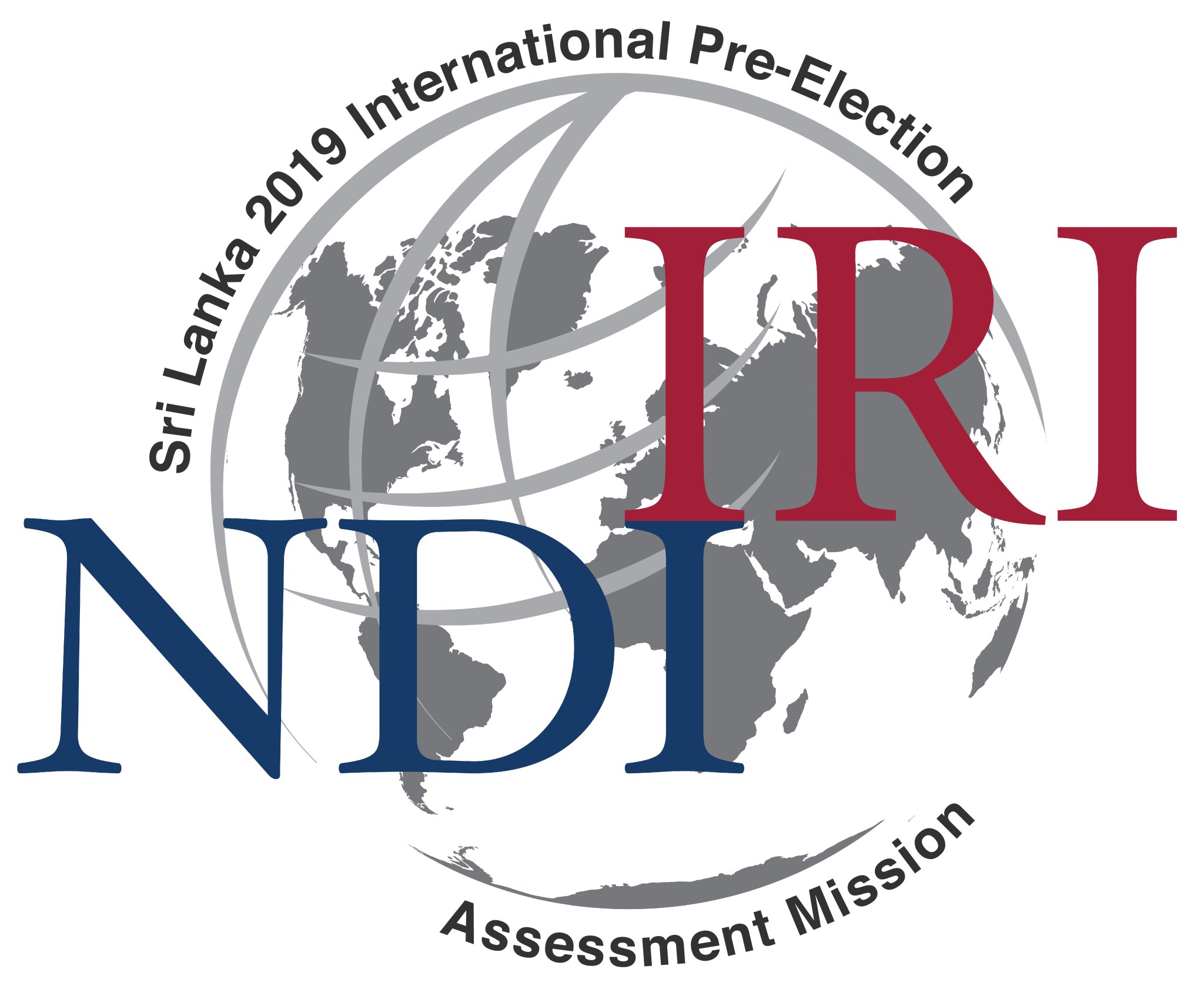 Colombo, Sri Lanka – Today, the International Republican Institute (IRI) and the National Democratic Institute (NDI) international pre-election assessment delegation to Sri Lanka released a statement on its findings and recommendations for Sri Lanka's November 16 presidential election. The statement is also available in Sinhala and Tamil.
From September 30 to October 4, 2019, the delegation met with party representatives from across the political spectrum. This included the Election Commission; members of Parliament; government officials; civil society representatives, including leaders of citizen election observer groups; women political activists; representatives of media-related organizations; and representatives of the international and diplomatic communities. Based on these meetings and on-the-ground observations, the delegation's statement offers recommendations to help improve the prospects for transparent, secure and credible elections, as well as public confidence in the process.
Key recommendations include:
Media Bias: The Election Commission should promulgate stronger guidance on the responsible and ethical use of media – print, broadcast, and social – and promotional materials by candidates and their supporters during the election campaign. Public and private media outlets should abide by this guidance, especially in relation to unbiased and equitable coverage of all candidates. Following the presidential election, Parliament should consider legislation, in conjunction with the Election Commission, to curb hate speech, misinformation and disinformation in private media, while protecting freedom of expression and access to information.
Campaign Finance: To increase the transparency of the electoral process and empower citizens to make more informed choices, presidential candidates should make public the asset and liability declarations they submit to the Election Commission. Over the long-term, Parliament should take up the issue of campaign finance limits, reporting, and foreign contributions.
Voter Education: The Election Commission, political parties, media, and civil society should increase voter education initiatives, especially regarding the preferential vote system and ballot marking. There should be an increase in targeted voter education campaigns for women, young people and citizens who live in rural areas, focusing on the importance of each citizen's vote, access to electoral dispute resolution mechanisms, and accessibility and accommodations for persons with disabilities.
Code of Conduct: Sri Lanka's political parties should agree to a voluntary, multiparty Code of Conduct facilitated and enforced by the Election Commission that is consistent with best practices, and helps mitigate the potential for violence and the spread of misinformation, disinformation and hate speech.
These recommendations are intended to address key challenges Sri Lanka faces ahead of the election, such as concerns regarding understanding of the preferential voting system, barriers to the full participation of women and other marginalized groups, partisan media coverage, and a lack of campaign finance laws.
"Sri Lanka is facing a consequential national election, one that could determine the future direction of the country's democracy," said delegation leader Ambassador Karl Inderfurth, former Assistant Secretary of State for South Asian Affairs. "The 2019 Easter Sunday attacks threatened to undermine the harmony that Sri Lanka has long sought. This election is an opportunity for the country to reinforce its commitment to pluralism and peaceful coexistence. Ethnic harmony is crucial to the country's underlying peace and security."
"This election is a unique chance for Sri Lanka to move forward and reaffirm pluralism and diversity that are vital to peace and progress," said former Deputy Assistant Secretary of State for Political-Military Affairs Kara Bue, who also led the delegation. "We also look forward to future elections that should present additional opportunities for women to be included in political leadership positions."
IRI and NDI conducted this mission in accordance with the Declaration of Principles for International Election Observation and recognize that it is the people of Sri Lanka who will determine the credibility and legitimacy of their elections and their country's democratic development.
In addition to Ambassador Inderfurth and Ms. Bue, the delegation also included Hon. Maria Chin Abdullah, Malaysian Member of Parliament; Mr. S.Y. Quraishi, former Election Commissioner of India; Mr. Manpreet Singh Anand, Regional Director for Asia and the Pacific, NDI; and Mr. Scott Mastic, Vice President for Programs, IRI.
View this press release in Sinhala and Tamil.
###
The National Democratic Institute (NDI) is an independent, nonprofit, nonpartisan organization working to support and strengthen democratic institutions worldwide through citizen participation, openness and accountability in government. More information is available at www.ndi.org.
A nonprofit, nonpartisan organization, the International Republican Institute (IRI) advances freedom and democracy worldwide by helping political parties to become more responsive, strengthening transparent and accountable governance, and working to increase the role of marginalized groups in the political process – including women and youth. More information is available at www.iri.org.
Top