Democratic Republic of the Congo: Despite Economic Fears, IRI's First Nationwide Poll Shows Strong Support for President Tshisekedi
Kinshasa, Democratic Republic of Congo— The International Republican Institute's (IRI) Center for Insights in Survey Research's (CISR) inaugural nationwide survey in the Democratic Republic of Congo (DRC) reveals strong support for the President and for democracy, but also shows concerns over the economy and corruption.
"While it is typical for a new President to experience high initial approval ratings, the President must make democracy work by providing services, reducing corruption and stimulating the economy," said IRI Regional Director for Africa Gregory Kearns. "The optimism displayed in this poll is promising but could quickly dissipate."
Seventy-three percent of Congolese citizens expressed either a "highly" or "somewhat favorable" opinion of current President Félix Tshisekedi, and 69 percent described the performance of the President as either "very" or "somewhat good."
The poll also reflects relatively positive perceptions of the state of the DRC's democracy. Fifty-seven percent of Congolese citizens reported that the level of freedom of expression was either "very" or "somewhat good" in the DRC; 54 percent said the same of the status of democracy inside the country and 50 percent said the same about the current status of human rights.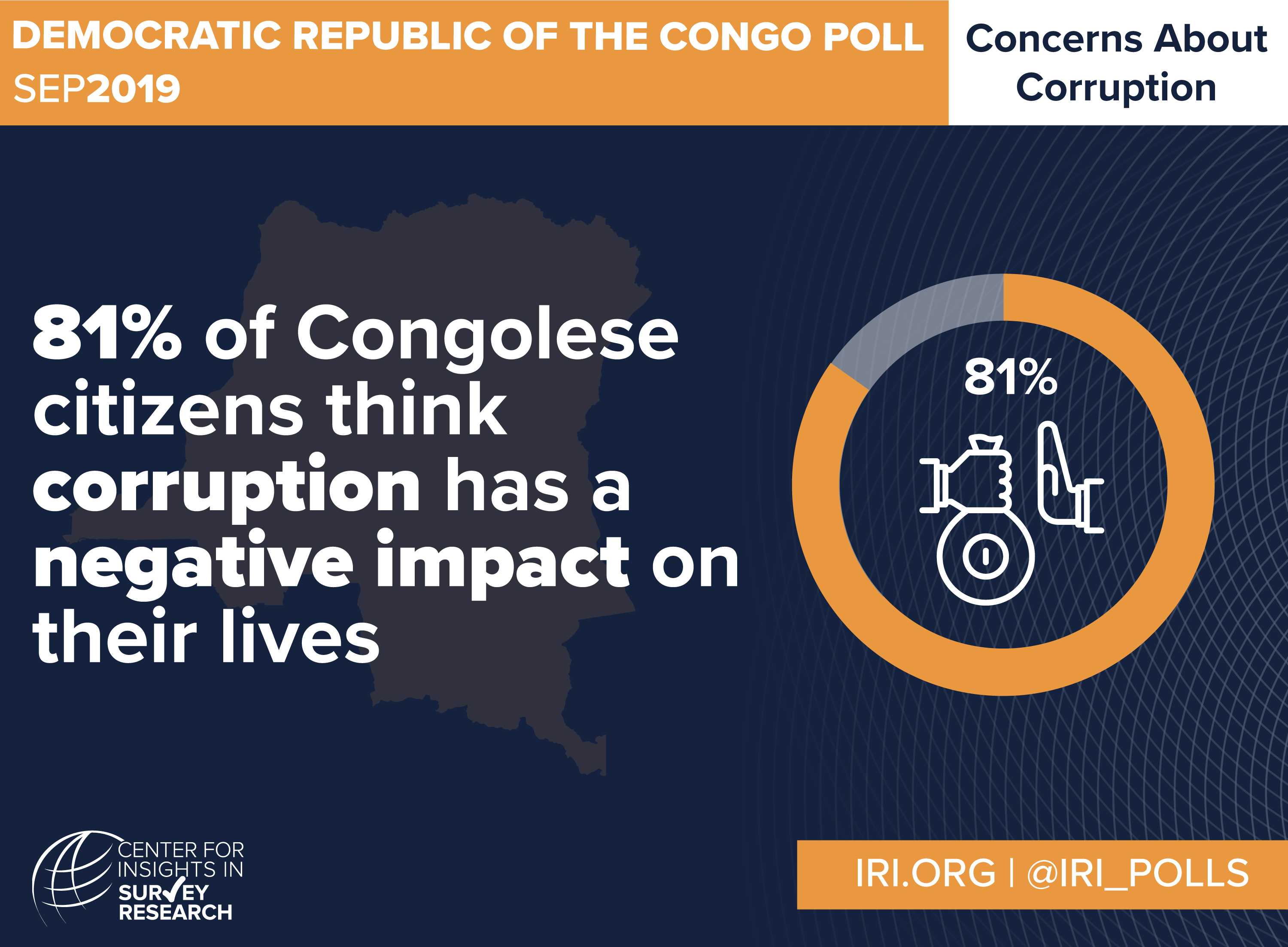 Despite these promising data points, the poll also indicates persistent anxiety over the prevalence of corruption and economic problems. Eighty-one percent of Congolese citizens believe that corruption has a negative impact on their lives. On the economic front, 61 percent of citizens consider their household conditions to be either "very" or "somewhat bad" and 56 percent struggle to feed both themselves and their families and to purchase the most essential items for survival.
"This data is a clear reminder to the government of the expectations of Congolese citizens following the 2018-2019 transition. Reforms and improvements in service delivery must be the government's top priorities," added Kearns.
Methodology
The survey was conducted on behalf of IRI's Center for Insights in Survey Research (CISR) by Global Research Insights (GRI) between August 8 and September 20, 2019. Data was collected using a multi-stage stratified probability sample through in-person, in-home interviews. The sample consists of 2,961 respondents aged 18 and older and is representative of voting-age adults nationally. The sample was weighted for gender and urbanity. The margin of error is plus or minus 1.8 percent at the mid-range with a confidence level of 95 percent. The response rate was 80 percent.
*This slide deck was corrected on May 8, 2020 to address errors for Northern Congo on slide 19 and for President's Office and Provincial Assembly on slide 71.
Top