In April 2023, Paraguayans will elect a president and vice president, as well as all 80 members of the Chamber of Deputies and all 45 members of the Senate. As we approach this year's election, the event will focus on Peña's potential government plans: addressing transnational organized crime, creating environmental initiatives, countering foreign authoritarian influence, and supporting Paraguay's recognition of Taiwan.
This in-person conversation will be moderated by IRI's Regional Director for Latin America and the Caribbean, Antonio Garrastazu. A Q&A session will follow.
Please join us at the IRI Headquarters, 1225 I St. NW, Suite 800, Washington DC, 20005 on Tuesday, January 24, 2023, from 3:30 PM to 4:30 PM EST. Guests are welcome to arrive at 3:00 PM, as the event will start promptly at 3:30 PM.
We look forward to your participation.
---
Speakers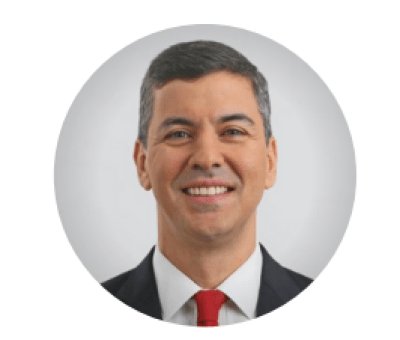 Santiago Peña
PARAGUAYAN PRESIDENTIAL CANDIDATE (COLORADO PARTY)
Santiago Peña, Paraguayan Presidential Candidate (Colorado Party)
Santiago Peña was born in Asunción, Paraguay, on November 16, 1978. (44 years). Mr. Peña has been a member of the Board of Directors of the Central Bank and Minister of Treasury of Paraguay, as well as an officer at the International Monetary Fund.
Mr. Peña is the leading presidential candidate for the National Republican Association party (Colorado Party). His party, founded in 1887, is one of the largest political movements in Paraguay with over 2,400,000 affiliates.
In the presidential primaries on December 18, 2022, Mr. Peña achieved a resounding victory, almost doubling the number of votes obtained by the opposition. The Paraguayan general elections will be held on April 30, 2023, and the President-elect will be sworn in on August 15, 2023.
Mr. Peña has a degree in Economics from the Universidad Católica Nuestra Señora de la Asunción, and a master's in public administration from Columbia University. Mr. Peña has also extensive experience in academia, working as a professor at the Catholic University of Asunción and publishing various research papers in the field of monetary policy and finance.
Top