32 Years of Ukraine's Independence – 32 Stories of Ukrainians Fighting for Freedom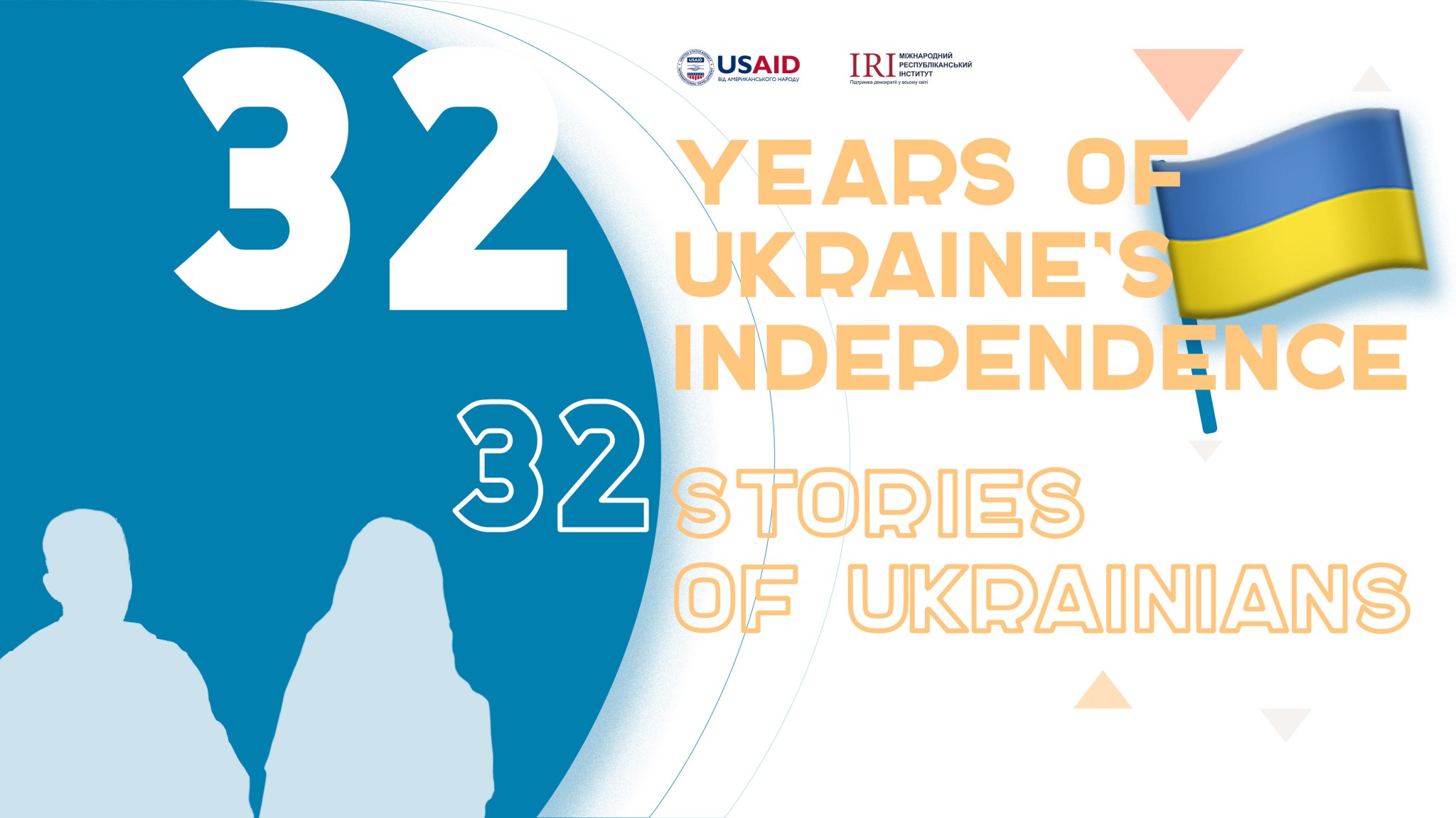 Today, Ukraine celebrates the 32nd anniversary of its independence while Ukrainians continue to defend their freedom from Russia's brutal full-scale invasion. These 32 stories of remarkable Ukrainians reflect this tireless struggle for the right to live in a free and democratic country.  
"Ukrainians have shown the world that they are not ordinary people. They are exceptional people who defend great values. Freedom, democracy, and humanity are the pillars on which the entire Western world stands," said Michael Druckman, Director of the International Republican Institute in Ukraine.
IRI's Exceptional People video project presents 32 stories of Ukrainians who were engaged in civic and political activities before Russia's full-scale invasion, and after February 24, 2022, became volunteers, paramedics, and military personnel and are now fighting for Ukraine's victory.
The Stories of Exceptional People
One of these 32 stories is that of Dmytro Nikolenko. Before Russia's full-scale invasion, Dmytro was engaged in civic activism. The civil society leader was campaigning to remove an illegal landfill in his native Odesa region, but on February 24, 2022, he had to face another threat and joined the Armed Forces of Ukraine.
"We now realize that if we do not win, we will cease to exist. Now the fighting spirit of our brothers and sisters and the way society has rallied together gives us no other choice. We will fight to the end, and that's why victory will come," believes Dmytro Nikolenko.  
Serhiy Ikonnikov was also forced to leave his position as a civic and political activist.  Until February 24, Serhiy worked as an assistant in the Kyiv City Council and was an ambassador of the European Democratic Youth Network's Ukraine chapter. At the start of the war Serhiy defended his native Kyiv and today he continues to serve in the Armed Forces of Ukraine. 
"We will win, not only because we are strong, but because we were able to unite the whole world around us," explains Serhiy Ikonnikov. 
Iryna Tereshchenko came to the country's defense at a critical moment. Her husband is in the military, and Iryna, who had previously worked as a hospital nurse, decided to join the military. When the full-scale invasion began Iryna was serving in the National Guard of Ukraine and raising her child. Iryna had the right to leave Ukraine for her child's safety, but decided to do otherwise:  
"I think that during the war, the work of every Ukrainian is a great contribution to our victory. I want to go on with my service."
Another Exceptional People episode tells us about Arkadiy Petrosian, who tirelessly helps victims on the humanitarian frontlines from his native Donetsk region by providing evacuation services and much-needed supplies.  
Arkadiy constantly dreams of a secure future for Ukraine: "I would like Ukraine to join NATO, to be a member of the European Union, to make every Ukrainian feel safe, to make us clearly understand that this will not happen again, that no one will attack us again, that we need to plan our lives, that we, our children, and our grandchildren should enjoy a safe future."
Since the beginning of the full-scale invasion, Mykyta Herashchenko, a member of the Bucha City Council, has focused all his work on attracting humanitarian aid for people living under occupation. Today, Mykyta is actively involved in establishing international cooperation at the Kyiv Regional State Administration.  
"I am more than certain that we need to apply the lessons learned during the war and during our 30-year history of independence. But we will not be the same people we were before, because we have really shown that we are important players on the international sector," says Mykyta.
The Exceptional People video project is implemented by the International Republican Institute with the support of the United States Agency for International Development (USAID). 
Top