Disinformation campaigns often exploit existing cleavages within democratic societies or seek to sow doubt in democratic processes or institutions. These attacks—no matter their form—are often political in nature, so we believe that any strategy to push back must have a strong political component—and this is what sets IRI apart.
We're committed to not only understand how disinformation spreads, but also who the most vulnerable are within countries to these campaigns. Using our trusted public opinion research and tools like our proprietary >Versus< media monitoring platform, we work with local partners to identify and monitor trends in disinformation and contextualize these trends within country-specific, regional and global frameworks.
We've been working closely for decades with our local and regional partners, including host governments, to translate IRI public opinion research into effective and data-driven policy recommendations that are responsive to citizens. These tested partnerships allow us to further operationalize our credible research into meaningful responses that address this new challenge of disinformation. Such collaboration forms the basis of IRI's efforts to counter disinformation, and we work closely with policymakers to limit the degree of penetration and impact of disinformation to citizens.
For instance, we use our public opinion research to identify groups within Ukrainian society vulnerable to adversarial Kremlin disinformation. A new nationally representative poll from IRI found that only 9 percent of Ukrainians report obtaining political information from Russian TV, which is unsurprisingly low given Ukraine's official ban on Russian media companies. What is notable, however, is that of all the measured sources of political information, Russian media are considered the most biased sources of information; less than four percent of Ukrainians believe that any Russian media (TV, radio, or newspapers) are reliable. Although this is a relatively small percentage, Kremlin-affiliated media often produces and disseminates harmful fake news campaigns aimed at discrediting the Kyiv government, the European Union, and the West.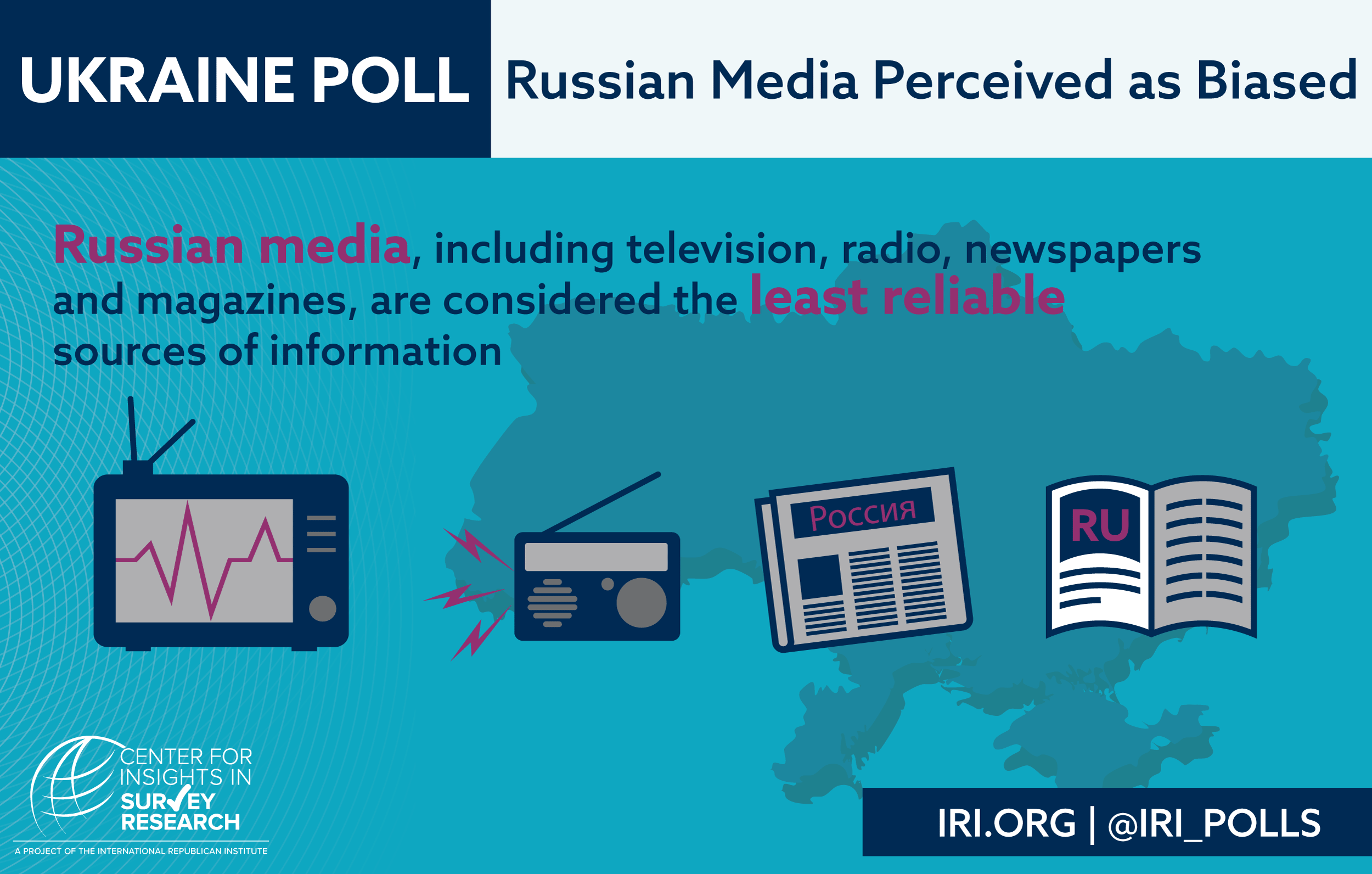 Who are the Ukrainians who find any Russian media reliable? IRI's data allows us to develop a profile of these individuals and, working closely with our partners on the ground, we are then able to develop strategies aimed at better serving these citizens to make them less vulnerable to false narratives. Our data shows that Ukrainians who find Russian television, radio, or newspapers to be reliable tend to have a greater sense of pessimism about the economic situation in Ukraine than those who do not find any Russian media to be reliable, and a plurality of these individuals reside in southern Ukraine—a part of the country that was hit particularly hard in Ukraine's economic crisis that began in 2014. Nearly half of these individuals speak mostly Russian at home, though about a quarter of them speak both Ukrainian and Russian. They are also more likely to support Ukraine's membership in the Eurasian Customs Union with Russia than the European Union.
If these individuals rely on Russian media for news, this small percentage of Ukrainians is one of the country's most vulnerable groups to these disinformation campaigns. They may also unknowingly be perpetuating untruthful and harmful content by disseminating it to their personal networks, whether it be on social media, in-person, or by another means. IRI's data tells us that friends and relatives are the most reliable source of information, which gives greater influence and sway to fake news posts if they are coming from someone you know.
IRI polling is revealing how disinformation spreads through networks and identifying who is most vulnerable to it. With this data, we work closely with our partners in Ukraine to counteract the spread of false narratives and strengthen government responses at the national and local level. This data-driven approach marks the first step in developing effective programming aimed at mitigating the harm of propaganda and defending the information space that is crucial to a free society.
Top