2016 was not a great year for freedom worldwide.
As the 2017 Freedom in the World report noted, last year marked the eleventh consecutive year of decline in global freedom. Across the world we've seen setbacks of civil, political, media and online freedoms. For those of us fighting to advance democracy and good governance, sometimes it feels like we're due a Glengarry Glen Ross "coffee is for closers" type of speech. And with everything going on in the world, it's easy to be disheartened or worried about the future.
That is, unless you've really had the opportunity to observe the next generation of leaders.
In 2017, through funding from the National Endowment of Democracy, IRI expanded its flagship youth program, Generation Democracy, from our programs in Europe and Africa, to Asia. Generation Democracy chose to expand to Asia as more than 60 percent of the world's youth live in the region which translates to approximately 750 million young women and men (aka 10% of the planet!) This is an essential constituency for the future stability and democratic growth in the region.
Generation Democracy brought together the top 36 young leaders from 13 different countries, including Bangladesh, Burma, Cambodia, China, Indonesia, Malaysia, Mongolia, Nepal, the Philippines, Sri Lanka, Thailand, Timor-Leste, and Vietnam, to Bangkok for a weekend of leadership development.
Over the long weekend, these young leaders were able to speak with ambassadors, political consultants and development experts on the most challenging issues facing the region. They joined sessions on public speaking, fundraising, strategic goal setting, digital communications, and the role of youth in a global political economy.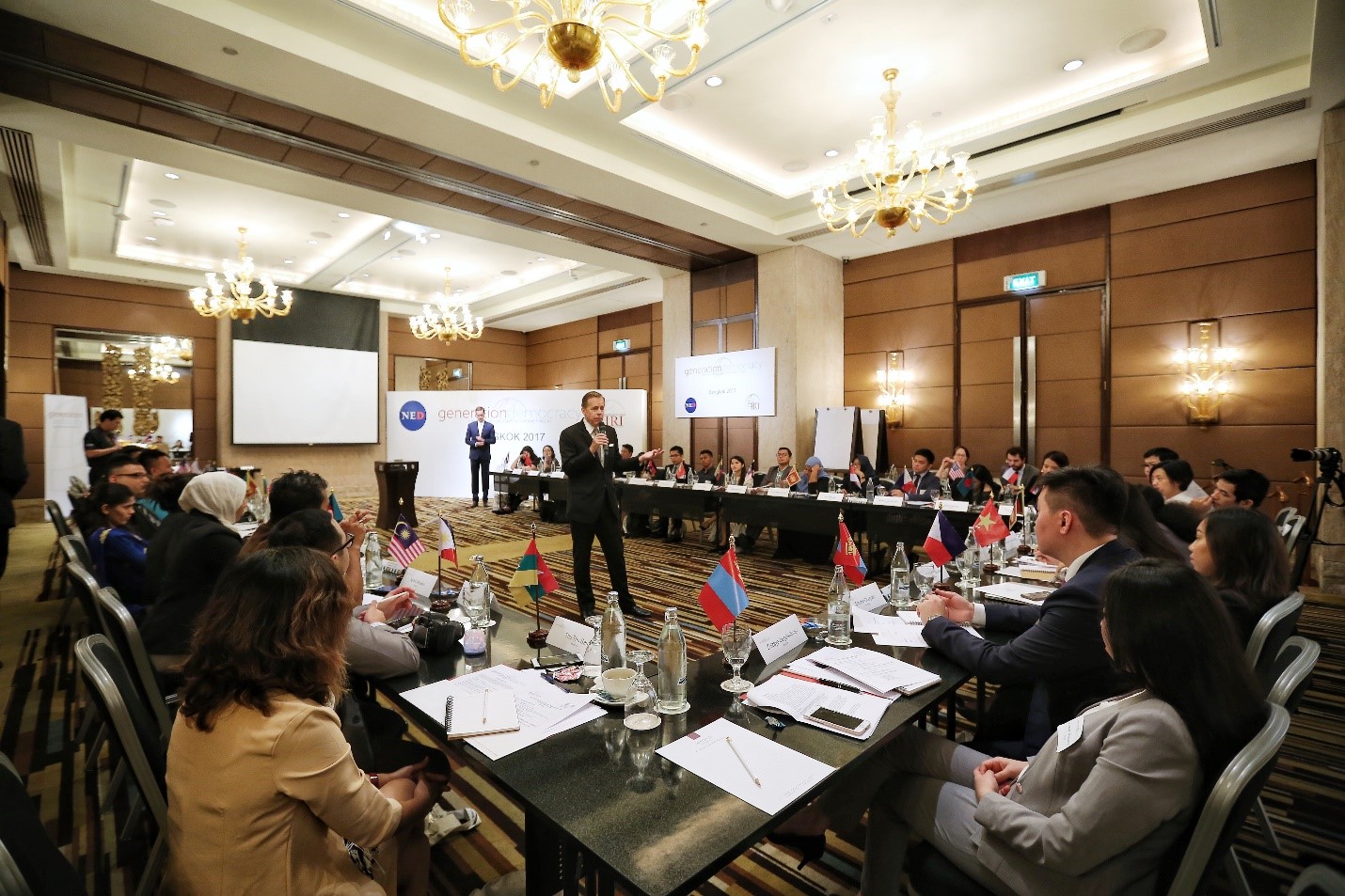 The delegation we assembled included:
A young woman working to eradicate poverty through youth empowerment;
An editor for Bangladesh's first foreign policy magazine;
The founder of a youth support center for rural communities in the Philippines, who happens to hold a joint MD-MBA,
Sustainable development consultants from Bangladesh, Burma, the Philippines, Sri Lanka, and Indonesia,
An elected member of parliament and former UN Peacekeeper,
A Program Officer for the Technical Secretariat Center of the Joint Ceasefire Monitoring Committee in Burma,
A UN communications officer,
The founder of an online media company,
An ASEAN Youth Ambassador,
The founder of an environment-protection startup, that has raised 1.5 million dollars in seed funding,
The deputy director of a social justice accelerator focused on workplace rights,
A regional English debate champion,
The founder of a vocational school specifically for women in post-conflict areas,
A project coordinator for 2030 Youth Force,
An anti-corruption activist,
An elected state assemblyman and rising political star,
The senior political officer for media and public affairs for a regional political party,
The founder of the Mongolian National Marketing Association,
The President of the Rural Women's Network of Nepal,
A preschool teacher, public speaker, doctor, nutritionist consultant and published author (yes, this is one person),
A social media pioneer, journalist and online warrior fighting fake news,
A disaster risk prevention activist working with the UN and EU,
The founder of an environmental protection business accelerator,
A city councilman,
A youth delegate to the UN General Assembly,
Three founders of separate human rights campaigns,
An analyst for the Sri Lankan Ministry of Defense,
Four activists working to prevent gender based violence, and
The founder of a national alliance for tobacco control.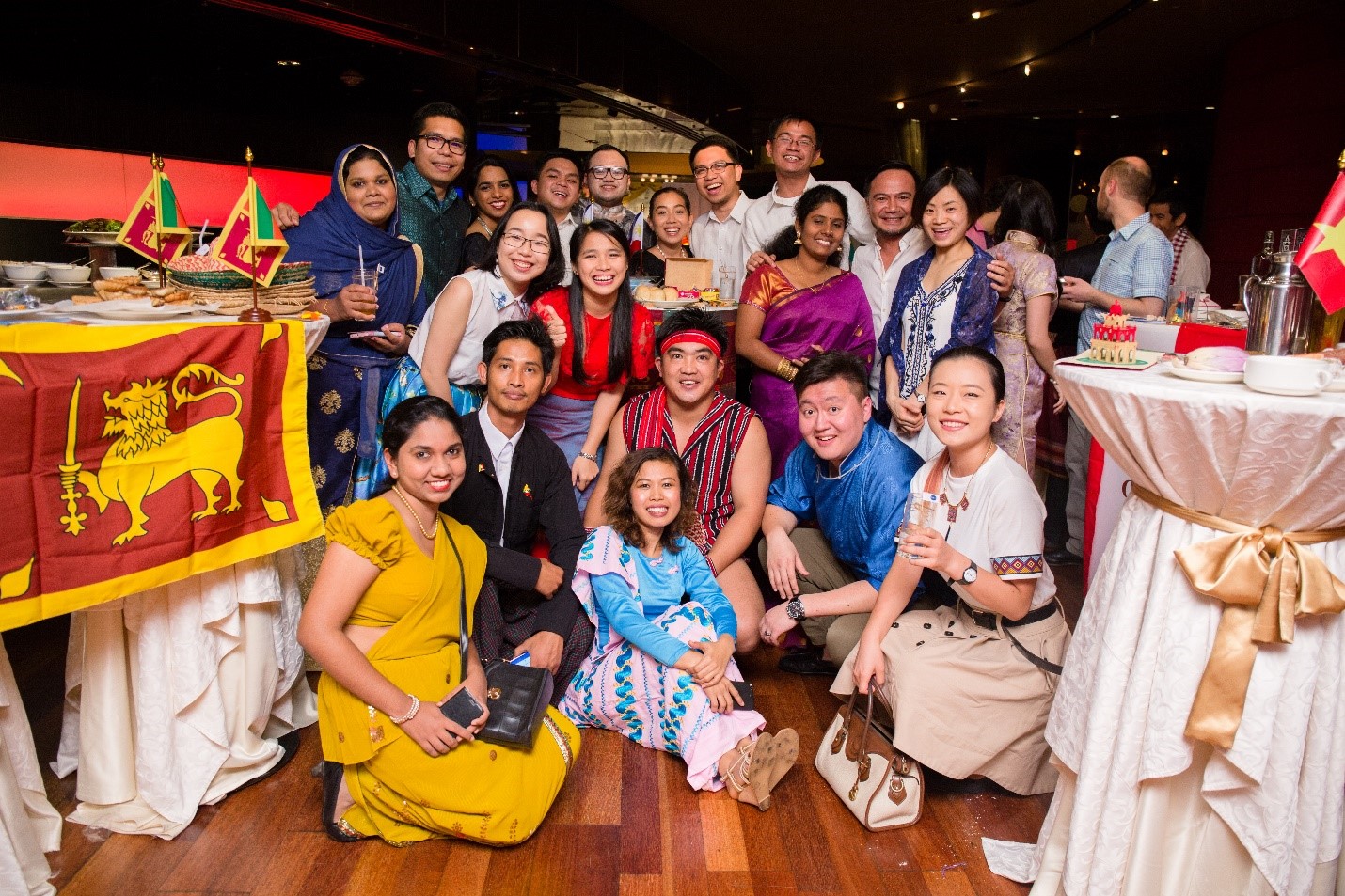 In total, the group collectively holds:
10 Master's Degrees,
3 Medical Degrees, and
Has founded 17 nonprofit organizations
Oh, and their ages range from 20 to 36 years old.
Are the challenges we face difficult and more complex than ever before? Yes. Will it take unprecedented levels of dedication, innovation, and manpower to overcome future challenges? Yes. Is the next generation up to the challenge? Yes.
And if Generation Democracy has anything to say about it, they'll be more interconnected and prepared than any previous generation. Am I worried about the future? No.
Top