Addressing Gender-Based Violence in Cameroon by Empowering Women Policymakers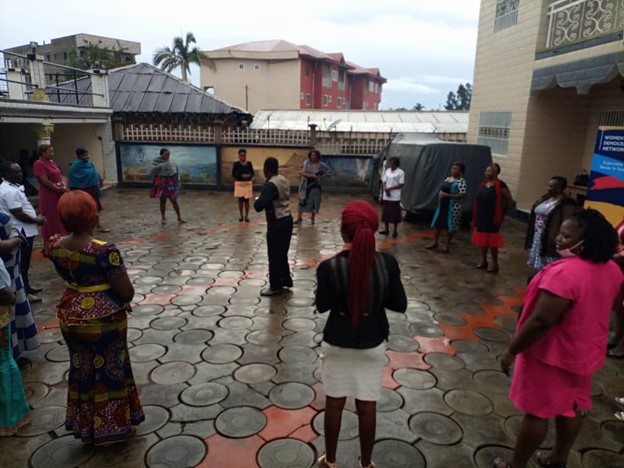 Despite the persistent conflict in Cameroon, women peacemakers persevere.
Violence erupted in 2016 in the Anglophone regions of Cameroon and continues to impact the daily lives of Cameroonians today. The conflict disproportionately impacts women and girls who are increasingly afraid of becoming victims of gender-based violence (GBV). A UN study found that from January to March of this year, 500 cases of rape and sexual or physical assault and more than 500 other cases of GBV were documented in the Northwest and Southwest Anglophone regions. Given the urgent need to address the impacts of conflict on women and girls in Cameroon, IRI launched a project dedicated to empowering Cameroonian women to become advocates against GBV in their communities. In the Fall of 2020, IRI's Women's Democracy Network Cameroon Country Chapter trained women in the Southwest and Northwest regions on gender-responsive policymaking and prepared them to advocate for a stronger legal framework to address GBV in Cameroon.
Following the training, which was based on WDN's Gender-Responsive Policymaking Toolkit (GRPT) and Cameroon-specific case studies, 75 percent of program beneficiaries said they increased their knowledge of the role of government officials and civil society representatives in the gender-responsive policy process. The beneficiaries of the GRPT training developed and submitted recommendations to the Ministry of Women Empowerment and the Family to ensure that Cameroon's Gender Policy Document for 2021 to 2025 is gender responsive. WDN Cameroon also facilitated the development of regional task forces to help address issues in Cameroon's legal response to gender-based violence (GBV). These regional tasks forces remain committed to the goal of eradicating GBV in Cameroon and even expanded their member base to include elected leaders and civil society representatives.
One training participant achieved noteworthy success in her career as a policymaker following her participation in WDN Cameroon's programming. Tapengdri Julian, a municipal councilor in Bamenda, took part in the Northwest regional training and expanded her knowledge on gender-responsive policymaking. She was later chosen by the mayor of Bamenda to lead the implementation of a project to deliver government subsidies to low-income households in Bamenda specifically because of her newly developed expertise in policymaking. In her role, she applied the gender lens she learned in the training and recognized that the subsidies project had "no gender consideration." She subsequently intervened to include youth-headed households in the project and removed barriers for women who were previously struggling to receive access to interest-free loans from the government. Tapengdri was able to progress in her career and help her community because of the knowledge and leadership skills she gained in WDN Cameroon's programming. The success of WDN Cameroon's programming demonstrates the effectiveness of WDN's GRPT and the importance of empowering women to become leaders, peacebuilders, and policymakers in their communities.
As the conflict in Cameroon intensifies, supporting the security of women proves to be more urgent than ever. WDN Cameroon succeeded in doing this by educating and supporting a group of women to become effective advocates against gender-based violence (GBV). The program beneficiaries not only worked to mitigate the consequences of conflict for women and girls, but also created a powerful team of women peacebuilders and policymakers across two major regions of Cameroon. Through its work in Cameroon and similar programming across the globe, IRI continues to invest in women who play an indispensable role in the peacemaking process.
Top