In honor of International Women's Day, the Women's Democracy Network (WDN) will feature four of our members from around the world. Each woman comes from a different background and has a different story, but they embody many of same qualities; determination, passion, purpose and a strong voice. This month, we honor those women, their achievements and their commitment to a better world.
______________________
In Uganda, women's participation in leadership and decision making continues to be limited. For Perry Aritua, Executive Director of the WDN Uganda Country Chapter, bringing women to the decision-making table remains a top priority.
Launched in 2010, the WDN Uganda Country Chapter's mission is to provide a platform for women leaders from all sectors of society to mentor each other, build leadership skills and engage on political and socio-economic issues. With Perry at the helm, the chapter has made great strides in creating a fair society where gender equality is the norm rather than the exception.
Perry's leadership and vision come from a fire within that she found when she was young. Her mother, a retired nurse, residing in Arua district in Uganda, knew it was essential that her young daughter receive a proper education. Perry's core principals came from her mother, "The values she exuded of hard work, humility, perseverance, courage and caring for the less fortunate even when she did not have much will forever be part of me," said Perry. "Me and my siblings observed her working hard amidst economic challenges albeit with a smile that made us know that all would be okay."
Perry's determination has helped her prevail, but not without challenges. There has been a lack of resources, both human and financial, to do more for her country. "I have overcome this challenge by identifying like-minded leaders who are committed to transforming their communities bearing in mind the limited resources at their disposal. Financial resources to governance and democracy-related interventions are limited because results are not immediate. Being honest about the limited financial resources and discussing ways in which we can do programming within the limited funds has enabled me and my team achieve results with our partners in different parts of the country," Perry said. With that in mind, she has used networking to her benefit, talking with other individuals, organizations, and institutions about potential fundraising opportunities and new funding mechanisms.
The values Perry's mother instilled currently guide her as the Executive Director of WDN-Uganda. While heading the chapter, Perry has helped get more women elected into leadership positions that were previously held by men. "Seeing these elected women attain outcomes for their communities as a result of effectively performing their mandate makes my work worth it," Perry said.
Each day, Perry helps the next generation of women leaders. "I tell them, be kind and disciplined; read, observe and learn from those who have been there before you. Do not wait for others to think of solutions to the problems affecting you or the community you live in. Always think of solutions to the problems that affect you and others around you. Let those who want to help you find you doing something about the problems that affect you and the community that you live in and they will join you. When you see injustice, do not keep quiet. Stand up and speak up for others because the world will be a better place to live in when we all enjoy our rights and freedoms as human beings."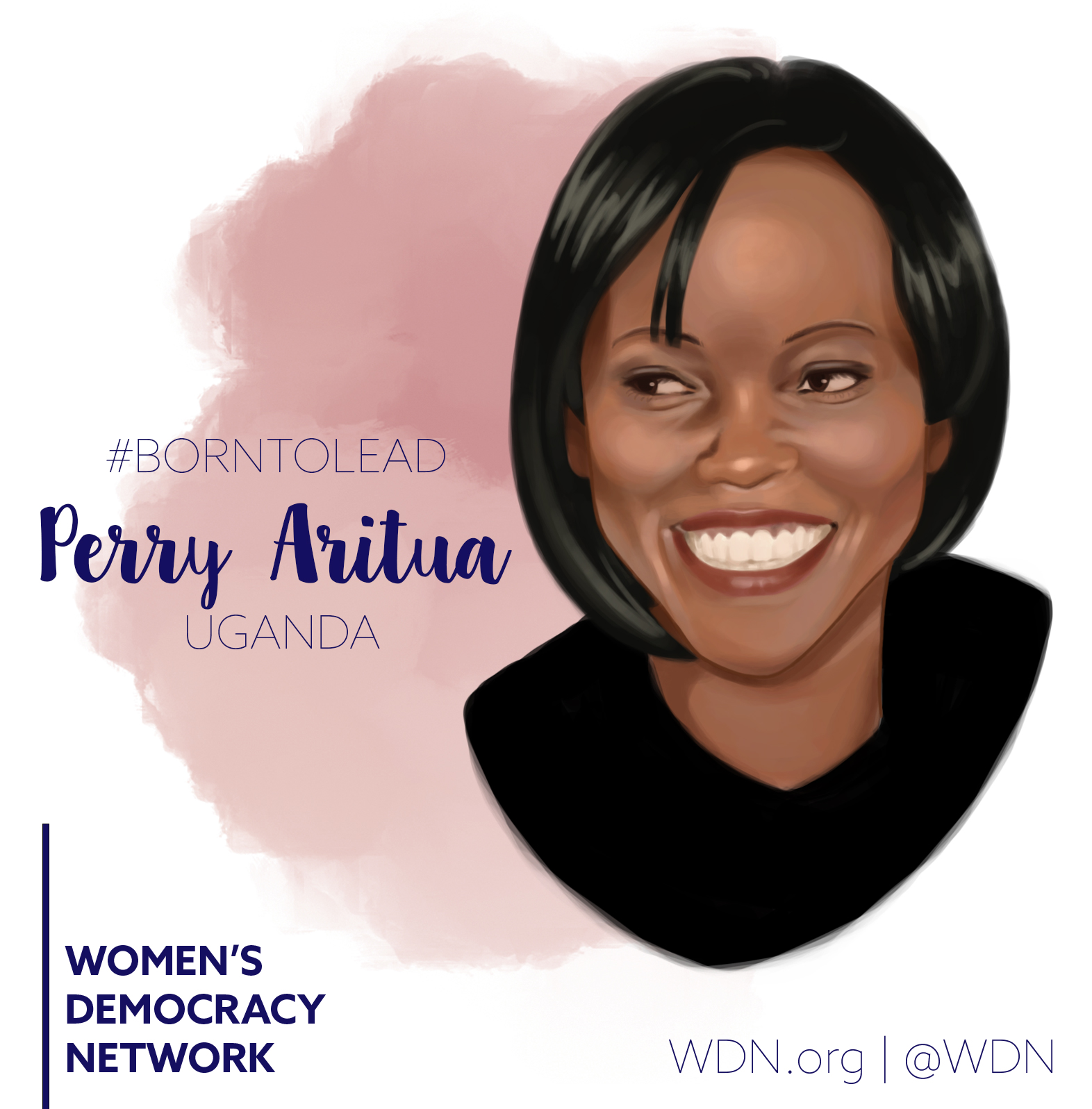 Top