Building a Democratic Future for Bosnia and Herzegovina: Hana's Story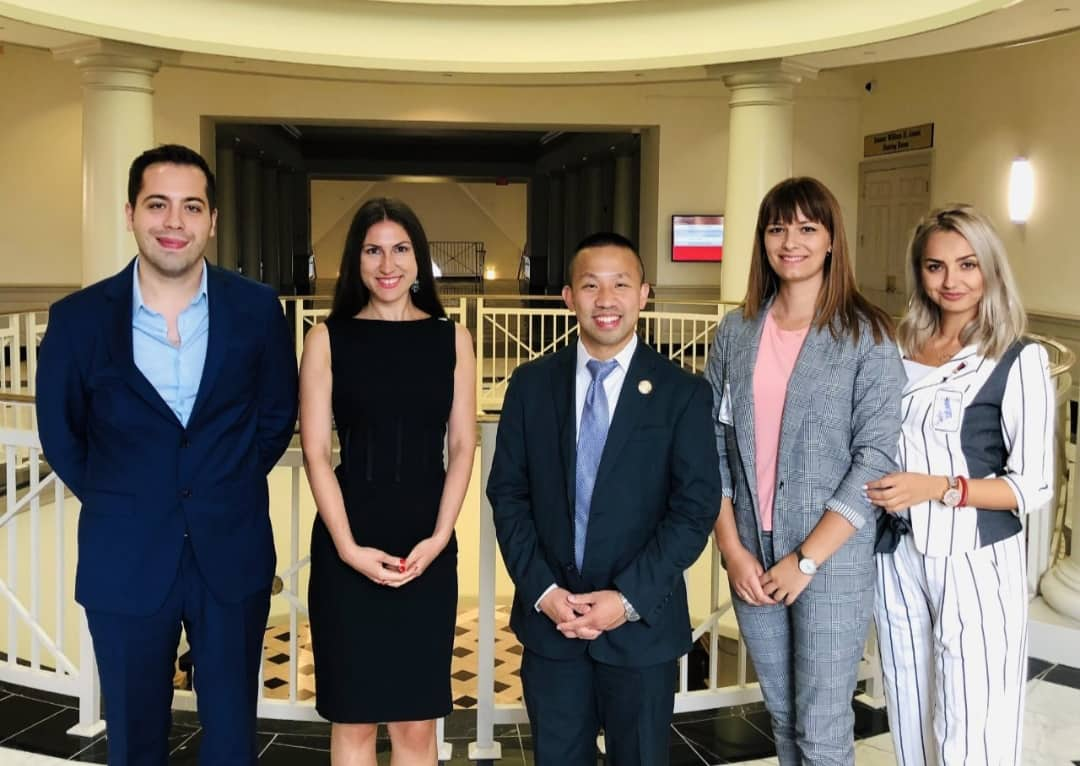 Bosnia and Herzegovina (BiH) faces many profound challenges. Divided along ethnic lines, crippled by political gridlock and with one of the world's highest youth unemployment rates, the future of Bosnia's democratic development hinges on the willingness of the next generation of political leaders to tackle these challenges. Youth leader and IRI program participant Hana Imsirovic is reaching across ethnic and political lines to do just that.
Bosnia's democratic development has been profoundly stymied by the enduring distrust between the country's major ethnic groups: the predominantly Muslim Bosniaks, Catholic Croats and Orthodox Christian Serbs. These divisions manifest not only culturally, but politically, and often stand in the way of political progress for the country.
Following the October 2018 national elections, the disagreement between the Europe-aligned Bosniaks and Croats and Russia-aligned Serbs over NATO accession prevented the formation of a government for over a year. The disagreement prevented BiH from having a government that could address problems facing the country and exacerbated ethnic and political tensions, and has redounded to the benefit of malign external actors like Russia, which has sought to keep the country divided and its democracy weak.
Hana Imsirovic represents the next generation of Bosnians who are eager to break through the status quo to build a better, more democratic future. Hana entered politics to help break the country's political gridlock and address the problems facing BiH youth, quickly rising through the ranks of the Alliance for a Better Future of Bosnia and Herzegovina to become the youngest ever spokesperson for a political party at the age of 23. "I know things in Bosnia aren't good," Hana said. "There are obstacles like colleagues who want to keep the status quo. So I fight back through NGOs."
Hana believes greater youth participation in politics can help end the gridlock infecting the country. To achieve this, she has engaged in multiple IRI programs to realize her goal, including the European Democracy Youth Network (EDYN), an international network of European youth co-organized by IRI that brings youth from a diverse range of political and ethnic backgrounds together to help solve the problems facing democracy in Europe. "EDYN is very effective because it pushes us to deal with difficult topics," she said. Hana has also participated in IRI's Advanced Leadership in Politics Institute (ALPI), which works to promote cross-party engagement in BiH.
Hana is applying the lessons of both networks to her work inside Bosnia, reaching across the aisle and ethnic divides to drive constructive change forward. "My colleague is from SDS, (Serb Democratic Party), and I am from the SBB. Our parties have nothing in common. We organized joint events targeting youth from both parties to discuss issues such as joining NATO and the EU. It became so famous we were invited on national television to discuss our activities."
With a new government in place, Hana's plan to use youth to help bridge the ethnic and political divide among parties is pointing the way toward a future in which Bosnians can transcend their cultural backgrounds and work together for genuine democratic change so that "These hard times will become a part of BiH's success story."
This is the third blog in a series that profiles members of the European Youth Democracy Network (EDYN), proudly co-sponsored by the International Republican Institute (IRI).
Top