Celebrating the Successes of ALPI Women on International Women's Day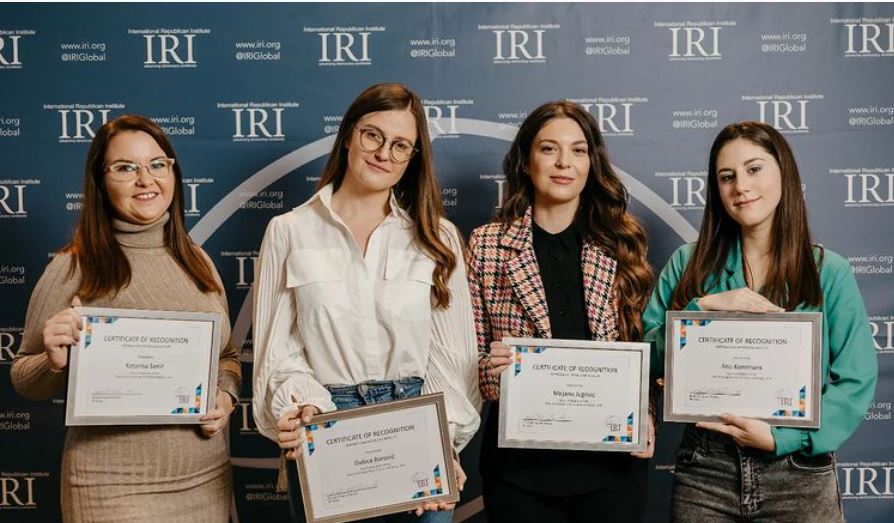 The International Republican Institute's (IRI) Advanced Leadership in Politics Institute (ALPI) in the Western Balkans aims to foster cross-party collaboration and improve youth participation in political parties. Character attacks on women politicians served as catalysts for Serbian women to form the ALPI Women's Network in 2022. ALPI Women's mission is to advance women's political success, counter gender-discriminatory political rhetoric, and promote women's leadership. ALPI Women has expanded to include members from Bosnia and Herzegovina (BiH), Serbia, Montenegro, and North Macedonia.
On International Women's Day, IRI celebrates the political and social achievements of the ALPI Women's Network and the one-year anniversary of their Žena Može Sve campaign.
#ŽenaMožeSve – Women Can Do Anything
ALPI Women's ongoing, cross-party social media campaign, Žena Može Sve, produced a series of online episodes with Network members. Policymakers, entrepreneurs, economists, academic experts, and engineers shared their professional experiences and challenges as working women. The Žena Može Sve campaign was recognized by the former Montenegrin Minister of European Affairs Jovana Marovic and the US Ambassador to Montenegro Judy Rising Reinke, who encouraged young women to "stand up and stand forward."
This campaign emphasized the importance of women in politics and encouraged their participation by showcasing exemplary women who work toward a more equitable political arena.
ALPI Women Election Victories
Members of the ALPI Women's Network achieved remarkable success in the October 2022 general elections in BiH. Despite the difficult political environment marred with gender stereotypes, Vedrana Vujovic was elected to the Sarajevo Canton Assembly and House of Peoples of the Federation of BiH, and Antonija Banozic was elected to the West Herzegovina Canton Assembly. IRI's ALPI program supported these women during the campaign season through workshops that expanded their social networks, improved their political knowledge, and ultimately led them to elected to office.
"The ALPI Women's Network allowed me to reach women that I would not normally interact with. The women come from different countries and local communities and this network of young women in politics amplified their voices."

– Vedrana Vujovic, ALPI Alumnus and Representative in the Sarajevo Canton Assembly and delegate in the House of Peoples of the Federation of BiH
16 Days of Activism Against Gender Based Violence
Through social media outreach campaigns and donations to three safe houses in BiH, ALPI Women marked the international campaign against Gender-Based Violence (GBV). Members met with child and women survivors of domestic violence in Sarajevo, Banja Luka, and Mostar, providing them with hygiene supplies and gifts. The visits to the safe houses reinforced members, the mismatch between the legal protections of women and the reality of persistent violence. ALPI Women legislators provided the survivors with their contact information for direct access in case of need.
'Women in Focus' Television Series
The Network co-produced a television series in BiH named "Women in Focus," which was aired on Visoko TV Channel. The series featured Visoko women who are professors, businesswomen, and community decision-makers. ALPI Women envisions a world free of patriarchal devaluation of women, and their television series highlighted the critical role women play in society.
"On International Women's Day, it's important to talk about women in leadership positions who managed to overcome misogyny and stereotypes. They serve as an example to other women, as they are capable of being in positions that were forbidden to them throughout history."

– Ana Kozomara, ALPI Alumnus from Serbia
Creating Space for Women in BiH Municipality
ALPI Women believe that an enabling environment for women's empowerment is critical to achieving its goals and those of its allies, such as the women's NGO Izvor. The Network's advocacy efforts succeeded when the BiH Municipality of Sanski Most unanimously voted for the creation of a meeting space dedicated to the work of the Women's Association of Izvor. This was a direct result of meetings held by ALPI Women with municipal councilors, the Mayor of Sanski Most, and Izvor.
"Through ALPI, I started a program to empower women in East Sarajevo named 'Women for Women.' I will begin its implementation this year in Republika Srpska, with the intention of expanding the program."

– Dragana Vuckovic, ALPI Alumnus from BiH
Building on these successes, IRI will continue to support ALPI Women in building their political capacities and promoting their vision of a society free from gender discrimination.
To learn more about ALPI Women and stay up to date on activities, follow us on Instagram and Twitter.
Top