Countdown to Burma's 2020 Elections: The Political Party Breakdown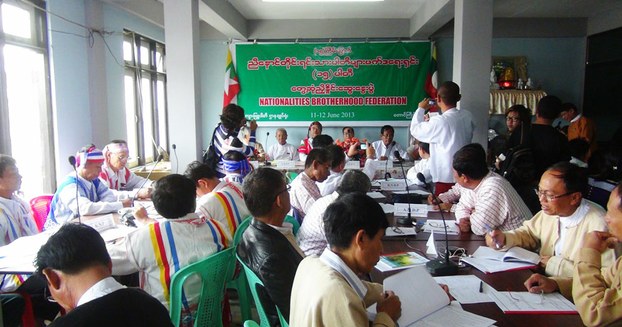 The robust and peaceful participation of parties in the 2015 general elections and the 2017 and 2018 by-elections is one of the most important achievements in Burma's democratic transition. As the 2020 general elections in Burma approach, the country continues to take steps towards a more democratic system.
Burma held a landmark election in November 2015, the first well-administered multiparty election after a long period of direct military rule. State Counselor Aung San Suu Kyi's party, the National League for Democracy (NLD), won a landslide victory with an overwhelming majority in both the upper and lower houses of parliament, defeating the military junta-linked Union Solidarity and Development Party (USDP) resoundingly in the polls. During its campaign, the NLD had promised constitutional reform, economic development, and national reconciliation.
Public dissatisfaction is rising with the NLD, however, due to the slow pace of reforms and limited progress on its campaign promises. After the NLD lost four seats in the 2018 by-elections, a senior NLD leader, Zaw Myint Maung remarked that "the by-election results are a lesson learned for us." Conflict-torn regions have yet to see significant progress toward peace, while the economy continues to be a pressing concern for all. National reconciliation and peace processes have yet to bear dividends, and the level of conflict has increased in Kachin, Shan and Rakhine States. While there has been some progress in terms of economic growth, citizens report their economic living conditions are declining, and domestic businesses are struggling. Despite the creation of a constitutional amendment committee in Parliament in February, the process of constitutional reform has stalled, since military officers, who make up 25 percent of Parliament, can block a constitutional amendment, which requires the approval of more than 75 percent of the parliament.
Although the NLD's performance has alarmed some of the party leadership, it is uncertain to what extent other parties in Burma will be able to capitalize on its weaker performance. While there is a slight decline in support for NLD, many analysts predict that the party will probably still win a parliamentary majority for the 2020 election. Many NLD supporters recognize the challenging transitional environment in which NLD has to operate, and also indicate that they are willing to give the party more time to make the changes it has promised. The NLD has also made progress in areas such as combating corruption, education reform, and environmental conservation.
The main opposition Union Solidarity and Development Party (USDP), which includes many leaders from the former military junta, lost the 2015 election in a landslide but remains the second largest party in the parliament by far, having collected over 28 percent of the votes countrywide. USDP won just five percent of the seats in the upper house and seven percent of the seats in the lower house; the party also picked up several seats in the 2017 and 2018 by elections, gaining five new seats. The party is currently positioning itself to make a comeback in the 2020 elections, hoping to capture as many seats as possible, and trying to build alliances with ethnic parties. Its image, however, remains very closely tied to the former military regime, which may make it very difficult for the party to gain significant ground.
Political parties representing ethnic minorities are also preparing for the 2020 election. Many ethnic parties have decided to merge, after performing relatively poorly in the 2015 elections. These newly merged ethnic parties could secure votes from ethnic minorities who want greater representation of their voices at the national and state/regional level. Recently three Chin State-based parties have applied to the Union Election Commission for a merger under the name of "Chin National League for Democracy," and similar initiatives are underway in Mon, Kachin, Kayin, and Kayah States, ethnic minority-dominated states where ethnic voices are underrepresented. These diverse ethnic parties have a common political interest, which is to have a stronger platform for ethnic minority voices, greater recognition of ethnic minority languages and culture, and the establishment of a federal system of government with considerable autonomy granted to states whose borders roughly correspond to ethnic communities. The strength of ethnic parties varies widely, however, with parties representing Shan and Rakhine ethnicities the strongest by far, and parties representing other ethnicities with much more limited influence. Even at the state level, Burma's ethnic landscape is very diverse, with 10 different ethnic parties represented in the Shan State Parliament alone.
In addition to the newly-merged ethnic political forces, other new political parties built by influential individuals have also emerged. Shwe Mann, a former top general previously affiliated with the USDP, former Speaker of Parliament, and an ally of Aung San Suu Kyi, has recently founded the Union Betterment Party (UBP). The party, which can build on extensive contacts built by Shwe Mann during his time as a top general and as a Speaker, could be a dark horse in the coming election. Ko Ko Gyi, one of the leaders of the student protests in 1988, has also formed his own party, the People's Party, which has gained recognition, drawing in part on disgruntled former members of the NLD. The level of support for these new parties will depend on whether they are able to attract disenchanted or new voters with a compelling political vision, and the extent to which they can form coalitions and alliances across party lines, including with ethnic parties.
The role of political parties is particularly critical in countries undergoing political transition to democracy, such as Burma. Parties aggregate constituent interests and are essential for forming stable governments and constructive opposition over time. Since 2012, the International Republican Institute (IRI) has worked with political party members at the national, state, and township levels in all states and regions in Burma, providing capacity development support in communication, evidence-based policymaking, campaign planning, constituent outreach, and membership development, among others.
Leading up to the 2020 elections, IRI will continue to support political parties to address some of the challenges that they face, providing them with tools to support the process of transitioning into a more democratic country. Through IRI's Political Party Academies, which have been widely attended by party representatives all over the country, political parties will continue to develop the tools they need to represent their constituents well and serve as foundations for a multiparty democracy in the years to come.
Top