As Guatemala approaches general elections on June 16, 2019, the country is facing impressive challenges. In addition to the offices of President and Vice President, Guatemalan voters will select 158 deputies to the national assembly and 340 mayors. This year is the first time that Guatemala's Supreme Electoral Tribunal (TSE) as well as the 26 political parties vying for the open seats must comply with the 2016 Electoral and Political Parties Reform.
Already in the month since the campaign officially launched, the TSE has had to deal with numerous challenges to the legal standing of many political candidates. Besides the legal and political challenges, everyday Guatemalan citizens face real challenges to exercising their democratic right to vote – but also many opportunities.
Guatemala has one of the highest rates of violence and violent crime in the Latin America region. In electoral periods, existing tensions are exacerbated as criminal entities attempt to influence the outcome of elections at all levels. With funding from USAID, IRI is working in rural and urban areas across Guatemala to increase community cohesion and reduce violence related to electoral processes. Through our Culture of Peace (Cultura de Paz) program we are strengthening local institutions' and communities' ability to identify, respond to and mitigate root causes of violence. IRI is working in five of the most affected departments – Alta Verapaz, Chiquimula, Jutiapa, Quetzaltenango and Huehuetenango – bringing together citizens of all backgrounds with public officials including law enforcement, human rights workers and municipal officials.
Citizens from across the country have applied the skills learned in the Culture of Peace trainings to their roles in their communities. Although the election is still several months away, two participants of the Culture of Peace program are already putting these lessons into action.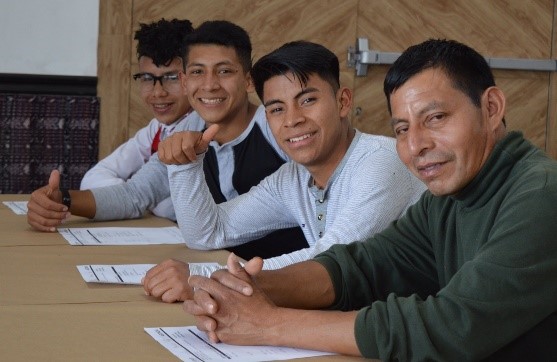 Julio de la Cruz is a citizen of San Juan Cotzal, a municipality in Quiché with a majority indigenous population. Julio's community is still recovering from Guatemala's 36-year armed conflict. Julio has used the knowledge acquired in IRI's Culture of Peace workshops to organize a public campaign against electoral violence.
Julio helped schools and public and private institutions within his community to work with the municipal government to begin a dialogue of peaceful elections within their territory. This campaign, which seeks to facilitate inter-institutional and intra-community communication in order to identify, mitigate and prevent electoral violence, will continue throughout the electoral process.
Recently, his municipal government also selected him to join the Community Development Council to participate as an expert in community conflict mediation. In this role, Julio will use the tools and skills provided in IRI's workshops to recognize and prevent electoral violence in a community that is predisposed to such violence.
Marco Antonio López is a visually-impaired citizen of Los Chuchles, a village in Huehuetenango. He had previously witnessed community conflicts that could have been easily resolved. However, he lacked the technical skills to serve as a conflict mediator.
Marco Antonio shared with IRI that he now feels he has the skills to take action in similar situations in the future. His radio program, "Words of Encouragement" ("Palabras de Aliento"), broadcasts every Tuesday from 5 A.M to 9 A.M. in Quetzaltenango, Huehuetenango, San Marcos, and even in the southern Mexico state of Chiapas. Through his radio program, Marco Antonio shares information he learned in the Culture of Peace program about how to negotiate and mediate community conflict in order to equip his listeners throughout the Western Highlands and into Mexico with the skills they may need to address, mitigate and resolve conflict.
So far, IRI has trained 676 Guatemalan citizens across six departments on conflict mediation and resolution skills. IRI is currently implementing a three-year program funded by the United States Agency for International Development (USAID) and in consortium with the International Foundation for Electoral Systems (IFES) and the National Democratic Institute (NDI). Staff from IRI's Northern Triangle team in the Washington, DC and Guatemala City offices contributed to this blog.
Top