Decentralization in the Maldives: Empowering Local Government is Key in Improving Citizen Engagement
Since the initial passing of the Decentralization Act in 2010, political and institutional hurdles have hindered the Government of the Maldives (GOM) from implementing provisions of the Act and decentralizing power to local councils.
Until recently, the Maldives has maintained a highly centralized government with local island councils struggling to play a meaningful role in the political sphere. Previously, the central government in Male' handled local councils development and financial plans directly, allowing local councils little-to-no input in the design, implementation, or budgeting of development projects in their communities. Since the election of President Solih in 2018, the national government has prioritized decentralizing and transferring power to local councils. Some local councils, like on the island of Omadhoo, are exercising their authority in ways that local governments across the country can model to ensure that collaboration with and inclusion of all voices leads to more meaningful participation from citizens.
For the first time, local councils and Women's Development Committees (WDCs) are playing an important role in developing their island's land use and financial plans. However, due to a lack of experience and proper training, councilors are struggling to complete their plans and develop mechanisms for ensuring financial transparency. In addition, women councilors and WDCs continue to be excluded from important decision-making processes.
To address these challenges, the International Republican Institute (IRI) is providing targeted support to local councils and WDCs to improve transparency, accountability, gender inclusivity, and capacity to design and implement development projects and manage resources. In April 2021, IRI held an orientation program for newly elected councilors and WDC members following local elections and continues to organize workshops for councils on their land use development plans. These workshops focus on how councils can implement sustainable development goals, increase financial transparency, and incorporate feedback from their communities into their development plans.
Following IRI's workshop, Agisa Abdul Latheef, a newly elected member of the Omadhoo local council in Thaa Atoll, organized workshops for citizens in her community to solicit feedback for the council's development and financial plans. Latheef and her fellow councilors held a series of ten public forums focused on different areas of community development. As island councils have had little say in how their communities were developed in the past, this level of engagement is an important step for councils to fulfill their role in local development and planning.
The forums discussed the development of two uninhabited islands near Omadhoo, focusing on how the community would be affected if both islands were used for tourism. Tourism islands in the Maldives are designated as a restricted space, cutting off locals from using them for fishing or recreational purposes. In addition, there is no guarantee that developing these uninhabited islands for tourism will result in jobs for Omadhoo residents. Ultimately, the community decided to reserve half of each island for park spaces, ensuring the community will have space for recreation.
Participation in local government was new for the Omadhoo community and citizens felt empowered to directly contribute to the future of their community. The example of the Omadahoo council shows how island councils that effectively engage their citizens in planning can realize the decentralized vision of the Maldives and give citizens a greater voice in decision-making. Decentralization is critical to the success of local democracy in the Maldives and IRI will continue to assist local councils to exercise their powers and contribute to participatory local development.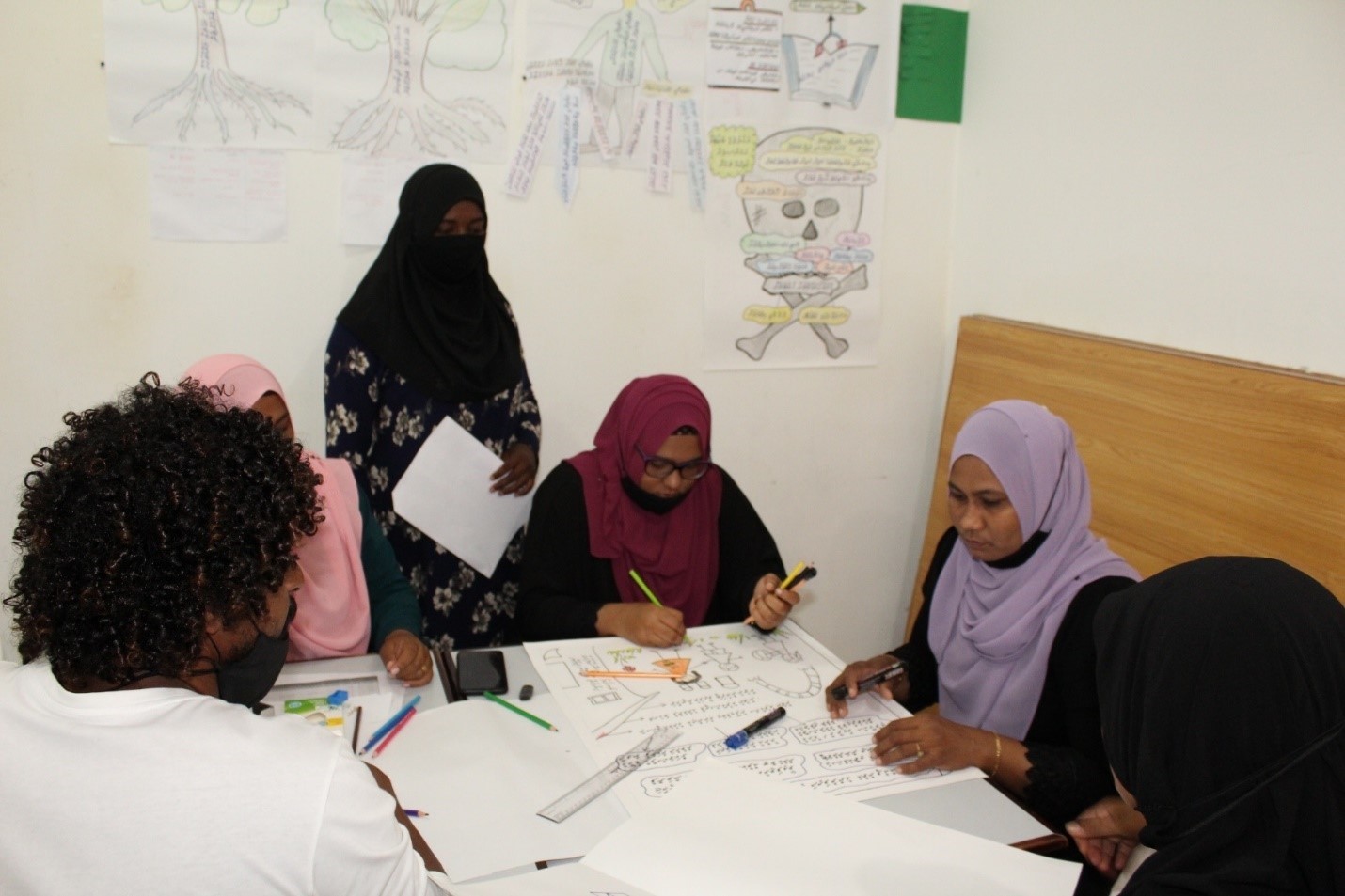 Top