Throughout the years, I have worked on numerous programs aimed at empowering youth to participate in politics and civil society.
Most recently, I had the privilege to partner with the international organization, World Learning, on a two-year, USAID initiative in Mongolia designed to inculcate emerging leaders with knowledge and professional networks to propel them in their role as Asia's next generation of democratic leaders. Under the Leader's Advancing Democracy (LEAD) project, IRI brings together Asia's best and brightest from Mongolia, Bhutan, Kyrgyzstan and Burma to discuss and identify solutions to address some of the region's most significant challenges: corruption, environmental degradation, and extreme poverty. In addition to policy discussions, Fellows hear from actors in Mongolia's peaceful revolution.
At a recent LEAD summit held in Ulaanbaatar, IRI hosted a panel discussion featuring life-long activists who were instrumental in Mongolia's 1992 transition from a Socialist soviet satellite country to a democracy. For some international participants, this first-person testimony was the highlight of the summit.
"I can't believe we get to hear from democracy's dinosaurs," remarked Fellow Baktygul Stakeeva, an environmental activist from Kyrgyzstan.
"This is really amazing for me to hear…I didn't know Mongolia had such an interesting and proud history."
In the West, referring to someone as a dinosaur might easily be misunderstood. However, when this young man said it, it was a heartfelt way to say, there are people living among us who fought (and are still fighting) for the cause of freedom and Mongolia has an impressive to story share with the world.
In less than three decades, Mongolia has established a multiparty political system, transitioned to a free-market economy and has developed a vibrant civil society. Today, Mongolia ranks among the freest countries in Asia according to Freedom House's 2018 index and has transitioned from a lower to middle-income country according to the Organization for Economic Development and Cooperation (OECD). Compared to other developing countries in Asia that is remarkable.
While in my narrow 90's world of listening to Nirvana albums in the 'land of the free', the leaders who fought for Mongolia's democracy were on the front lines pushing for reform: drafting a new constitution, leading peaceful protests in Sukhbaatar Square, waging hunger strikes and working to end 70 years of socialism in Mongolia. Since moving to Ulaanbaatar in 2016, I have met many people who were alive in 1992 and who vividly remember the revolution. I always ask the same question, "what do you think spurred the monumental 'decision to democracy''? The overwhelming response I hear from people goes something like this: Mongolians as nomadic people have always had a deep sense of individualism and a hunger for freedom…there was no other way but democracy for us."
The LEAD-Mongolia project taps this spirit of rugged individualism and enthusiasm for an improved livelihood by recruiting natural born leaders eager to have a voice in the direction of their country, participate in decision-making, and motivated to elevate the quality of life for all citizens. With seed funding from IRI and World Learning, since 2016, the work Fellows' have accomplished in all four countries has been impressive.
In Mongolia, Ariunsanaa Batsaikhan and her poverty alleviation team produced a documentary Journey to Job about Mongolia's high unemployment rate that is being used as an advocacy tool. The documentary has been viewed over seventeen thousand times on social media.
In Burma, we have seen outstanding educational initiatives led by Hnin Phyu and the Poverty Alleviation Team, where unemployed youth received intense mentorship and job skills training for one month. Today, six out of ten of their trainees now have jobs.
In Kyrgyzstan, Fellows established a community-led task force aimed at addressing environmental degradation.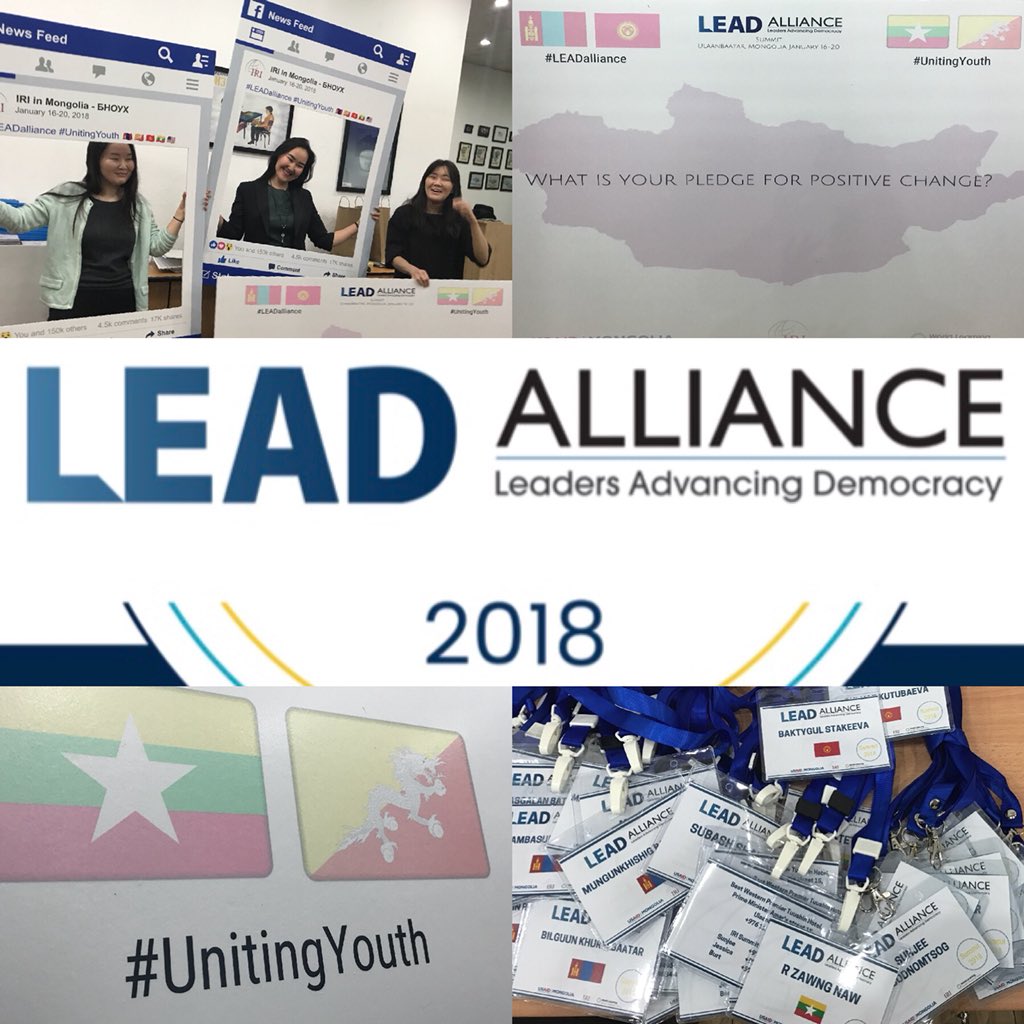 In Bhutan, in the tiny, remote village of Trashingyste, LEAD Fellows engaged over 700 students and community volunteers to teach the principles of sustainable waste management.
Throughout all of it, LEAD fellows were sharing Mongolia's democracy story to others introducing Burmese, Bhutanese and Kyrgyz Mongolia's history and culture and its remarkable transition to a free society. In a country wedged between to two illiberal neighbors, investing in young Mongolian democrats who are eager to lead, is an investment in maintaining democratic norms, peace and security in Asia. Moreover, it is the people-to-people ties that programs like LEAD cultivate which fortify peaceful alliances and anchor Mongolia's role as a democratic leader in the region.
At the conclusion of the 2018 summit, Fellows shared a celebratory dinner and a toast to the new friendships made and the renewed sense of commitment to the cause of democracy. Fellow, Mungunhishig Batbaatar from Mongolia from said it best in his toast to his LEAD peers, "Here's hoping we all one day become "democracy's next dinosaurs!".
Top