Embracing "Art-ivism": How Creativity is Shaping Democracy in Bangladesh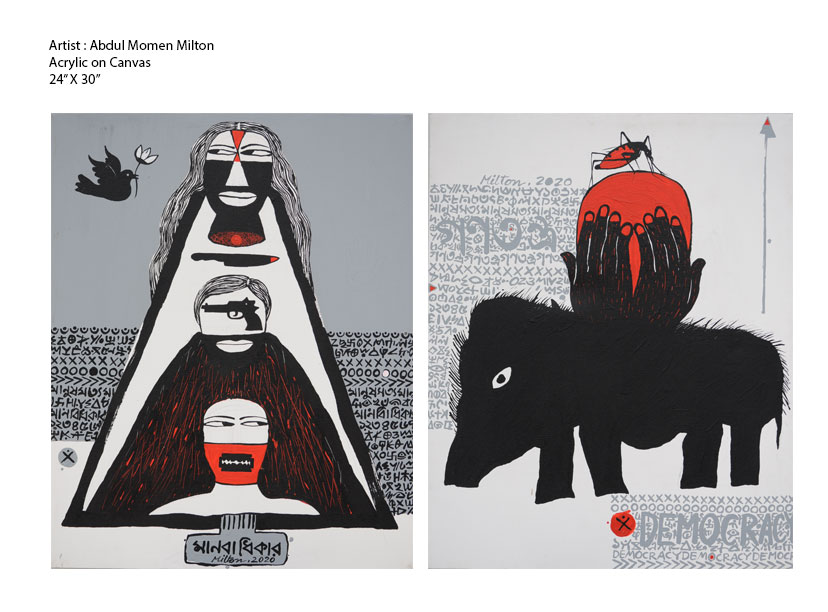 In October, Bangladeshis took to the streets to condemn an increase in gang rape and call for equal rights for women across the country. What was unique about these demonstrations was the protesters' use of art to convey their demands, singing and reciting poetry with messages of women's empowerment. The prevalence of art in Bangladesh's recent protest movement underscores the connection between creativity and the civic activism at the heart of democracy. In this blog, we discuss the importance of "art-ivism" to democratic progress and shine a light on the International Republican Institute's (IRI) commitment to elevating artists as catalysts for democratic change in Bangladesh. 
From the banner painting of Bangladesh's 1971 liberation movement to the pro-democracy movements of today where photographers have drawn attention to social issues, artists have played a central role in demanding a more transparent, responsive and accountable government in the country. A peaceful form of civic activism that draws the public's attention, art has reinvigorated Bangladesh's citizenry throughout history and set the country on a course towards a healthier democracy. Understanding the critical role art plays in Bangladesh's democratic progress, IRI has partnered with a diverse group of artists to promote cultural activism as a means to building an engaged public.
Launching its Art and Democracy program, IRI held a conference in September 2019 with 21 civic actors from across the country, including individual artists and representatives from NGOs that focus on advancing cultural activism in Bangladesh. This workshop provided a unique opportunity to bring together new voices and created a space conducive to the discussion of new ideas, network building and resource sharing among the artists.
Following this conference, IRI issued 11 small advocacy grants to artists, musicians, performers and organizations to raise awareness on key political or social issues in Bangladesh through art-based mediums. Examples of IRI-supported projects include a hip-hop music video with lyrics on youth empowerment, a photography campaign on the lives of rural women in the Sylhet region and cultural performances by a transgender dance group to raise awareness on gender diverse communities.
IRI also partnered with the ArtLords, a Kabul-based art and culture organization to implement a virtual workshop that engaged 62 young artists and activists from across Bangladesh and focused on regional and international perspectives for using art as a tool for social and political change. Six international speakers from Afghanistan, Sri Lanka, India and France discussed their work in theater, journalism, painting, photography and cultural curation. Among the topics covered, participants discussed the key linkages between art and democracy and emphasized the role art can play in creating spaces where people can disagree, argue and freely express their ideas.
The Bangladeshi artists and international creatives invited were focused on capturing and challenging issues that are often not publicly discussed but are important to both Bangladesh and the broader South Asia region. For example, a theater practitioner from Colombo shared his experience of media censorship during the Sri Lankan civil war, which sparked a debate on how artists in Bangladesh can address sensitive social and political issues in Bangladesh's deeply polarized environment.
Across the globe, "art-ivism" presents an opportunity for strengthening democratic processes from the periphery by using creative mediums to amplify marginalized voices, engage new ideas, provide an arena for public debate at both the local and national levels and create a "new language" for social change that is accessible to all.
In Bangladesh, IRI is committed to continuing its promotion of art initiatives that advance political and social dialogue and forge a healthier democracy. To that end, the Institute is currently working with a local media house to produce an upcoming nationally televised cultural performance, which will reach tens of thousands of Bangladeshis and expose the public to new ideas. Our aim is to catapult the most promising activists and creatives within Bangladesh, empowering them to serve as agents of social change and to create more meaningful and practical ways to engage communities in democratic processes.
While cultural activism through art may not directly influence policy change and improve institutional behavior alone, new forms of expression and engagement at the local level can keep civic space open and lead to broader initiatives to push back against democratic decline. More importantly, however, art serves as a tool for personal reflection and provides a space for all members of society to connect on a basic human level to build trust, foster understanding of 'the other' and open their minds to new possibilities for public life which are key factors to continuing the fight for greater inclusion and representation of all people.
Top