Empower Initiative Engages Women from Jordan's Poorest Areas
To support the political and civic participation of women from Jordan's most impoverished areas IRI launched the Empower initiative, which provides women with the skills needed to successfully engage and participate in the civic and political life of their communities and country.
"Over the past five years I have met with many women from all over the Middle East and North Africa and listened to them speak about the need for more programs that support women's political participation. The Empower initiative, along with IRI's other efforts, including the Arab Women's Leadership Institute (AWLI) and the Women's Democracy Network, will offer critical skills to women who want to actively participate in improving their communities," said Tami Longaberger, Chief Executive Officer of the Longaberger Company, Chair of AWLI's Board of Directors and a member of IRI's Board of Directors.
The two-year effort, which was launched at an event in Amman on October 31, targets women from four of Jordan's poorest areas (or poverty pockets according to the United Nations Development Programme, which is a district or sub-district in which more than 25 percent of the population lives below the poverty line.): northern Shouna in Irbid governorate, central Dleil in Zarqa governorate, southern Bseira in Tafileh governorate and Gweira in Aqaba governorate.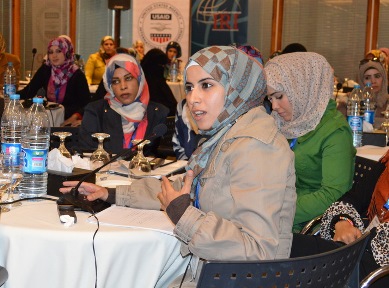 Through the Empower initiative, women from Jordan's poorest communities will be offered professional skills training in areas such as communication, negotiation, time management and public speaking. The women will also learn about current political legislation in Jordan, such as election, municipal and political party laws. In addition, they will be instructed on political terminology and theory, covering the basics of democracy, democratic governance, political parties, citizen engagement and decentralization.
With this knowledge, women will be able to engage with decision makers in their communities, facilitate meetings between citizens and elected officials, conduct advocacy campaigns to make women's voices heard and eventually run for elected office or support other women running for office.
"Gender equality is an important component of all our work," said Beth Paige, United States Agency for International Development (USAID) Mission Director in Jordan. "And this program is an excellent example of efforts to enhance women's political participation, particularly in these poverty pockets. Women play an extremely critical role in achieving sustainable political reform and economic growth in Jordan."
During the second year of the Empower initiative, participants will begin sharing what they have learned with other women in their villages, establishing a self-sustaining cycle of women learning and teaching thus engaging more women through access to important civic information and connecting them with other pioneering women from similar backgrounds.
The Empower initiative is funded and supported by USAID.
Top