Women from rural, low-income areas of Jordan presented their community improvement project ideas to local government officials in August and November. They are participants in IRI's Empower program, which has been giving women like them the knowledge and confidence to engage in civic affairs since 2013.
In these government designated "poverty pockets," women's participation in politics is very uncommon and is often seen as unacceptable due to cultural norms. Women living in these areas face disproportionate barriers to engagement due to a combination of a culture of shame, resource scarcity and a general lack of civic education and awareness of citizens' role in a democracy. For instance, family and societal discouragement often prevents women from completing their education or going to the market alone as mixing with men in public spaces is seen as inappropriate. These same cultural norms also limit women's economic empowerment and participation.
Maximizing Jordanian women's economic potential would help alleviate the economic stresses Jordan faces. Additionally, supporting women's political and civic participation would more effectively leverage women's brainpower to find solutions to the challenges facing the country. With Jordan hosting large refugee populations and thus acting as a stabilizing force and American ally in the Middle East, it is critical that Jordan marshal all of the resources it possesses to address its economic threats to stability.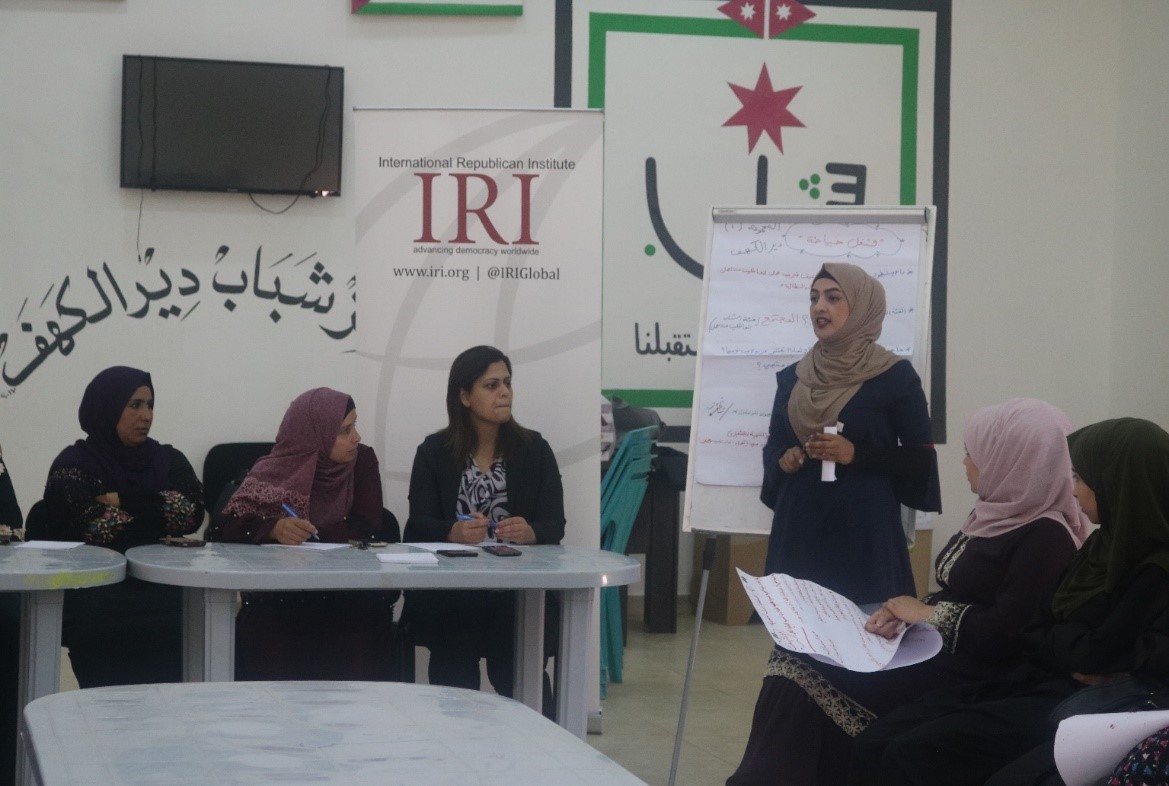 To increase the political participation of women living in poverty pockets, IRI trains this population in communication skills, negotiation techniques, political terminology and public speaking. Demonstrating this program's success, Empower alumnae have trained other women in what they learned, moderated discussions between government officials and citizens, delivered speeches in front of audiences of more than 100 people and conducted community beautification and environmental initiatives. Nearly 500 women from 32 different poverty pockets have graduated from this program, and about 100 from four more regions will soon graduate from the 2018 class.
The mayor of Talal Al Jadeda, Yousef Al Shlalkha, displayed the most interest in his local Empower participants' sewing factory suggestion. Empower participants from Deir Al Kahaf landed on the idea of a sewing factory during a July IRI-Eduardo Frei Foundation training dedicated to brainstorming projects to solve issues participants identified in their communities. Through the sewing factory, Ebtihaj Smairan said she hoped to "provide a job opportunity to unemployed citizens, especially women…[because] we have many good sewers." Mayor Al Shlakha, motivated by the Empower participants' proposal to better serve his female constituents and increase their employment, promised to allot the Empower members a space to operate a sewing enterprise.
The presentations helped women living in marginalized regions of Jordan become active citizens who work to help their communities in cooperation with elected officials. The meetings provided valuable feedback and positive reinforcement to these newly civically engaged women, and at least one project may become a reality.
As one participant, Maha Al Shurufat from Um al Kotean, summed it up: "We know that this is not the end, and we hope to reach more women who do not know the term 'politics.'"
Top