The European Union (EU) has not added a member country in 8 years despite having multiple candidate countries in the Western Balkans. This stalled EU enlargement has called into question the future orientation of the Western Balkans toward certain issues regarding the EU, Russia, and China. To ensure that the Western Balkans remain oriented toward the EU, the EU needs to prioritize and fast-track their accession.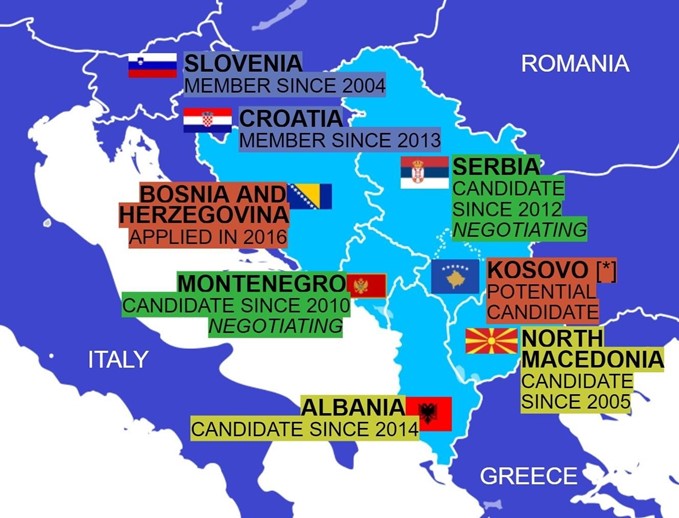 This could be done by resolving the dispute between North Macedonia and Bulgaria regarding the origin of North Macedonia's culture, history, and language, which Bulgaria insists are Bulgarian. Due to this disagreement, Bulgaria has vetoed holding an Intergovernmental Conference for North Macedonia, where official EU negotiations would begin. This consequently vetoes Albania's conference as Albania is coupled – one country cannot move forward in the process without the other- with North Macedonia, even though the EU-Albania negotiation process is largely supported.
Other ways the EU can demonstrate its sincerity through concrete actions might include visa liberalization for Kosovo, continuing efforts to resolve tensions between Kosovo and Serbia, and working with member states to facilitate agreement on welcoming Western Balkan countries. By taking these actions, the EU can incentivize aspirants to fight corruption, increase transparency, resolve ethnic tensions, promote cooperation, and fulfil the demanding conditions required for membership. As it stands, governments throughout the region have taken steps toward full membership, but their status remains the same.
Many citizens value EU membership. However, some have become skeptical of the process, and see more immediate opportunities elsewhere. Taking advantage of this uncertainty, Russia and China have increased their influence in the region: Russia through military cooperation and China through economic cooperation. Russia sees the Western Balkans as a region where it can exert military influence. They want to stop the expansion of the North Atlantic Treaty Organization (NATO) to countries they deem critical to their security through a domino effect, such as Ukraine, by destabilizing democracy and regional relationships. In Serbia, Russia's military exercises create a tense situation where Russia directly challenges NATO.
While Russia concentrates their efforts on perceived security threats, China is exerting economic power through loans and investments, along with expanding political and military influence. The case of Kenya should serve as a warning about the dangers of Chinese investment. Kenya has stalled in human, social, political, and economic development under the debt burden imposed by Chinese loans. Montenegro is in danger of following suit, taking out a loan of almost 1 billion euros that, despite foreign assistance, will be difficult to pay back. China has strengthened its quest to become a global superpower in recent years, and at the pace they are expanding their sphere of influence, Chinese economic investment may become a stronger lure than an elusive EU membership. Thus, the EU needs to recognize that every moment is critical. The casualties of falling in line with China are democracy and a chance at EU membership, while the ultimate victims are the people.
Several of the countries in the Western Balkans, led by Albania, North Macedonia, and Serbia, have proposed a "mini-Schengen*," which would remove barriers to movement and trade, potentially help the region overcome historic divisions and improve economic conditions. Eventually, the project could be expanded to Montenegro and Kosovo. Such new developments not only promise greater stability and prosperity but demonstrate welcome initiatives on the part of national leaders in a region too often complacent and reliant on outsiders to determine their fate.
To aid in these developments, IRI helps prepare Western Balkan countries for EU accession by promoting transparency and accountability, giving citizens and political leaders tools to fight corruption, and acting as a counterweight to foreign influences. Examples of these programs include working to establish the US-Albania Transparency Academy and strengthening political parties in North Macedonia by supporting the development of evidence-based, policy-focused platforms that reflect citizens' needs. IRI supports the establishment of multi-party political systems, empowers elected leaders to deliver effective democratic governance, and bolsters the ability of civil society organizations to advocate for the interests their people. Throughout the accession process, IRI will remain committed to continuing its promotion of free and fair democratic governance, devoid of authoritarian influence.
* The Schengen Area is an area comprising 26 European countries that have officially abolished all passport and all other types of border control at their mutual borders.
Top