Kerez Temirbekova fought breast cancer once already. She struggled against it all alone, and "almost won," as she puts it. But that partial success cost a lot. In addition to the physical pain and emotional anguish of dealing with a cancer diagnosis, she was forced to sell her apartment to pay for expensive medicines. It was a great sacrifice but one necessary to save her life.
When she had a relapse this year and was told the cancer had spread to her bones, there was no more apartment left to sell. She says, "I had to go and knock on all the doors [asking for money]."
Stories like Ms. Temirbekova's demonstrate the heartbreaking realities of dealing with a breast cancer diagnosis, exacerbated by inadequate access to healthcare and by the low representation of women in political and civic life.
Too often, breast cancer patients are made to endure preventable suffering because their illness has not been made a priority for the broader society. Though treating any cancer is a medical problem to be addressed by medical specialists, advocating for that treatment and ensuring sufficient distribution of resources is rather a political problem in which every citizen can and must take part. Inclusive democratic practice is therefore vital for mobilizing an informed population and advocating for their needs. This is as true in Kyrgyzstan – Central Asia's most democratic republic and an essential model for the region – as it is in any other place.
The plight of Kyrgyzstan's cancer survivor women is about to get more attention. The Zhenskaya Demokraticheskaya Set (Russian: Women's Democracy Network, ZDS) resolved to take a stand for them in the autumn of this year, making use of its extensive network of committed activists to appeal for better treatment conditions and a national early screening program.
The ZDS, which counts more than 7,000 members across Kyrgyzstan's seven provinces, including elected members of local and regional government, entrepreneurs and NGO activists, is a long-time partner of the International Republican Institute (IRI). Over the last decade it has established itself as the country's most influential network for women activists, working to improve inclusive representation in local government councils and encourage women to be more financially independent through entrepreneurship, among other projects.
On December 7, the ZDS with IRI support called a press-conference event in Bishkek to bring together activists, journalists and Members of Parliament so they could hear the stories of breast cancer survivors like Ms. Temirbekova first hand.
The stories provoked a strong emotional reaction from all present, reducing many to tears.
Gulnara Imanalieva has a diagnosis of stage 2 breast cancer and has already undergone several chemotherapy treatments. She told conference participants about the incapacitating side effects of the treatment and the need for physical therapy centers and other means of restoring one's health throughout the process.
"A woman with breast cancer also wants to be beautiful," she said, genuinely healthy rather than just less sick. She appealed to the activists and Members of Parliament present for help in organizing new facilities.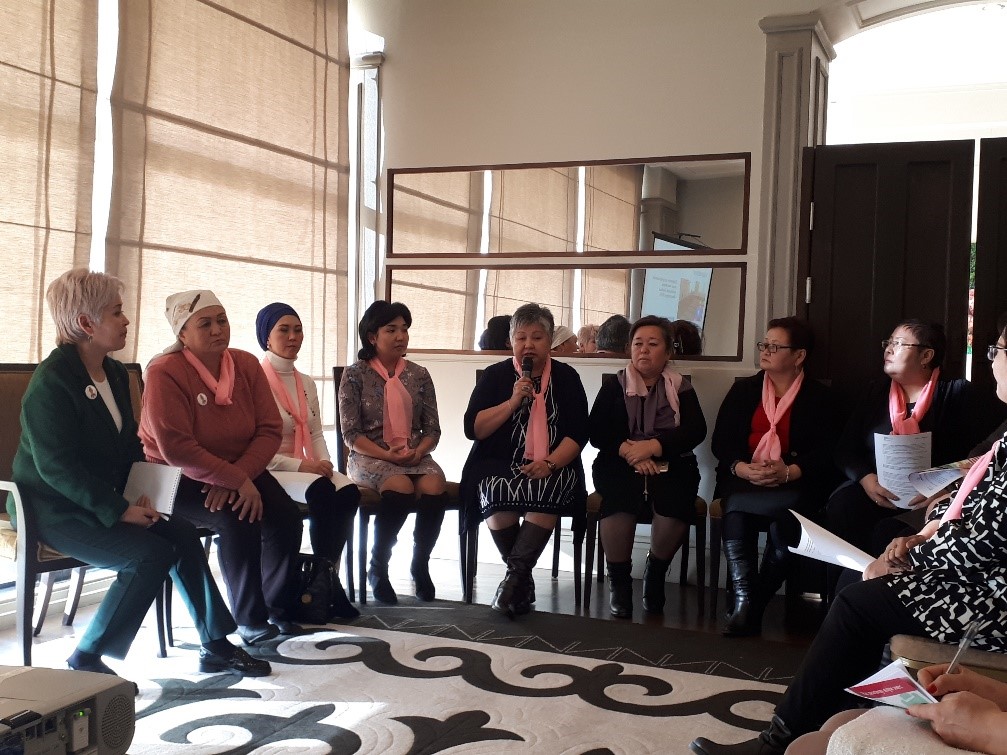 These stories are not exceptional cases. According to the National Statistics Committee of the Kyrgyz Republic, 5,538 people in Kyrgyzstan were diagnosed with cancer last year. 3,058 of them were women. Most of them were young, under the age of 65.
3,501 people in Kyrgyzstan died from cancer last year.
According to the head of the Department of Chemotherapy at the National Center for Oncology, only 42 percent of people afflicted with cancer in Kyrgyzstan actually have access to the necessary treatment. The other 58 percent are denied this access due to lack of funding or the absence of treatment facilities where they live. In a country where such resources are heavily concentrated in the capital Bishkek and a few other major cities, residents of rural districts often go without, separated from advanced medical care by some of the highest mountains in the world.
ZDS Director Guljan Baibetova and other leading activists noted that the major causes of death from breast cancer were not solely medical, but social and political. They identified three interrelated problems:
The lack of a screening program for early detection;
Disparity in access to quality diagnosis, treatment, social protection and therapy across the country; and
Visiting the doctor too late, when metastasis has already begun and the cancer is spreading throughout the body.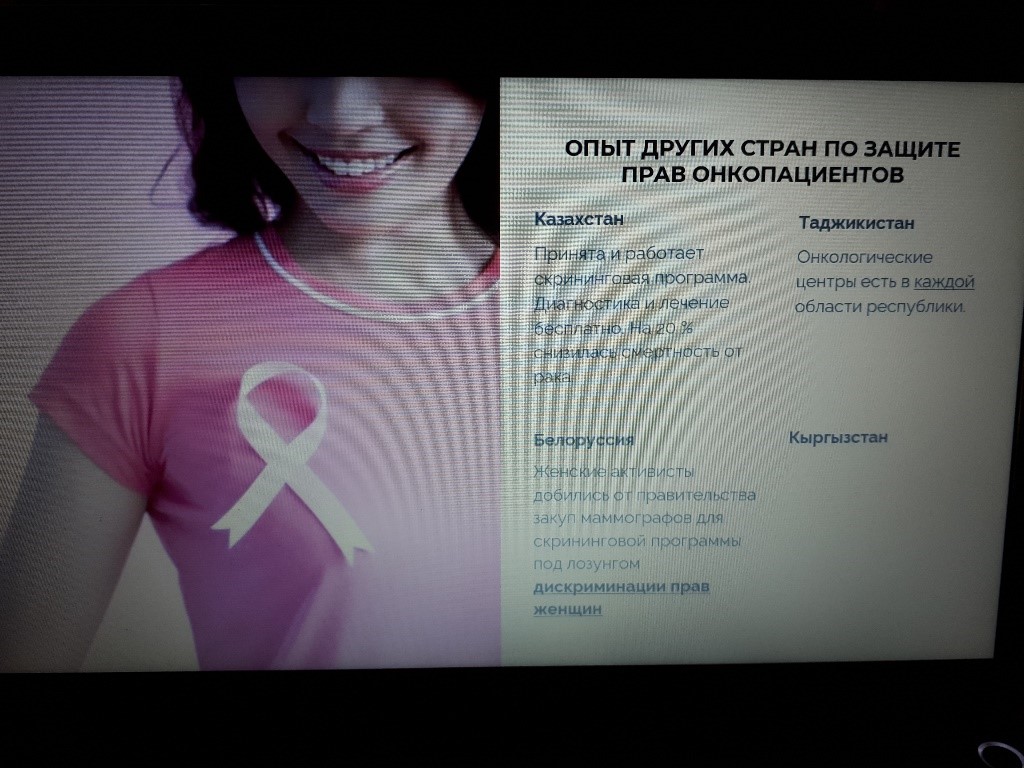 The touching personal accounts and the succinct analysis of the situation by the ZDS activists made an impression on the holders of elected office who were present. Bishkek City Council Member Adisa Imangaziyeva announced that the city government was ready to pledge 100,000 Kyrgyz soms (about $1,400) to conduct free cancer screenings for residents of the novostroyki communities surrounding Bishkek; these are newly-constructed neighborhoods often inhabited by recent migrants and lacking legal incorporation, which therefore have difficulty receiving state services.
Member of Parliament Ainuru Altybaeva informed activists and other attendees about an initiative to create mobile medical clinics that would provide needed screenings and other services to more remote rural communities. She also promised to discuss the issue in the Parliament, as did Member of Parliament Aida Kasymalieva, who sits on the Parliamentary Committee for Social Issues, Education, Science, Culture and Health.
The resolution of practical political questions affecting access to health care will take time, though we can be comforted by the knowledge that we are moving in the right direction. Just as importantly, this event and the broader campaign conducted by the ZDS was a means of elevating the women's voice in civic life, establishing women's health as a priority and reducing the social stigma and sense of isolation that makes the experience of fighting cancer even more difficult. Solidarity, empathy and committed activism through inclusive democratic practice is the first step.
Top