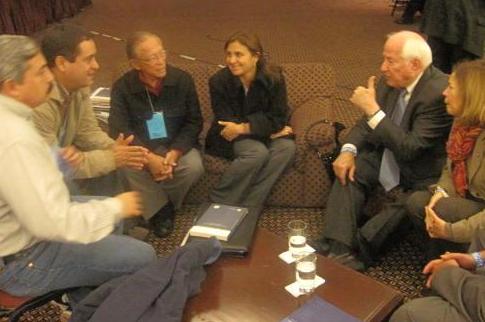 Before beginning their new terms last July, 99 members of the Peruvian Congress gathered at the first formal congressional orientation. The orientation was sponsored by IRI and featured IRI board member and former U.S. Congressman Jim Kolbe who spoke about the importance of constituent outreach and representative democracy.
Kolbe, who was elected by his constituents to 11 terms in the U.S. House of Representatives, told the new legislators, "We elect representatives to our legislatures, to our city councils, and to our national legislature, to our Congress to represent us on things. And I think representative democracy is secure."
During the three-day orientation Kolbe also met with individual congressional groups (bancadas) to share his own experiences as a legislator. The freshmen members asked several questions about the structure of the U.S. Congress and Kolbe's legislative experience.
The orientation gave new congressmen the opportunity to hear from legislative leaders from Peru and around the world on actively representing constituents at the national level. In addition to Kolbe, the event featured Congressman Guillermo Rivera Flórez and Secretary General of Congress Jesús Rodríguez Camargo both from Colombia. The new members also heard from Peru's Attorney General José Antonio Peláez Bardales on parliamentary investigation and control.
In a country where the past two congressional elections resulted in approximately 80 percent turnover, it is clear that Peru's legislators must do more as service deliverers to the constituents they represent. The orientation was designed to do just that. IRI, along with the Secretary General of Peru's Congress, designed a comprehensive orientation program to discuss the workings of the Peruvian Congress, management of a congressional office, the representative role of a legislator, legislative committee membership and internal budgeting. The orientation was lauded by re-elected congressmen who attended as providing the basic tools necessary for Peruvian legislators to more effectively participate in Congress.
Top