With major upcoming elections in Malaysia, Cambodia, Timor-Leste, and parliamentary and provincial elections in Bangladesh and Sri Lanka, 2017 is set to be a year of change in Asia.
Compounded by the threat of violent extremism and the push for increased regional integration within the ASEAN community, it's tempting to believe that the region may not look the same again.
However, in light of these changes, a new generation of leaders in Asia is rising to the challenge to reshape the way youth engage with their political systems.
Last month, with funding from the National Endowment of Democracy, IRI launched its flagship youth program, Generation Democracy, in Asia.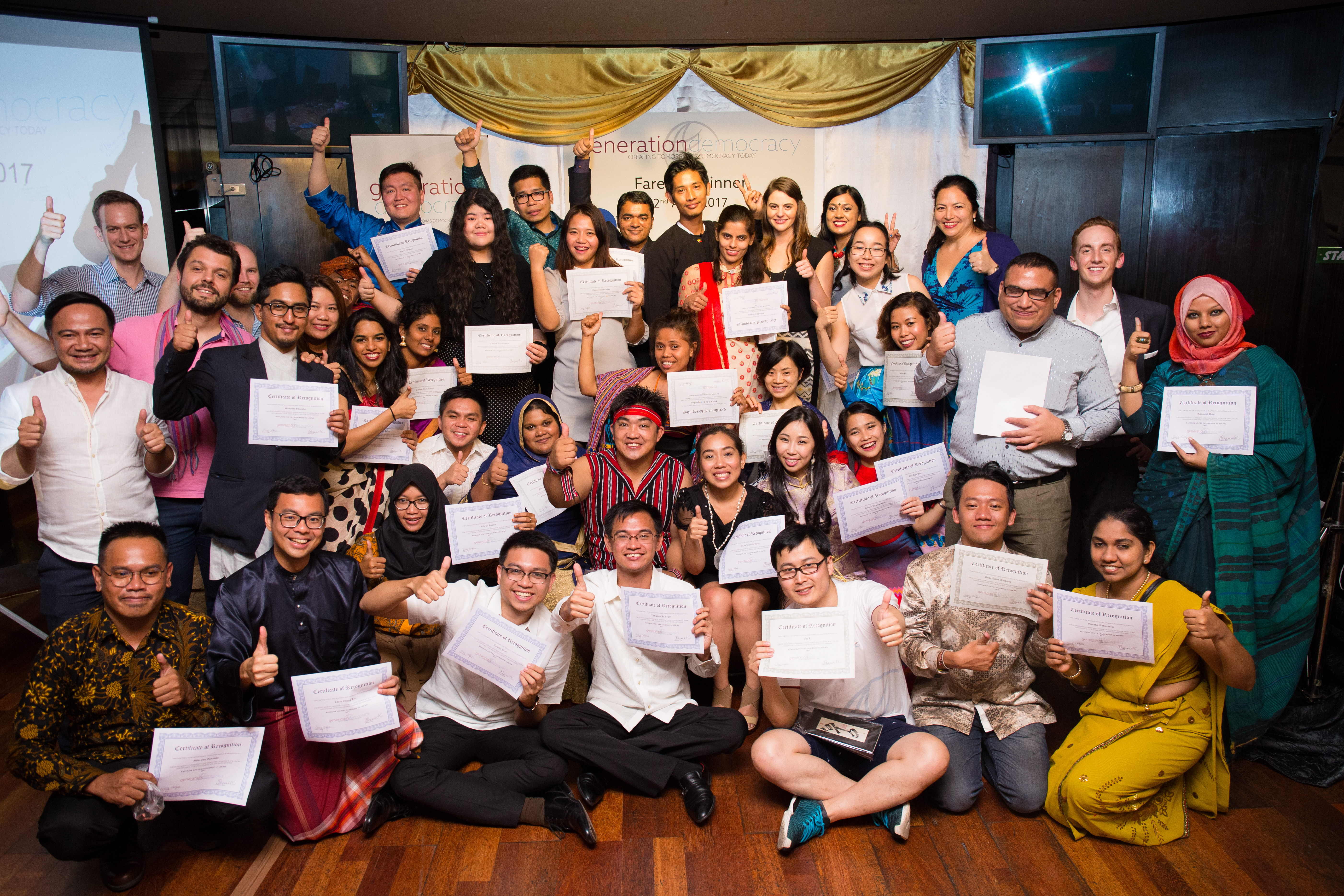 Based around a four-day Youth Leadership Academy in Bangkok, Thailand, our Asia summit brought together 36 young leaders from over 12 diverse countries across Asia, including Bangladesh, Burma, Cambodia, Indonesia, Malaysia, Mongolia, Nepal, the Philippines, Sri Lanka, Thailand, Timor-Leste, and Vietnam. During the program delegates benefited from advanced technical trainings on mission-driven leadership, branding, social media, fundraising, and advocacy, and developed community engagement projects to address the unique issues affecting young people in their local communities. They also engaged in dynamic conversations on the importance of youth democratic engagement with U.S. Ambassador to Thailand Glyn Davies, Canadian Ambassador to Thailand, Cambodia and Laos Donica Pottie, and former U.S. Ambassador to the Asian Development Bank Curtis Chin.
Recognizing the power of youth, IRI founded Generation Democracy in 2015 with the vision of creating a global youth network that would train, equip, and connect the next generation of democratic leaders. Yet what was once a program based in Africa —starting with conferences in Dakar, Senegal in 2015 and Dar es Salaam, Tanzania in 2016—has since become a global movement of young people to promote democracy and good governance across borders.
Generation Democracy is distinct from other youth networks in that it works with already-established young political and civil society leaders to facilitate connections and equip them to directly engage in decision-making processes. It is also exceptional in that has a truly global scope. Rather than merely focusing on country-specific youth programming, our regional and global focus enables a unique synergy in which members are able to share best practices and lessons learned beyond their own country contexts. Our hashtag #UnitingYouth—which recently went viral across Asia and gained over one million impressions on social media, speaks to this mission—that regardless of nationality, ethnicity, race, gender, or religion—young people can work together across borders to enact positive change.
When people ask me what the future of the global community looks like, I am quick to share the stories of our incredible delegates from Bangkok.
I think of Gelo, a community doctor from the Philippines who co-founded Itayo Na!, a youth movement that supports more than 5 million out-of-school youth in Central Luzon. The program trains former juvenile delinquents, drug addicts, commercial sex workers, and other marginalized groups on civic engagement, youth empowerment, and leadership training so that they can one day become public servants and NGO workers.
I think of Yane, a former member of the Timor-Leste Youth Parliament, and Chean Chung, a First-Term State Assemblyman in Malaysia who work to support systemic policy change. I also think of Tin, one of the most passionate and energetic young leaders I've ever had the pleasure of meeting, who works at the grassroots level with the New Myanmar Foundation to design election observation missions and support parliamentary education and youth development.
I also think of so many others, who each bring their own unique experiences and passion to the table yet all find ways to energetically engage their peers in advocating for democratic change.
Humble, passionate, fearless, and inspired, these emerging leaders represent a beacon of hope in a chaotic world and remind us that small group of committed, idealistic, active citizens truly can recalibrate the compass of global leadership for a better tomorrow.
To learn more about Generation Democracy, visit our Twitter and Facebook pages.
To apply for our upcoming Youth Leadership Academy in South Africa from May 25 -28, 2017, click here.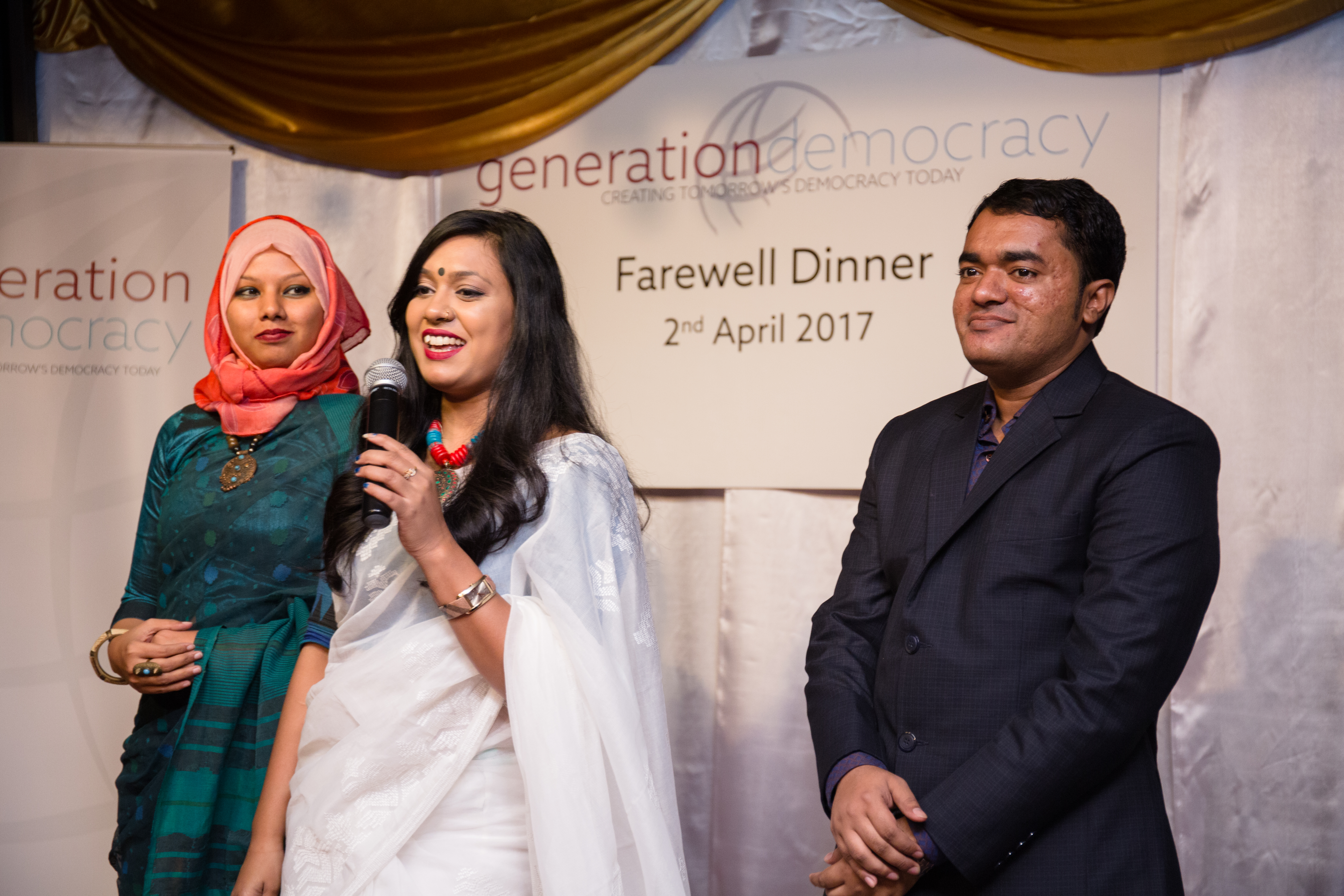 Top