Governance and Innovation: A Critical Focus for Latin America Amid the Global Health Crisis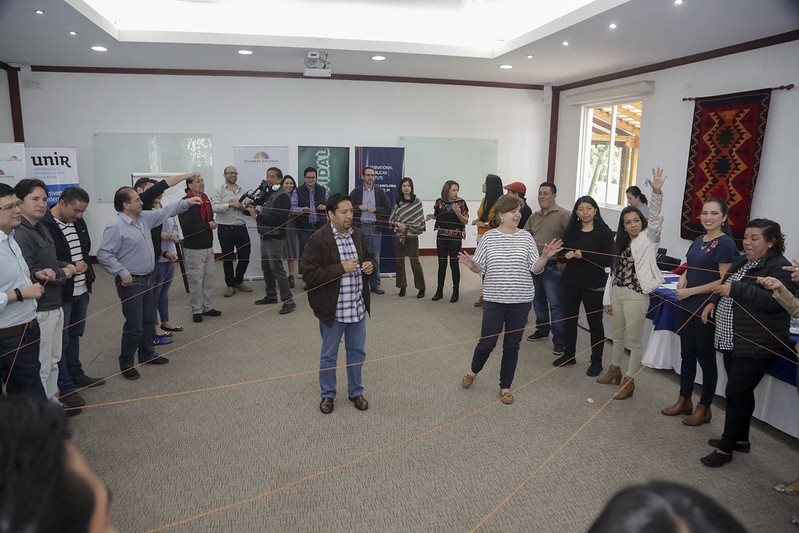 On World Health Day, the International Republican Institute (IRI) is shining a light on its partners across Latin America and the Caribbean (LAC) who have been key to managing COVID-19's fallout. Since the pandemic's onset, IRI's support of local, national and civic stakeholders throughout the region has proved critical to addressing the pandemic's political, social and economic challenges.
Since the first case was reported in Brazil, COVID-19 has ravaged communities throughout LAC, positioning it at the epicenter of the virus and requiring governments to find innovative solutions. Although most governments implemented strict lockdown measures to protect citizens, the impact of the pandemic exposed many of the region's governance vulnerabilities. Due to a lack of planning, investment and years of mismanagement fueled by corruption, health systems were ill-prepared to respond to the virus, and unable to reach the region's most vulnerable populations.
As a result, governments were forced to rely on limited digital infrastructure to respond to the crisis and guide the population. Although countries such as Uruguay and Costa Rica were able to adapt existing digital technologies to create accessible telemedicine services, the majority were on their heels searching for efficient and effective strategies to engage citizens and respond to their needs. These challenges, combined with the subsequent wave of disinformation surrounding the virus, undermined policy responses and amplified distrust. In a region in which 85 percent of citizens believe that a few powerful groups are governing their countries for their own benefit, countering a further erosion in trust meant taking an innovative approach.
With these gaps in access to, and knowledge of, digital and technological tools, IRI collaborated with our local partners to find new ways to support government officials and civil society leaders in overcoming the pandemic's communications barriers. When the pandemic first took hold, many legislators, for example, were unable to meet due to quarantine restrictions. Through our legislative strengthening initiatives, IRI shared international best practices with members of Ecuador's National Assembly, as well as those in Colombia, Guatemala and Peru, on how to conduct virtual plenary sessions via Zoom. These efforts helped ensure legislators were able to continue with their governing responsibilities, including holding the executive branch accountable in responding to the health crisis.
Government officials also needed trainings on how to engage citizens virtually. Prior to the pandemic, only seven percent of citizens interacted with their governments online. In Panama, with support from the ADEN School of Government, IRI hosted a series of leadership workshops for Panama's National Assembly staff to respond to the legislature's priorities during the pandemic. The first focused on innovative ways to facilitate and enhance lines of communication with constituents. This included using digital and virtual platforms, such as town halls and social media campaigns, to share critical information about the delivery of health services and virus prevention.
Given the spread of an infodemic—misleading information in digital and physical environments during a disease outbreak—IRI partnered with the United States Centers for Disease Control and Prevention (CDC) to train journalists in Mexico, Panama, Guatemala and Ecuador on how to properly investigate and write about public health issues to ensure reliable coverage. IRI also equipped journalists, government officials, civil society actors and other stakeholders with digital tools, such as fact checkers and online databases, to identify and combat fake news and disinformation regarding COVID-19. This included working alongside Guatemalan and Salvadoran media outlets, Cofirmado and Focos TV, to curb the spread of disinformation, using Indiana University's online resource, the Observatory on Social Media (OSoMe), to analyze and counter news falsehoods.
To complement the trainings, IRI designed and developed a communications manual that provides government officials and journalists with guidance on identifying fake news, strategies on how to combat it and best practices for digital security. This included tips on how to protect personal data by avoiding unknown websites and the use of two-factor authentication. These trainings and resources were crucial in delivering civic and political leaders the tools needed to manage the infodemic and foster trust through the promotion of reliable health practices and techniques.
Throughout the past year, IRI has enhanced its innovative programming to lay the groundwork for effective governance responses and management of COVID-19. However, with the pandemic still gripping much of the region and the vaccine rollout moving slowly, IRI continues to work with partners to ensure local and national governments have the tools and skills to address citizens needs and restore confidence in their governments. Ultimately, this kind of collaboration is what will allow us to defeat the pandemic.
Top