HDP Alumni Profile: Congresswoman Elva Edith Julon Irigoin
The House Democracy Partnership (HDP) is a bipartisan commission of the U.S. House of Representatives that works directly with over 20 partner parliaments around the world to support the development of effective, independent, and responsive legislatures. HDP is proudly implemented by the International Republican Institute (IRI) and the National Democratic Institute (NDI).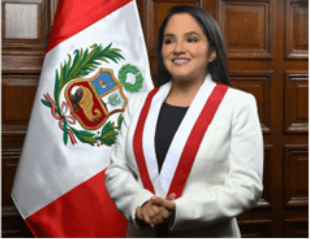 In this monthly series, we profile HDP alumni to show how they are applying the lessons they've learned through HDP to their legislative work. This month we feature Congresswoman Elva Edith Julon Irigoin, elected member of Parliament in Peru.  
What parliament and chamber are you a member of?  
I am a Peruvian Congresswoman.
What HDP program did you participate in?
I was part of the Regional Legislative Exchange to Advance Women's Political Leadership, held in Buenos Aires, Argentina.
What is your favorite thing about your country?
The best thing about Peru is our people, our traditions, the warrior spirit to overcome obstacles, and the magic of my region, Cajamarca, with the Inca heritage that makes us so proud.
Why did you decide to become a member of Parliament?
From a very young age I was motivated by social work. My father was the mayor of the province of Chota, he guided me through social work, and I could see very closely the deficiencies of my region. I understood that many of those deficiencies happened because projects were not executed, and the farmers did not have laws that support their development.
Looking back on the HDP program, what was most impactful for you?
The approach to different topics related to gender and the importance of promoting our leadership to create opportunities that benefit congresswomen. Likewise, addressing the relevance of the legislature's role to build effective and resilient democracies, how we can work toward that goal, along with multilateral institutions, both in the private sector and civil society; and democratic decision-making, as well as the inclusion of best practices to have a gender perspective in parliamentarian debates, how to collaborate effectively across political parties to promote common goals.
I also want to highlight that this exchange helped us to learn how to conduct oversight of the government and hold it accountable for the commitments it adopts.
How are you applying your experience from the HDP mission to your role as a member of Parliament? 
After this event, I worked with my technical team to prepare proposals to guarantee executive accountability. I have also proposed that the budget should have a gender equity perspective. Additionally, I have applied what we've learned on social media strategies to better reach my audience and have permanent communication with my electoral base.
What accomplishments in Parliament are you most proud of?
One of my greatest achievements is to have made laws to benefit the youth and health sector, we've made laws that promote youth professional development and their insertion in the labor market. Law 31396 includes pre-professional activities and internships as work experience.
Likewise, we created a law to recognize health staff who were on the front line in the battle against COVID-19. Law 31539 authorizes, exceptionally, due to the health emergency, the change of CAS-COVID contract to CAS Contract, benefiting more than 8,000 health workers.
Additionally, to reinforce food security mechanisms and fight against alarming rates of child malnutrition and anemia, Law 31458 was created to recognize communal kitchens and guarantee their sustainability, financing, and productive work for their beneficiaries, promoting entrepreneurship.
Following the same purpose of safeguarding children and, with the objective to guarantee and accelerate the processes of food demand, Law 31464 modifies the rules that regulate food processes to guarantee the principle of the best interest for children to obtain adequate nutrition.
We also created the law that incorporates mental and emotional health in basic education curriculum, to prevent and handle harassment, bullying, violence, suicide, and other behavioral and mental health issues in schools.
Top