The House Democracy Partnership (HDP) is a bipartisan commission of the U.S. House of Representatives that works directly with over 22 partner parliaments around the world to support the development of effective, independent, and responsive legislatures. HDP is proudly implemented by the International Republican Institute (IRI) and the National Democratic Institute (NDI).   
In this iteration, Brad, HDP expert speaker and former Chief of Staff to HDP co-founder, Rep. David Dreier, shares his experience participating and leading HDP programming.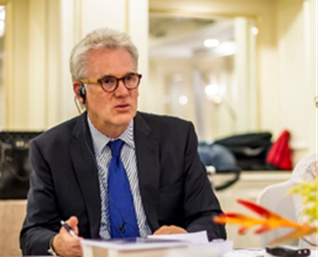 What was the genesis of HDP?
In the post September 11th world, it became increasingly apparent that global strengthening of democratic institutions was vitally important to U.S. national security. Ronald Reagan's famous Westminster speech on June 8, 1982, underscored the imperative of "fostering the infrastructure of democracy."
How did you get involved with HDP?
In 2005, my boss, Rules Committee Chairman David Dreier, joined with his friend and colleague, David Price, to launch the bipartisan House Democracy Assistance Commission. As this became a partnership with new and re-emerging democracies, it was renamed the House Democracy Partnership (HDP). There was no way that I would miss the opportunity to play a role building and strengthening parliaments across the globe.
What is your favorite thing about HDP programming?
HDP programs help build Member to Member and Staff to Staff long-term relationships by sharing experiences. Members of Congress tend to meet with presidents and prime ministers when they travel internationally. The separation of powers is a cornerstone in vibrant democracies so enhancing the potency of legislative bodies is key as legislators are the closest to the people.
Looking back on HDP programs, what has been most impactful?
HDP's impact on the largest number of people is Indonesia. Since the military dictatorship days of Suharto and Sukarno they have become a vibrant democracy. I'll never forget when Reps. Dreier and Price were meeting with President Yudoyono and raised concerns about the president's office hiring the staff of the DPR. The president agreed and that launched reforms which enhanced more independence in the parliament to hire their own staff.
What advice would you give to new parliamentary and congressional staff?
Carpe diem. Seize the day.
What accomplishments are you most proud of?
Working with the world's newest countries like Timor Leste and Kosovo was thrilling and rewarding. As it had just become the newest country in the world, I will never forget the day HDP spent in South Sudan.
With recent setbacks in the democracy movement should HDP try other approaches?
Democracy is not achieved in a straight line. The U.S. Congress has so much experience. Its strengths and struggles should be shared as we strive to make the world safer and better. We are saddened with setbacks in places like Tunisia and Sri Lanka, but our lesson should be that HDP is now more important than ever. We still have much work to do as democracy is a constant work in progress.
What would you like the HDP legacy to be?
The legacy of HDP is to build on the successes and redouble efforts through the inevitable setbacks. Self-determination, rule of law, and political pluralism are most likely to occur with strong parliaments. Building on its nearly two-decade history by continuing that work is the legacy of HDP and the U.S. House of Representatives.
Top