Historic Elections in Lithuania Bring Women to Power

On International Women's Day, the International Republican Institute (IRI) is celebrating the democratic advancements made possible by women the world over. Since 1995, the proportion of women in legislatures has more than doubled across the globe – and while we still have a long way to go, 2020 marked key milestones in the global fight for political parity. In this blog, we spotlight the women leading Lithuania's government today and offer a glimpse into the successes and challenges the country has met in its journey to gender equality.
Last fall, Lithuania's democracy celebrated a historic success with the election of its new women-led government. Ascending the ranks of Lithuania's Seimas (or parliament), women now serve as seven of the 14 ministers and hold key titles such as Prime Minister and Speaker of the Seimas.
In Lithuania, women have helped shaped the country's democracy since the 1920s. But despite their successes, the number of parliamentary seats occupied by women in Lithuania lags far behind Europe's overall average. On the European Union (EU) Gender Equality Index, for instance, Lithuania ranks just 22 out of 28 EU nations, and comes in at only 56.3 on a 100-point scale measuring equitability.
The country's 2020 parliamentary elections, however, marked a turning point in Lithuania's political parity. Today, twenty-seven percent of seats – compared to just seven in the 1990s – are held by women, and the government's cabinet is now the most gender-balanced (and youngest) in Central and Eastern Europe. These are incredible feats that exemplify Lithuania's democratic progress since the fall of the Soviet Union. In just three decades, a small Baltic nation has become a source of strength for democratic movements across the region – most notably in Belarus – and today's successes demonstrate its sustained growth.
To celebrate Lithuania's impressive wins, here is a look at three key women now leading the country's government:
Ingrida Simonyte, Prime Minister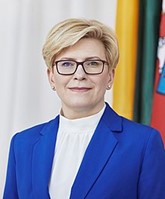 An economist and public servant, Simonyte began her political career as chief of the Finance Ministry's tax division in 2004. After the Great Recession, Simonyte's ability to stimulate Lithuania's economy won her the nomination of Finance Minister in 2009. Seven years later – and again in 2020 – she won a seat in Lithuania's parliament and enjoyed support from several political parties such as the Homeland Union, Liberal Movement and Freedom Party. Ultimately, it was a coalition of these three parties that proposed Simonyte as Prime Minister of Lithuania, the position she holds today.
Viktorija Čmilytė-Nielsen, Seimas Speaker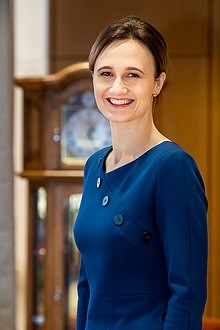 Originally a chess player, Čmilytė-Nielsen entered politics as a member of the Liberal Movement in 2015. By 2019, she had rose to the rank of opposition leader in the Seimas – serving as the spokesperson and head of the parliamentary groups opposed to the incumbent government of Saulius Skvernelis. After resigning as opposition leader, Čmilytė-Nielsen became Chairperson of the Liberal Movement and now serves as the Seimas Speaker.
Aušrinė Armonaitė, Minister of Economy and Innovation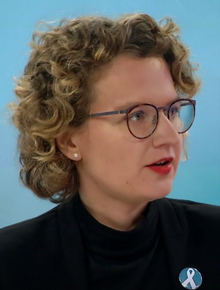 Founder of Lithuania's new Freedom Party, Armonaitė's political success came as a surprise to the country. Though still in its infancy, the Freedom Party has gripped Lithuanian politics and taken hold of key government ministries, such as the Ministries of Economy and Innovation. Armonaitė began her career in 2013 as a trading analyst for the Lithuanian Business Confederation. By 2015, she was an elected official and a member of the Vilnius Municipal Council for the Liberal Movement. After three years in that role, Armonaitė ran as the Liberal Movement candidate in the 2016 parliamentary elections and ultimately joined the Seimas. After her election, Armonaitė abandoned her affiliation with the Liberal Movement and in 2020 formed the Freedom Party, which she now chairs.
While Lithuania's October 2020 elections were a historic win for democracy advocates, at IRI, they were also proof of the country's critical role in the region. Under the IRI-supported Baltic-Eurasia Inter-Parliamentary Training Institute, the Lithuanian Siemas advises members of parliament in Armenia, Georgia, Moldova and Ukraine on key governance reforms to enhance their democratic solidarity. The fall elections highlight both the progress Lithuania has made in consolidating its democracy and its importance as a democratic leader in the region.
Indeed, the success these women have achieved sets an example for the region and personifies Lithuania's remarkable post-Cold War progress. However, the country's fight for gender equality and representation is far from won. As Liberal Movement leader V. Čmilytė-Nielsen highlights, there remain stark gender imbalances within many Lithuanian political parties, despite the increasing number of female parliamentarians. Fueling the prevailing gender gap are laws and cultural norms that leave women with less opportunities to become politically engaged and assume leadership roles.
Today, IRI remains committed to bringing women from across Lithuania together and preparing them to represent the needs of everyday citizens. As former President Grybauskaite said, "Women aren't afraid to take on responsibility in difficult times," and as Lithuania becomes intertwined in neighboring Belarus' fight for freedom, it is their resilience and dedication that is needed now more than ever.
Top